Oregon Fish Report
Chetco River Fish Report for 1-15-2016
Plunkers Rule the Chetco
Chetco River - Brookings, OR (Curry County)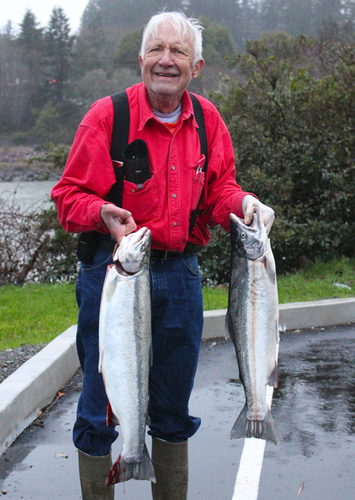 Last week Mother Nature provided steelhead anglers the opportunity to deploy several fishing techniques. From Saturday through Monday, the Chetco hovered between 2,800 and 3,000 cfs, which are perfect water flows for drift boaters to side-drift or pull plugs. It was also choice water for shore anglers to drift-fish Corkies, yarn balls or Puff Balls, all being used with or without roe.
Then on Tuesday, the river decided to respond to the vast amounts of rainfall that occurred during the week and sharply rose to 8,000 cfs, and it kept on rising to 14,000 cfs on Wednesday. At this point the river turned chocolate brown and it became blown out and unfishable - but it didn't remain that way for very long.

Late Wednesday the river started dropping and by Thursday morning, plunkers were again catching steelhead at their usual spots on the Chetco which ranged from Social Security Bar clear up to the boat launches at Miller and Nook Bars.

The incredible thing about the flows on Thursday is that the 8,250 cfs water flows provided anglers with picture-perfect slate-gray to pastoral-green water that remained very fishable. And these were really nice fish, averaging between 10 and 12 pounds.

For the Chetco River, 8,000 cfs is usually sufficient enough water flow to blow out the river. But this season, anglers (notably those who were plunking) have been doing quite well with water flows that have exceed 8,000 cfs, mainly because the Chetco has been maintaining high flows in the 5,000 to 9,000 cfs range, and that has kept the Chetco River with perfection visibility for plunking in the 8,000 cfs area.

Under normal water conditions, the Chetco is usually fishable for plunkers when the river is between 4,000 and 6,000 cfs. But this week if there aren't too many torrential downpours, and as long as the river doesn't rise more than 2,000 to 3,000 cfs a pop, I would expect that the Chetco will be quite fishable for those plunking Spin-N-Glos when the river is between 6,000 and 8,200 cfs.

The Chetco River at 8,200 cfs opens up a whole gauntlet of new fishing holes that are not normally accessible during lower water flows, making the river a lot more fun to fish.

With this week's forecast of heavy rain throughout the weekend, I would expect plunking to be the technique that rules the Chetco at least through the middle of the week, possibly even toward the end of the week.

There may be times when the river will blow out, but as long as water flows don't exceed 15,000 cfs, look for those moments on a dropping river when the Chetco approaches 8,000 cfs. If the water has any green coloration to it, by all means break out the plunking box.

If the river contains milky-green colors flowing through any parts of the river, that is snowpack that has been melted, a very good water condition for catching winter steelhead.

Remember that at 8,000 cfs, the fish will be moving up the sides of the river, avoiding the faster water in the middle, so making short casts becomes the norm when the river is high.

But how short is short? Well, I have a theory behind that distance factor.

If the bank you are fishing drops off right away and slopes down to 3 feet you'll be making very short casts to that 3-foot water for your most hookups, and that may only be 6 feet away from the bank.

Now if the bank has a less incline, then sometimes making a cast up to 15 feet from the bank might be the correct call here. You are more or less keeping your eye on the current seams and letting them guide you to make the correct cast, which will be right on the edge of fast and slow water underneath the current seam.

The daily limit for steelhead is 2 fish, of which only one may be a wild winter steelhead. Wild steelhead can be identified by having an intact adipose fin. The rest of their fins also look perfect, having never been rubbed off while running against the concrete hatchery raceways.

So according to the rules, you may keep 2 hatchery steelhead a day, or one wild steelhead and one hatchery steelhead, with no more than 1 wild steelhead a day; 5 per year.

Tight lines!

Larry Ellis, author, writer, columnist and photographer has had a 50-year passion for fishing in California and Oregon's saltwater and freshwater venues. He is a well-known writer for Oregon, Washington and California Fishing and Hunting News, Northwest Sportsman, California Sportsman and Pacific Coast Sportfishing. He currently writes monthly for Salmon Trout Steelheader Magazine, and is the author of two books, "Plug Fishing for Salmon" and "Buoy 10, the World's Largest Salmon Run."  Both books can be bought from Amato Publications (amatobooks.com), Amazon and eBay. Ellis particularly loves living in his hometown of Brookings, Oregon - The heart of salmon country and gateway to fishing paradise.
www.OregonFishReports.com © 2023. All Rights Reserved.
Website Hosting and Design provided by TECK.net