Oregon Fish Report
Rogue River Lower Fish Report for 8-20-2016
Fish the incoming tide for superperch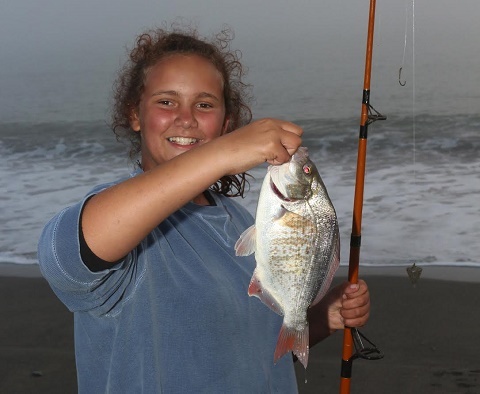 Thai-Maia Le Guellec from Mount Shasta was surf fishing Sporthaven Beach in Brookings, Oregon with her family last week when they put the royal hurtin' on some very impressive redtail surfperch
Photo Credit: Larry Ellis
Surf fishing for surfperch isn't just a May thing - it's a summer thing! Actually it's a thing-thing! Surfperch are available all year long for those who know how to fish the tides, and fishing the proper part of the tide means everything when it comes to being successful at catching surfperch.
There are actually only a few hours out of the day that are the most productive. Surfperch know this and they take advantage of these magic hours by coming into the surf from outside the breakers to scarf up on the surf's incredible edibles.
While it may be true that you can catch surfperch on any tide cycle, the majority of the time, surfperch really start to go on the bite on an incoming tide, especially during the last two hours of the incoming tide just before high slack. During this 2-hour window, you can clean up on both striped surfperch and redtail surfperch. That little nugget of information is carved in stone by the way.
Case in point. I was at Sporthaven Beach last week when I noticed a group of people taking a few casts from shore. One of the ladies in the group was especially lucky, pulling in nice big redtails one after another.
Thai-Maia Le Guellec from Mount Shasta was surf fishing Sporthaven Beach in Brookings, Oregon with her family last week when they put the royal hurtin' on some very impressive redtail surfperch, photo by Larry Ellis
I glanced at my tidebook. It was exactly 1-1/2 hours before high tide on the incoming tide. Hmm, maybe there's something to this tide thing after all?
Which leads me to the next piece of advice. The two-best tools a surfperch fisherman can carry on them is a tidebook and a watch (or some reliable means of telling the time, such as a cellphone).
Anyway, the party I was observing was pulling in surfperch left and right. One guy had scored a couple of righteous doubles too. That's two surfperch at one time.
But I did notice that the largest surfperch of the day did come off of the lady's rig. She was rigged up thusly.
At the end of her monofilament mainline was tied a 3- or 4-ounce bank sinker. A dropper loop was tied about 20-inches above the sinker - not 18-inches or 22 inches; but a solid 20 inches from the sinker.
Through the dropper loop was attached a snelled leader with a hook that looked to me to be a size 4 or 6, probably the larger size 4.
Now a lot of people like tying double or even triple hook surf rigs, the theory being that the more bait you have in the water, the more successful you should be. Heavy on the should!
I've noticed that the trend of late by surfperch fishermen is to use only one hook - but they make that one hook count! I don't know why, but using one hook seems to attract the larger surfperch.
Now about 10 days ago I also noticed a guy pulling in some large redtails down the beach from where the first-mentioned party was fishing. Again I looked at the tide book, and again, the fish were caught on the incoming tide, and again about 1-1/2 hours before high slack. After the tide turned he kept fishing the outgoing tide without a bite.
So the moral of this story is if you want to be a 100-percent surfperch fisherman, definitely fish that 2-hour window on the incoming tide just before high slack. Also, Sporthaven Beach is one cool place to catch surfperch. The best bait still seems to be small pieces of raw shrimp.
Rogue Bay Experiencing Some Good Days for Chinook
Anglers trolling spinnerbait/anchovy rigs or straight bait are still scoring Chinook up to and over 30 pounds. A friend of mine was fishing the Coos River when he decided to bust a move.
"I started at 6:20 am on the Coos and by 9:00 (am) we hadn't been bit," said John Anderson of Memory Makers Rogue River Guide Service. "I called a friend on the Rogue and he said there was a good bite going on, so we loaded up and got to the Rogue Bay at noon."
Anderson grabbed some anchovies from the Rogue Outdoor Store and hit the bay. Ten minutes later one of his clients landed a 30 pound king.
He rebaited again.
He hadn't trolled more than 100 yards when another hawg hit his 'chovie rig, then spit the hook within feet from the boat. His last toad was hauled in just before 3:00 pm when the pair decided to call it quits and head for the barn.
So don't give up on the Rogue Bay. The really big ones don't usually hit till September, and remember that Grant Martinsen's famous 71-pounder was caught in October.
Tight lines!
Larry Ellis, author, writer, columnist and photographer has had a 50-year passion for fishing in California and Oregon's saltwater and freshwater venues. He is a well-known writer for Oregon, Washington and California Fishing and Hunting News, Northwest Sportsman, California Sportsman and Pacific Coast Sportfishing. He currently writes monthly for Salmon Trout Steelheader Magazine, and is the author of two books, "Plug Fishing for Salmon" and "Buoy 10, the World's Largest Salmon Run."  Both books can be bought from Amato Publications (amatobooks.com), Amazon and eBay. Ellis particularly loves living in his hometown of Brookings, Oregon - The heart of salmon country and gateway to fishing paradise.
More Reports
Bottomfishing have you baffled?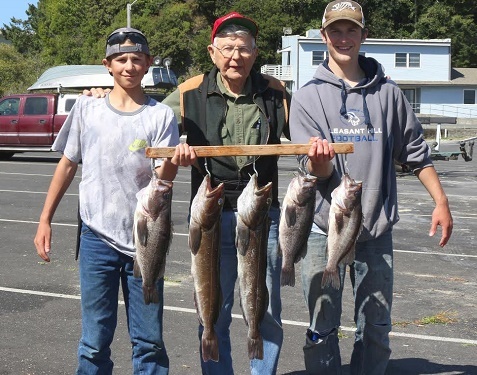 8-13-2016
Usually fishing for rockfish, cabezon and lingcod is the easiest kind of fishing in the world. But lately some folks......
Read More
Buoy 10 Book Release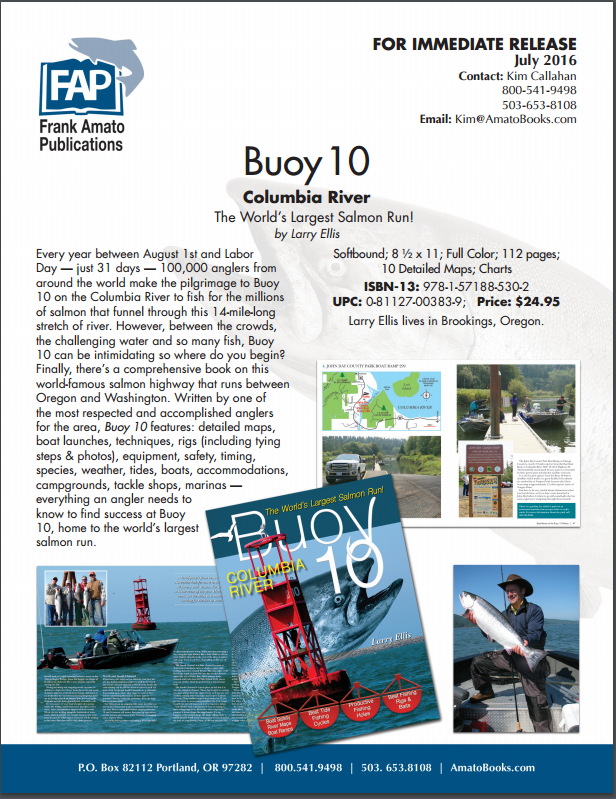 8-7-2016
Every year between August 1st and Labor Day — just 31 days — 100,000 anglers from around the world make......
Read More
www.OregonFishReports.com © 2021. All Rights Reserved.
Website Hosting and Design provided by TECK.net