Oregon Fish Report
Chetco River Fish Report for 11-13-2016
Chetco River Kicking Out Kings
Chetco River - Brookings, OR (Curry County)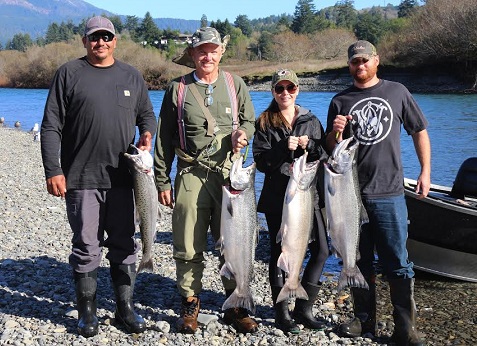 A group of four anglers from Orange County, California nailed some hefty Chinook while pulling plugs on the Chetco River on Thursday while fishing with guide Sean Clemens of Brookings
Photo Credit: Larry Ellis
In the last few weeks, we've talked about water levels and water flows, and how they influence the various fishing techniques you should choose to deploy. Also, if a river has a gauge - definitely learn how to use it!
Ideally, anglers would like to see a local area get a little bit of rain every day, just enough to maintain the Chetco at a fishable level without having it blow out. Personally speaking, I would love to see the Chetco maintain a flow of approximately 3,200 cfs every day and have an aqua-green complexion. That way a person would be able to deploy almost every river technique at any given time.
But, although the aforementioned scenario may happen from time to time, it doesn't happen that often in reality. Most of the time you're going to get several hours where an area gets pummeled with deluges of rain, alternating with bluebird-weather days where no rain is in sight. You then adjust your fishing techniques accordingly. Last week was a perfect example of this scenario.
On Friday, the Chetco was on-the-drop and flowing at approximately 3,000 cfs. When Saturday rolled around, the day when the river opened up to all fishing techniques, the Chetco continued to drop to 2,600 cfs. And a lot of salmon were caught on Saturday.
But, then it started pouring on Saturday.
The rain on Saturday didn't affect the fishing much on that particular day, but it had a dramatic effect the following Sunday, because the Chetco can often take up to 24 hours to show a visible change in flow or height after a downpour.
The river consequently blew out at approximately 4,000 cfs on Sunday and everybody waited for the river to drop to a fishable level. Mind you, 3,800 cfs is generally a very fishable level under normal circumstances, but if the river raised to that level in a very short period of time, it will rapidly become unfishable due to poor water visibility.
However, by Tuesday, folks were starting to catch salmon again.
So, keeping a vigilant eye on Chetco River levels, four anglers from Orange County, California traveled over 1,000 miles last week just to be able to fish the Chetco on Thursday. They promptly got a lesson on how to catch Chetco River hawgs by local guide Sean Clemens of Brookings, who paired up the four fishermen in two drift boats. He then proceeded to put on the clinic to beat all clinics.
Clemens used a combination of back-bouncing roe and plug-pulling techniques to put his clients on chrome-bright Chinook, some which weighed in excess of 30 pounds.
This week, the National Weather Service is predicting that the area is going to get enough rain to once again raise the river to possibly a blow-out status and once again be at fishable levels and have perfection visibility sometime after the weekend.
Remember that on the Chetco, November has always historically been the month of the 30-pound Chinook, where chrome-bright kings in the 30-pound-plus category enter the river in bursts. So if a school of fish goes through you and you stop getting bit, definitely think about leapfrogging upriver to where that particular school of fish might be.
Remember that after being in the river for a few days, Chinook start losing their brighter coloration and start turning darker on the outside.
Generally speaking, the brighter a king is on the outside; the redder its flesh will be, and the better eating quality it will possess. Conversely, the darker a king is on the outside; the whiter its flesh will be, and the poorer-quality eating it will possess. Over the years, people have grown to call dark Chinook "smokers". I have grown to call them "chokers". If you want a good-quality smoking Chinook, smoke the bright ones!
Therefore, the brighter more-esteemed food fish will most likely be caught in the drift from Loeb State Park down to Social Security Bar.
Those who are drifting from Miller Bar down to Loeb, or from Miller down to Social are most likely going to be catching a variety of both chrome-bright and darker-colored fish. Most anglers who are hooking up while pulling plugs such as a K-15 Kwikfish or a Mag Lip 4.5 are wrapping the outside of their plug with a sardine fillet (flesh side always facing outward), otherwise known as a plug with a sardine wrapper. Sardine fillets contain more oil than any other baitfish. And the fresher your wraps are - the better! To get a complete lesson on how to wrap plugs as well as how to pull them, take a gander at my book "Plug Fishing for Salmon".
Tight lines!
Larry Ellis, author, writer, columnist and photographer has had a 50-year passion for fishing in California and Oregon's saltwater and freshwater venues. He is a well-known writer for Oregon, Washington and California Fishing and Hunting News, Northwest Sportsman, California Sportsman and Pacific Coast Sportfishing. He currently writes monthly for Salmon Trout Steelheader Magazine, and is the author of two books, "Plug Fishing for Salmon" and "Buoy 10, the World's Largest Salmon Run."  Both books can be bought from Amato Publications (amatobooks.com), Amazon and eBay. Ellis particularly loves living in his hometown of Brookings, Oregon - The heart of salmon country and gateway to fishing paradise.
More Reports
Fish the Chetco According to River Flows
Chetco River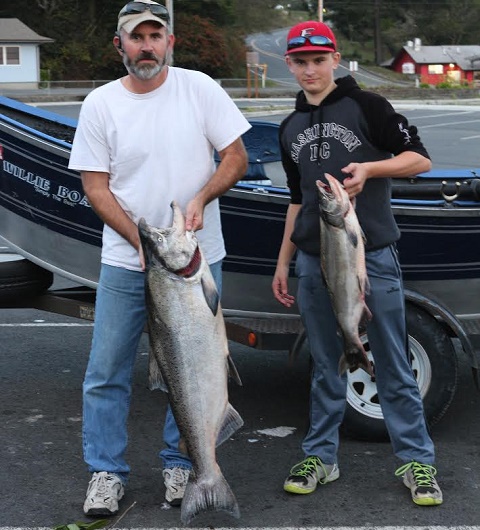 10-29-2016
Start counting backwards! Salmon warriors are anxiously awaiting for November 4 to roll around, and that's this coming Friday. That's......
Read More
Chetco high water fishing rules questioned
Chetco River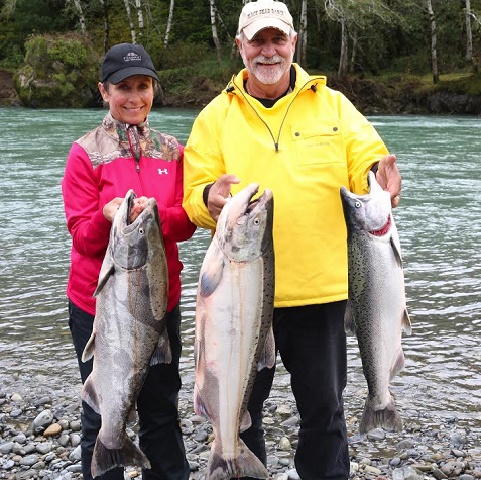 10-22-2016
As I'm writing this article, I am looking at the Chetco River Gauge, and I like what I'm seeing. The......
Read More
www.OregonFishReports.com © 2021. All Rights Reserved.
Website Hosting and Design provided by TECK.net