Oregon Fish Report
Chetco River Fish Report for 1-21-2017
Rains shepherd in peak season Chetco steelhead
Chetco River - Brookings, OR (Curry County)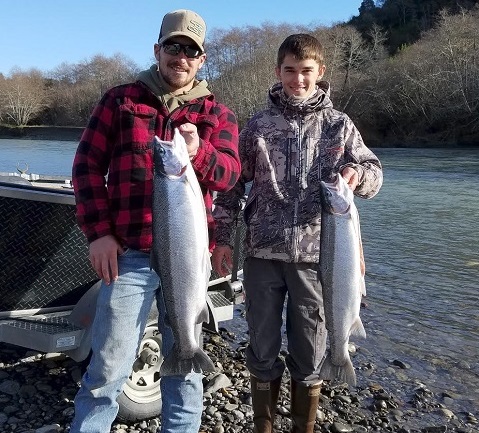 Brothers Adam (left) and JJ Logan from Orick, California fished the Chetco River last week and caught a 16-pound and an 11-pound steelhead while side-drifting from Loeb State Park down to Social Security Bar. Photo by Larry Ellis
A combination of melting snowpack and heavy rains ushered in the first large colonies of chrome-bright winter steelhead into the Chetco River last week. A few lucky anglers deploying a plethora of steelhead techniques got the opportunity to go one-on-one with some water-walking, thumb-burning heavy metalheads.
And it's about time.  I was beginning to worry whether or not the silver missiles were going to arrive at all.
But there was no doubt that last Saturday had to be one of the best days the Chetco had experienced in months, with lots of fish in the 10- to 14-pound class being brought to the net.  In fact, there were plenty of doubles to be had on that day, not a usual occurrence on any river, let alone the Chetco.
Rain is expected to keep the Chetco flowing between 8,000 and 10,000 cfs through at least Tuesday of next week, which means that once again, those who decide to plunk the mighty Spin-N-Glo into the water will get first crack at these gorgeous specimens of winter steelhead.  Plunkers will be the first anglers to hook up when the river transforms from a muddy appearance to either a slate-gray or pea-green complexion.
So keep an eye on the Chetco's flows at rivervilla.com.  As soon as the river drops to around 4,000 cfs, drift boats will begin launching anywhere from the South Fork down to Loeb State Park, deploying mostly side-drifting techniques.
As the river drops below 4,000 cfs, bankies will be also be deploying plunking as well as drift-fishing techniques.
Also be on the lookout for the sleek, spawned-out downbacks which should be heading back to sea toward the end of this month and into February, doubling your chances at hooking up with a scrappy Chetco winter steelhead.
All in all, it looks like plunking will be the technique that will be dominating the Chetco this weekend and into next week.
Whether or not the lower Rogue River will be fishable next week is questionable at best.
Last Thursday the lower Rogue rose to 71,000 cubic feet per second, blowing out the river.  So it is debatable whether or not the lower Rogue will fish for steelhead this week at all.  However it is remotely possible that if the water-flows lower to 12,000 cfs by the end of next week, and if the river isn't muddy, anglers will be again be anchoring up in the river setting out Mag Lip 3.5 and various-colors of HotShots, Wigglers and Wee Wigglers.
"For boaties, the lower Rogue is fishable anywhere from 11,000 to 12,000 cfs and down, but I prefer 7,500 cfs," advises John Anderson from Memory Makers Rogue River Guide Service, although he doesn't foresee that action happening this week.
Anderson also noted that 99-percent of his winter steelhead have fallen for the Mag Lip 3.5.
All the more reason to cast a double-hook surf rig into the ocean when the sea is calm.  Surf anglers are still hammering fairly-large redtail surfperch.
"There are a lot of folks going after surfperch when the conditions allow, and I've been hearing some pretty good reports," says Larry Cody from the Rogue Outdoor Store in Gold Beach. "The guys that I've been talking to who are catching them are saying that they are bigger than what they would normally expect. The guys are saying the fish are anywhere from 3- to 5-plus pounds!"
"The big thing is watching the ocean conditions," warns Cody.  "If it's too rough, the pinkfin are not going to come in and get beat up, and the usual hotspots around the rivers are probably not the places where you want to be because of the high flow of fresh water.  So I'm sending people up to the Nesika Beach Rest Stop and there's some guys working the surf off of Hunter Creek at Kissing Rock."
Bait fishermen are using small pieces of shrimp, and those who are favoring artificial lures are running Berkley Camo 2-inch Sand Worms, both baits being hooked on number 4 snelled baitholder hooks.
If you are using pieces of raw shrimp, it pays to hold them onto the hook with a few wraps of Miracle Thread.
When using the Berkley product, the colors Camo, Blood Worms and the Natural patterns all seem to be producing the mottled slabmeisters.
Be sure to fish the incoming tide and through high slack for these delicious and highly-prized surfperch.  Surfperch come into the surf zone on the low tide and head back to sea after the peak of high tide.
Tight lines!
Larry Ellis, author, writer, columnist and photographer has had a 50-year passion for fishing in California and Oregon's saltwater and freshwater venues. He is a well-known writer for Oregon, Washington and California Fishing and Hunting News, Northwest Sportsman, California Sportsman and Pacific Coast Sportfishing. He currently writes monthly for Salmon Trout Steelheader Magazine, and is the author of two books, "Plug Fishing for Salmon" and "Buoy 10, the World's Largest Salmon Run."  Both books can be bought from Amato Publications (amatobooks.com), Amazon and eBay. Ellis particularly loves living in his hometown of Brookings, Oregon - The heart of salmon country and gateway to fishing paradise.
More Reports
Snow melt raises rivers to flood stage
Chetco River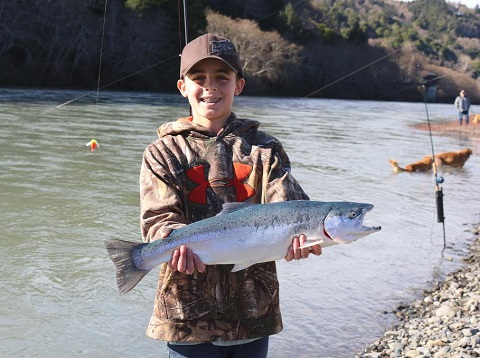 1-14-2017
What happened last week to northern California and southern Oregon rivers was somewhat similar to Isaac Newton's supposed gravitational quotation......
Read More
Flat seas and aggressive lingcod beckon salty dogs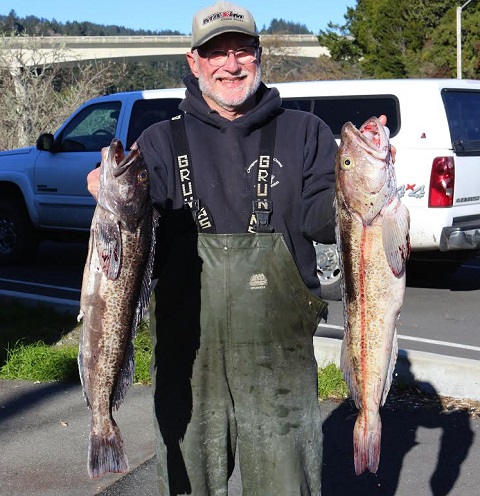 1-7-2017
Seas as flat as a sheet of liquid mercury beckoned anglers to trip the lingasaur fantastic out of the Port......
Read More
www.OregonFishReports.com © 2021. All Rights Reserved.
Website Hosting and Design provided by TECK.net