Oregon Fish Report
Chetco River Fish Report for 2-3-2018
Pacific Herring Arrive in Crescent City in Full Force
Chetco River - Brookings, OR (Curry County)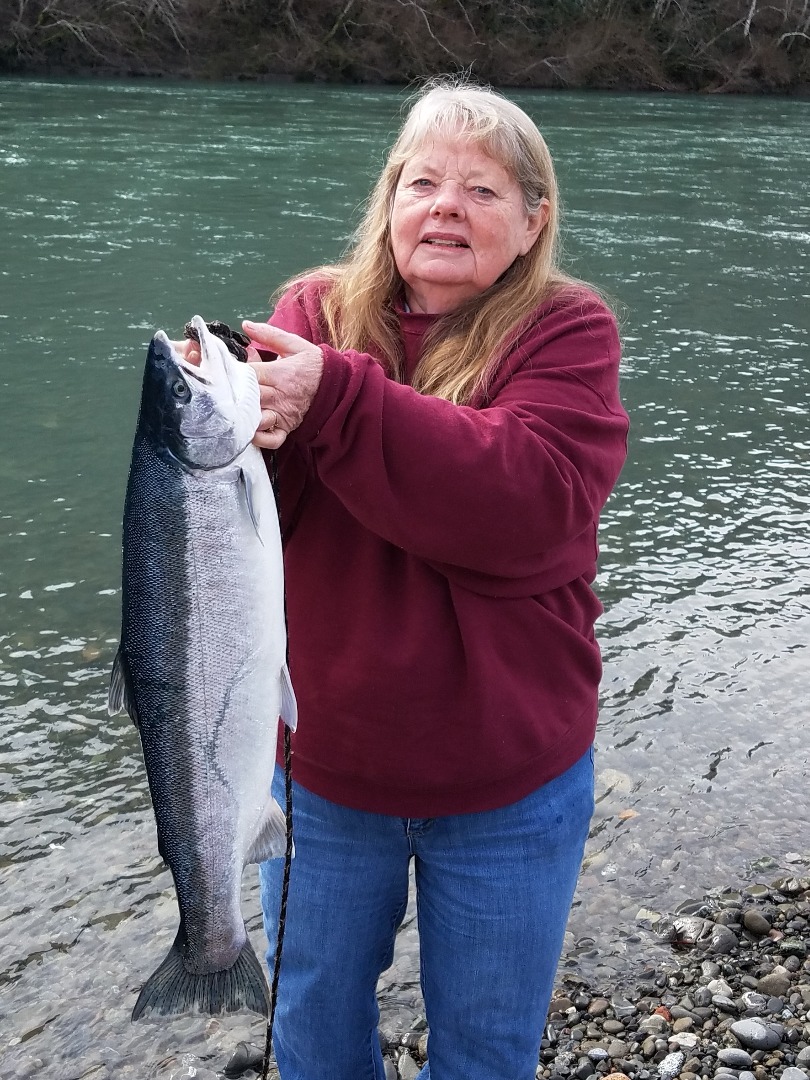 Elaine Witters from Okanogan, Washington hammered this chrome-bright 12-pound hatchery steelhead while plunking a flame/chartreuse Spin-N-Glo on the Chetco River on Wednesday, photo by Larry Ellis
Fishermen - start your sabikis! Pacific herring have made their annual appearance on January 31 in Del Norte Harbor in Crescent City, but they arrived in full force on February 1.
"Today was the big day," said Loren Taylor from Englund Marine Supply in Crescent City on Thursday. "They're big and they're in there pretty thick."
Hordes of Pacific herring were being caught from Citizens Dock just in back of Englund Marine, and if bluebird days combined with nearly flat-calm seas continue, the set of weather and ocean conditions might just keep them at bay for at least 2 to 3 weeks, perhaps even longer.
Anglers of all ages love casting sabiki rigs for the lingcod killers. Some people like cut-plugging them for use as salmon bait, should the area get a salmon season this year. Other people like using them whole for lingcod. Charterboat operators especially depend on getting enough of the silver-sided baitfish to use for their lingcod trips throughout the upcoming season in Oregon, and later when the season opens up, in Crescent City as well.
"I got 230 of them today," said Captain Jim Bithell of Charthouse Sportfishing. "They're really monsters this year, really fat and beautiful. If this keeps up, I should have enough for my season in 3 or 4 days."
Taylor mentioned that anglers were jigging for them using sabiki rigs and also throwing cast-nets to get more bang for their buck. He also mentioned that there were several boats just hammering the baitfish.
He also mentioned that there were places people need to be aware of where they are not allowed to fish for the herring, and invites the public to come into his store to view a map that shows were fishermen are allowed to fish for the herring. Englund sells everything that a herring fisherman needs, including rods, reels, line, sabiki rigs and sinkers.
Several people I had spoken with had told me that these were enormous herring, longer than legal-size rainbow trout and fat as can be.
One point to remember is that everybody will need to buy a fishing license to fish for the herring in most places this year, especially off of Citizen's Dock.
This is a sport that is tailor-made for kids. It's a great way of introducing them to fishing because the action is at times, fast and furious.
Most people use 5- or 6-gallon buckets to put their herring into. But the smart folks will be taking along an ice chest loaded with ice and plenty of salt, which then turns the same ice chest into a freezer. Keeping the scales intact is extremely important if you want the best-looking and most-enticing baits. Here's how it's done.
Fill your cooler one quarter of the way with ice. Then sprinkle a liberal amount of ordinary table salt on the ice, covering all of the cubes. Next, fill your cooler half full with another layer of ice, followed by another liberal amount of salt. Figure on using most of the salt.
This process turns your ice chest into a freezer and once the herring lands on the ice, they are instantly killed by the ice-cold temperatures, and they will retain their scales.
The typical rig people use is a 7- or 8-foot freshwater fishing rod with a spinning reel loaded with 8-pound test. Filling your spools to the edge will allow you to make very long casts with little effort.
On the end of your line, attach the sabiki rig of your choice, using either rigs with wings or beads. My personal preference is to use the beaded type of sabiki rig. Now snap on a 1/4- to 1/2-ounce sinker on the end of the rig and you are good to go.
If you are using the previously-mentioned ice-salt mixture, you will periodically need to check your herring to make sure that they are not bent, because they will freeze pretty fast and you can then straighten them out while you are fishing.
Make your cast, let the sinker bottom out and then jig your sabiki rig using a rise-and-drop method. Vary your speed and you will find out which jigging method works best for you.
Brookings Bottom Fishng Starts Out with Exotic Sebastes Action
Seas as flat as a sheet of liquid mercury beckoned bottomfishing anglers to try their luck on Thursday out of the Port of Brookings Harbor. Anglers reveled in the great ocean conditions but said that the swell did pick up in the afternoon.
The most-caught fish were black rockfish with an occasional blue rockfish thrown in as well, but there were also some exotics caught such as canary and vermilion rockfish.
I personally weighed one angler's vermilion rockfish on my Rapala digital scale that we all guessed to be around 8 pounds that actually weighed 7-pounds 14-ounces.
Limits were not the rule for everyone, however there were occasional limits of rockfish caught by some anglers. Remember that this season, the limit is 5 marine fish, which can include a mixture of kelp greenling, also known as sea trout, and rockfish.
In addition, anglers may keep two lingcod per day.
My favorite lures for this type of fishing are rubber worms, grubs and 5-inch rip baits, but twin-tail plastics are also very popular baits as well.
The Chetco Still Kicking Out Steelhead
February is considered to be peak season for winter steelhead on the Chetco, however the overall fishing was considered slow-to-fair. Hatchery steelhead are being caught with abandon from Loeb State Park on down to Social Security Hole, with the occasional hatchery steel being caught at Loeb Park itself.
However in most cases, wild steelhead are being caught while drifting from the South Fork down to Loeb.
Plunking was the technique that ruled the river from January 29 through January 31, and boats using side-drifting techniques were quite successful on January 31.
Yours truly hooked up with a monster steelhead using a number 4 egg fluorescent Spin-N-Glo but after 2 minutes and a long run, it finally spit the hook.
The river is anticipated to hover between 2,500 and 1,800 cfs for the next few days. We could always use more rain to keep the river flowing at an ideal 2,800 cfs.
Tight lines!
Larry Ellis, author, writer, columnist and photographer has had a 50-year passion for fishing in California and Oregon's saltwater and freshwater venues. He is a well-known writer for Oregon, Washington and California Fishing and Hunting News, Northwest Sportsman, California Sportsman and Pacific Coast Sportfishing. He currently writes monthly for Salmon Trout Steelheader Magazine, and is the author of two books, "Plug Fishing for Salmon" and "Buoy 10, the World's Largest Salmon Run."  Both books can be bought from Amato Publications (amatobooks.com), Amazon and eBay. Ellis particularly loves living in his hometown of Brookings, Oregon - The heart of salmon country and gateway to fishing paradise.
More Reports
Make Your Own Plunking Slider
Chetco River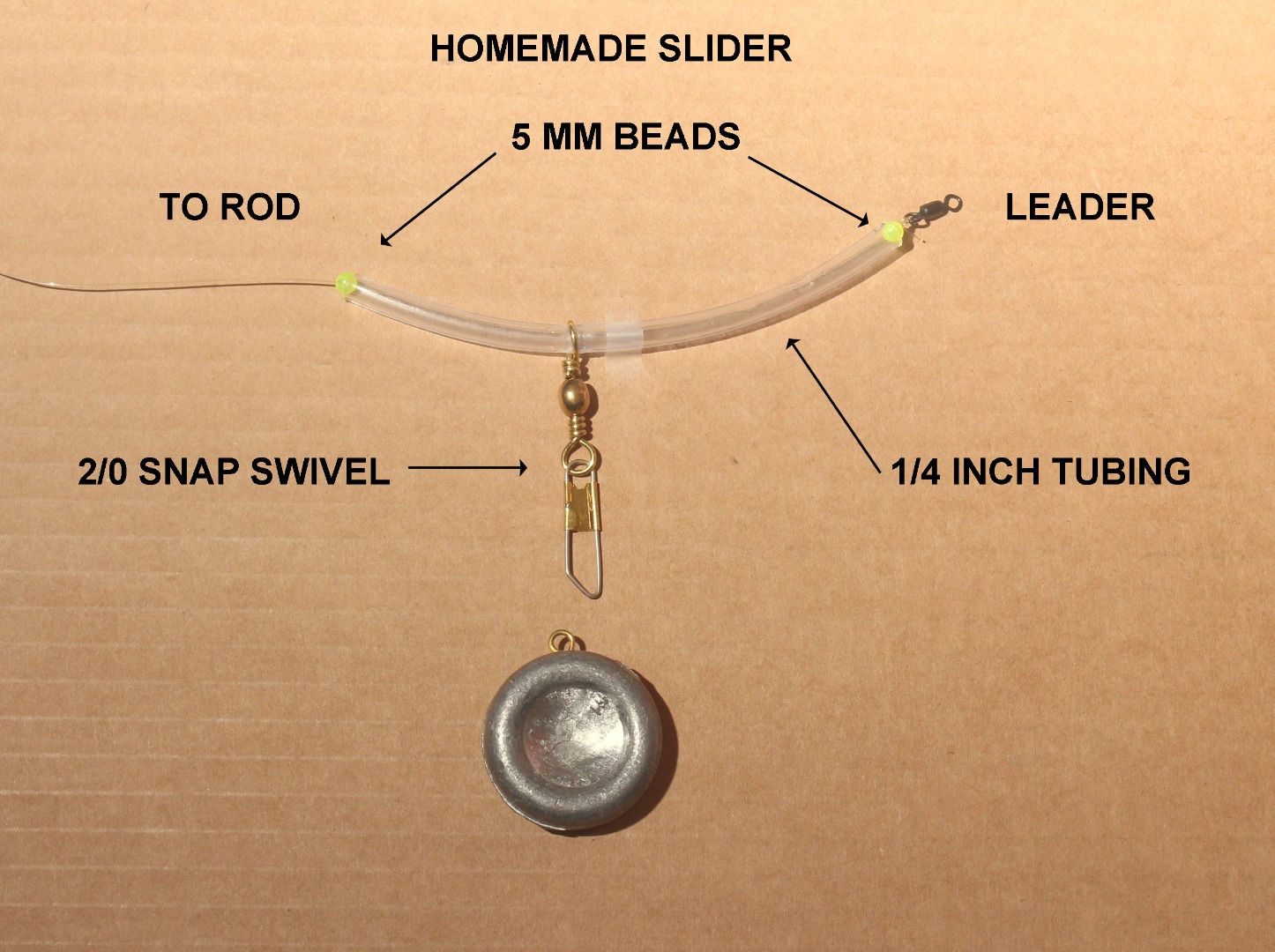 1-27-2018
With all the high water Oregon and California rivers have been experiencing this week, the first anglers who will be......
Read More
High Water Should Provide Perfect Plunking Opportunities
Chetco River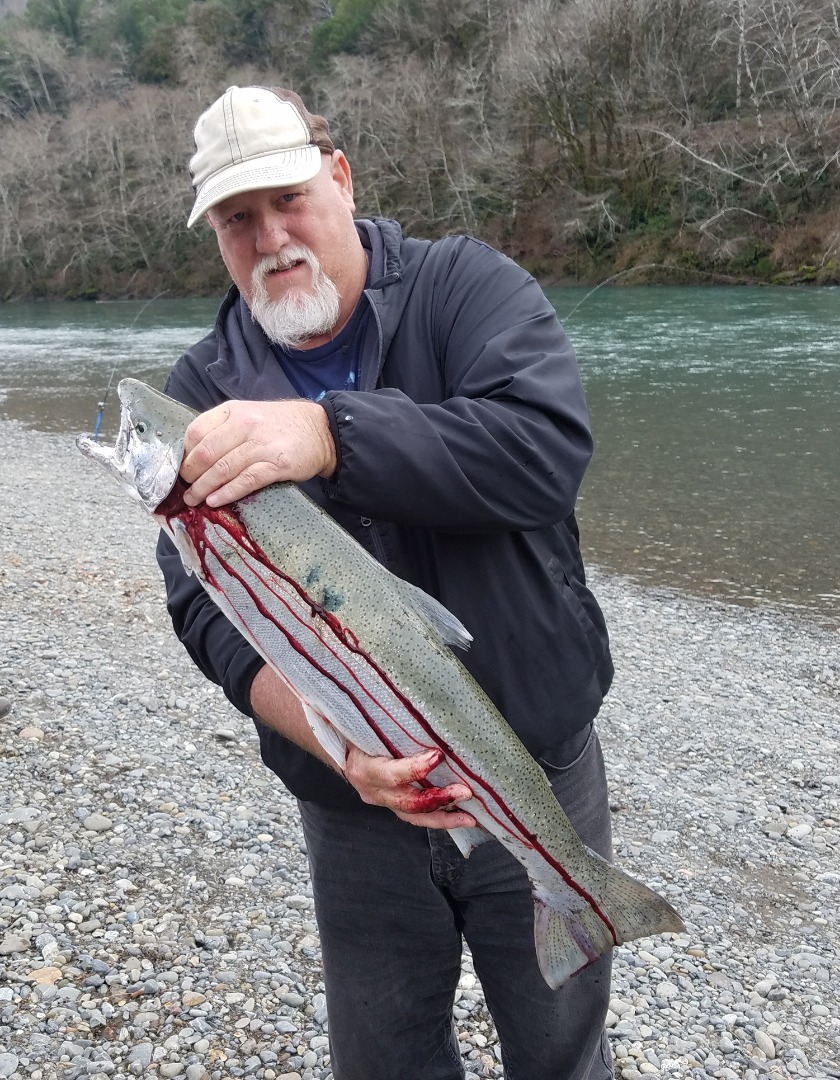 1-20-2018
Earlier in the week from Sunday through Tuesday, both boaters and bankies on the Chetco River were catching the occasional winter steelhead. They......
Read More
www.OregonFishReports.com © 2020. All Rights Reserved.
Website Hosting and Design provided by TECK.net