Oregon Fish Report
Rogue River Lower Fish Report for 4-21-2018
Rogue River Springers - Bottomfish - Crab highlight the Southern Oregon Coast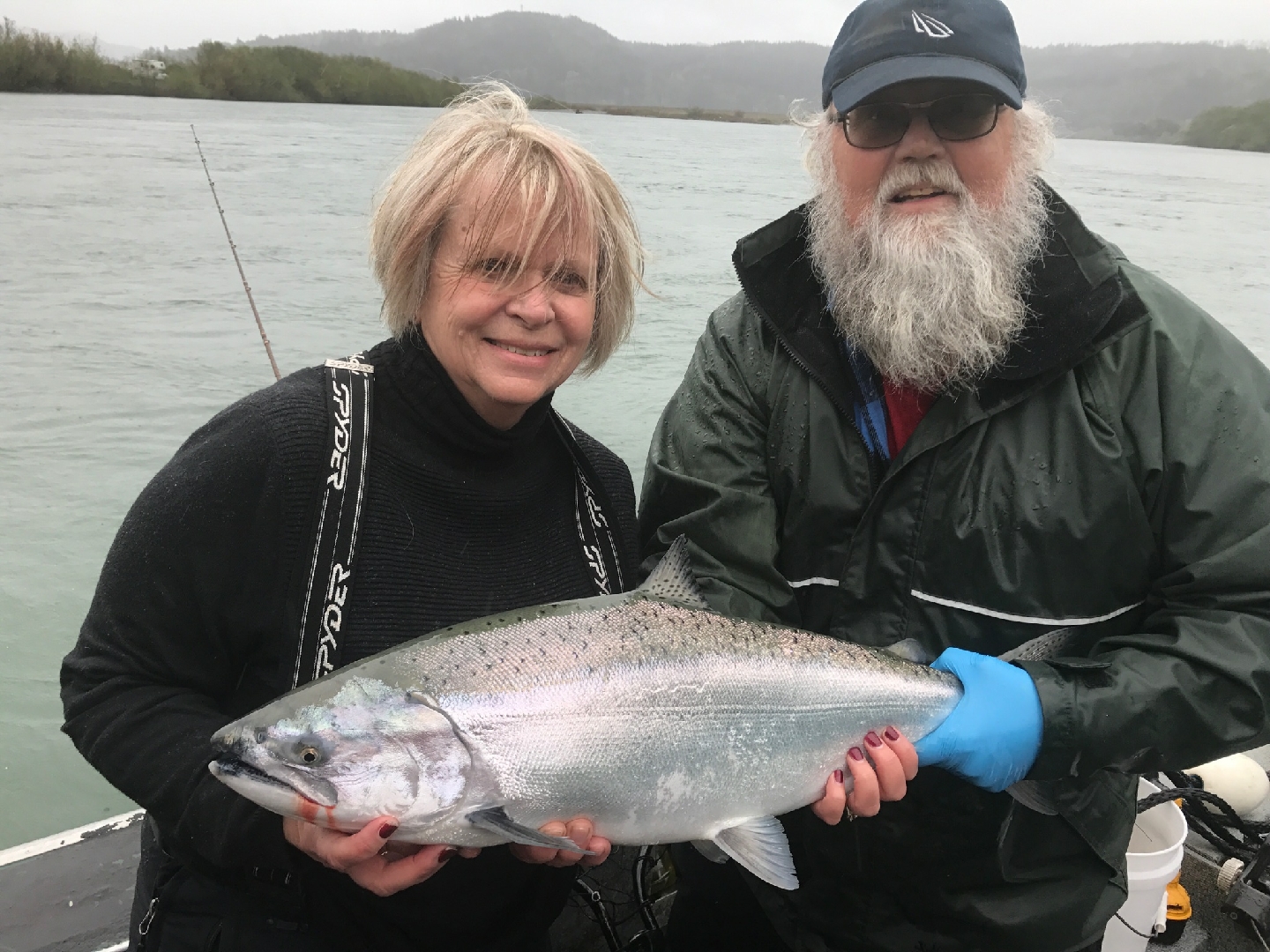 Springers of all sizes were caught in the lower Rogue last week, including this 15 pounder that had to be released, caught by a client in guide John Anderson's boat, photo by Memory Makers Rogue River Guide Service.
Spring Chinook are still making their way through the lower Rogue River, and both bank fishermen and boaters are occasionally doing battle with them.
"They're catching fish," said Steve from the Rogue Outdoor Store in Gold Beach on Thursday. "Two weeks ago there weren't very many fish being caught, but they're catching them now. Yesterday and the day before that, some of the guides have limited out and the guys on the bank are catching fish regularly. And I did hear of one guy today who caught two springers, but only one of them was a hatchery fish so the other one had to be released."
Steve says that the springers are averaging in the 18- to 22-pound range.
John Anderson, owner of Memory Makers Rogue River Guide Service filled in the missing equation for springers caught on Thursday. He had reported that his deckhand Darrell hooked three springers on Thursday while fishing with a friend.
"They then jumped in with guide Russel Mccall and are fishing Russel at Coyote Riffle," Anderson noted.
So when you're fishing for springers, you better have your line in the water and your anchovy/spinnerbait rigs locked and loaded, because these fish are on a spawning mission, moving like blazes up to their native spawning grounds.
"The fish are just coming in," said Anderson. "In fact, they got into the fish at noon down by the Landing and by 4:30 the fish were picked up at the Willows. In fact, there were 5 fish picked up in 20 minutes at the Willows as the fish were passing through heading upriver. At 5:30 the fish were at Coyote Riffle."
If you are a follower of the tides, on Thursday, the fish came through the Landing half way from low tide to high tide at 12:00 pm, and were at the Willows, and then Coyote Riffle one hour after the peak of high tide which was at 3:41 pm. They probably came through the jaws during the turn of low tide which was at 9:14 am.
Meanwhile, redtail surfperch are continuing to give surf anglers a thrill with a lot of folks averaging 10 surfperch or more, says Steve from the Rogue Outdoor Store. The south jetty sand spit can only be seen at a minus tide, so the spit is out as far as surfperch fishing goes. It is probably in the first stages of developing.
So Gold Beach anglers are hitting spots like Kissing Rock, which is the mouth of Hunter Creek, and down the beach from the Nesika Beach Wayside, using baits such as small pieces of raw shrimp and the 2-inch Berkley Gulp! Camo Sandworms.
Surfperch anglers in Brookings were also catching their fair share of surfperch, mostly the striped variety at places like Crissey Field, McVay Park and Sporthaven Beach. I saw several gentlemen with piles of striped surfperch fillets at the Port of Brookings Harbor's cleaning station and more surfperch were coming in by the bucketful.
Make sure that you are fishing during the high tide cycle for these feisty and tasty denizens of the surf, which means that you should start fishing for them about 3 hours before the turn of high tide, through the high tide and then for about 30 minutes after the tide starts outgoing.
When the seas have been on the calm side, anglers have been limiting out on rockfish and some pretty hefty lingcod (minimum size length 22 inches). The lings have weighed upward towards 20 pounds.
There were also reports of salmon being caught incidentally while fishing for lingcod using a 2-hook mooching system and a herring, so be sure to pinch off the barbs off your hooks if you are using this system this time of year.
I also saw numerous catches of Dungeness crab being unloaded at the cleaning station, with some folks limiting out on the tasty crustaceans. The best bait can usually be found at the Port of Brookings Harbor cleaning station after the rockfish and lingcod carcasses have been filleted and thrown in the barrels.
Folks have been catching their crab in sandy water adjoining a rocky reef in depths ranging from 40 to 50 feet.
In Oregon, the limit is 12 male Dungeness crab measuring 5-3/4 inches on the insides of the crab's points.
Rainbow trout from legal size to 3 pounds have also been caught last week at Garrison Lake in Port Orford.
Tight lines!
Larry Ellis, author, writer, columnist and photographer has had a 50-year passion for fishing in California and Oregon's saltwater and freshwater venues. He is a well-known writer for Oregon, Washington and California Fishing and Hunting News, Northwest Sportsman, California Sportsman and Pacific Coast Sportfishing. He currently writes monthly for Salmon Trout Steelheader Magazine, and is the author of two books, "Plug Fishing for Salmon" and "Buoy 10, the World's Largest Salmon Run."  Both books can be bought from Amato Publications (amatobooks.com), Amazon and eBay. Ellis particularly loves living in his hometown of Brookings, Oregon - The heart of salmon country and gateway to fishing paradise.
More Reports
Klamath Management Zones Get Long Ocean Salmon Seasons
Sacramento River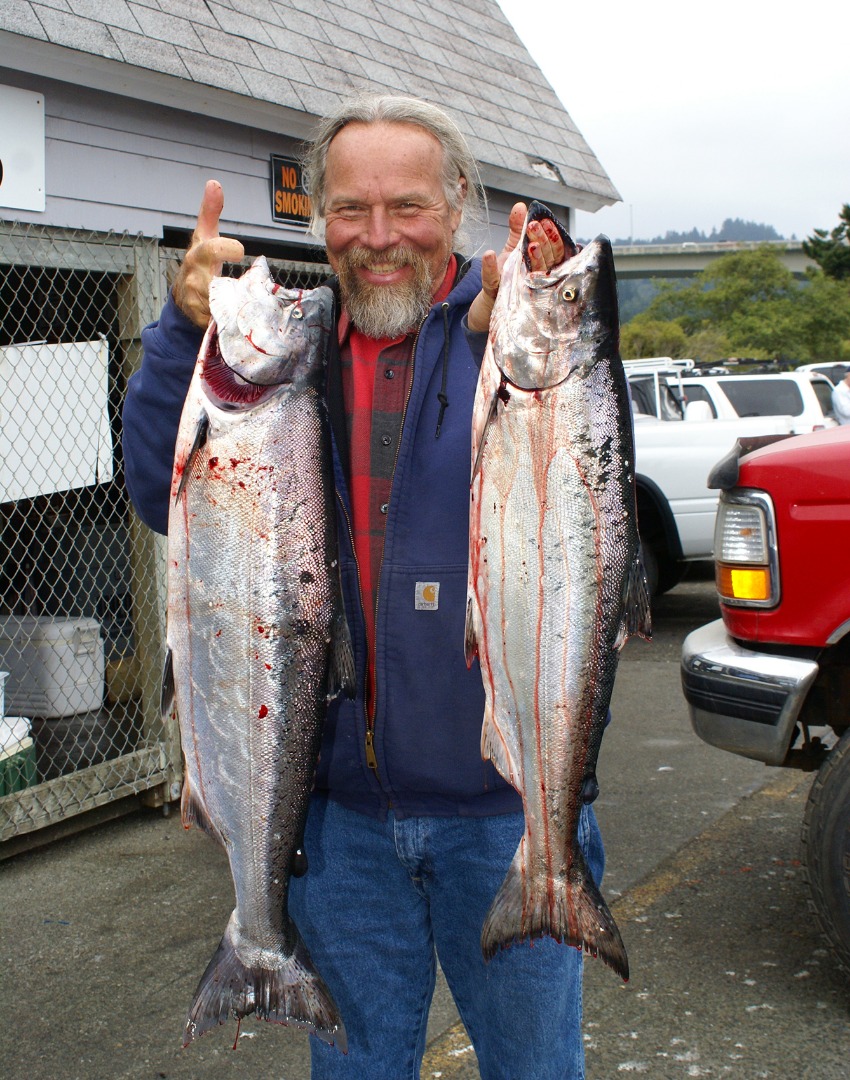 4-15-2018
Salmon fishermen of the KMZ, it's time to start counting backward and marking days off your calendar. Due to a decision......
Read More
PFMC meeting this week will decide fate of ocean salmon seasons
4-7-2018
In a meeting that is being held by the Pacific Fishery Management Council (PFMC) from April 5 through April 11 at the......
Read More
www.OregonFishReports.com © 2020. All Rights Reserved.
Website Hosting and Design provided by TECK.net