Oregon Fish Report
Rogue River Lower Fish Report for 9-3-2016
Ocean and River Derbies are Calling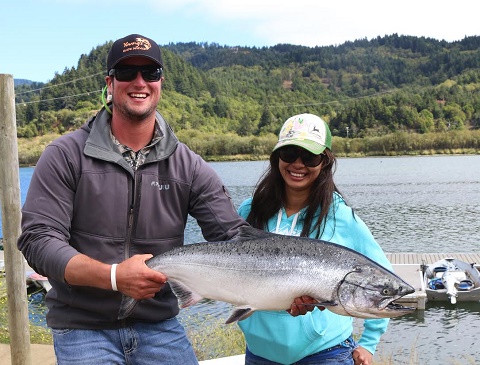 Guide Tim Young of Tim Young's Guide Service in Gold Beach holds one of the two large Chinook that one of his clients Charmaine Dollesin of northern California caught while trolling the Rogue Bay last week
Photo Credit: Larry Ellis
The final leg of the general ocean salmon season in the Oregon KMZ will finally be getting underway this weekend. The 3-day season will last from Saturday September 3 through Labor Day, Monday September 5. Only species other than coho may be retained, which will be primarily Chinook salmon. Remember that you are NOT allowed to retain coho salmon at all in the ocean in this zone. Whether you're a fan of the salt or of freshwater venues, two salmon derbies will be inviting anglers to troll the waters of the Pacific ocean and the lower Rogue River.
The first derby is the 2016 Slam'n Salmon Derby which will be taking place today and tomorrow, Saturday September 3 and Sunday September 4.
The main question everyone is asking is where the fish will be. Without a commercial fleet in the area fishing right now to pin down their location, the answer to that question is anybody's guess.
As usual, look for rips, slicks, trash lines, baitfish and birds working those areas. Throw in 52- to 54-degree water and you've hit the jackpot.
You can start out by fishing closer-area venues such as from the whistle buoy going uphill, following depths ranging from 70 to 140 feet, an area locals call Salmon Alley.
Other fishermen will be going out 4 to 6 miles toward the Oregon/California border and fishing in approximately the same depths.
Although most anglers will be trolling, one highly under-utilized technique that anglers have overlooked is mooching. If you mark baitfish on your fish finder, often there will be one or two lone larger arches on the edges of these bait balls. These large arches are usually Chinook salmon.
Salmon wait on these hard edges to catch the straggler, crippled baits. Chinook do not like chasing down perfectly healthy anchovies and herring because these baitfish move too darned fast and salmon don't like expending more effort than they can.
The technique of mooching involves working the edges of these baitfish schools with a 4-foot 2-hook mooching leader with a banana sinker attached inline. The method involves a lift/drop technique where an angler lifts up on the bait almost to the extent of the rod's length, and then lets the baitfish fall back toward the bottom following the baitfish edges. Usually a salmon will hit the baitfish as it is falling.
A lot of anglers will school hop from one ball of bait to another, just quickly touching on each ball of bait.
The Rogue Bay Heats Up
I had the fortunate circumstance of fishing the lower Rogue Bay with a friend on Tuesday. We had two take-downs that didn't stick and my spinnerbait/anchovy rig was bit by a salmon which I fought for several minutes. The approximate 14-pound scrappy, wiry king made several runs underneath the boat before finally spitting the hook. As I watched the fish swim away, it actually kept getting heavier - imagine that! The fish hit an Oregon Duck-colored spinner blade.
All in all, we probably saw at least 40 fish caught in the bay which averaged anywhere from 8 to 14 pounds, with an occasional 20-plus pounder being netted.
"They are smaller fish right now; in the 8- to 15-pound bracket," says Jim Carey, owner of the Rogue Outdoor Store in Gold Beach on Thursday. "So numbers wise we're still not doing bad. But that's going to change. Usually later in the season we start seeing the bigger fish."
But whether they're big or small, they're all chrome as a freshly-minted nickel.
Anglers are fishing more toward Indian Creek just above the Patterson Bridge on the incoming high tide and are fishing lower toward the gut as the tide starts to go on-the-ebb. A lot of anglers are holding in the current during the last several hours of low tide and are letting their baitfish and spinners do all the work.
But Carey says that a lot of fish are now moving upriver and the local-area guides are moving with the fish.
"There's guides fishing Cole, there's guides fishing Quosatana and there's guides fishing Dunkleberger," notes Carey, who also mentioned that summer steelhead are being caught in the Agness area.
The second derby, which will be attracting anglers to the Rogue River is the Sixth Annual Lower Rogue River Salmon Derby.
"It's the Indian Creek fundraiser," says Carey, which will be taking place from Tuesday, September 6 through Monday September 12.
Derby tickets can be purchased at Jot's Resort, Lex's Landing, Five Star Charters and the Rogue Outdoor Store.
The Indian Creek Hatchery is operated by the Curry Anadromous Fishermen in coordination with ODFW. The hatchery fin clips and releases 75,000 Chinook smolts annually, which greatly contributes to the fall run and extends the salmon fishery through October. So if your Chinook has a missing adipose fin, its origin is almost a shoe in from the Indian Creek facility.
Tight lines!
Larry Ellis, author, writer, columnist and photographer has had a 50-year passion for fishing in California and Oregon's saltwater and freshwater venues. He is a well-known writer for Oregon, Washington and California Fishing and Hunting News, Northwest Sportsman, California Sportsman and Pacific Coast Sportfishing. He currently writes monthly for Salmon Trout Steelheader Magazine, and is the author of two books, "Plug Fishing for Salmon" and "Buoy 10, the World's Largest Salmon Run."  Both books can be bought from Amato Publications (amatobooks.com), Amazon and eBay. Ellis particularly loves living in his hometown of Brookings, Oregon - The heart of salmon country and gateway to fishing paradise.
More Reports
One Week Left Until Final Oregon KMZ Ocean Salmon Opener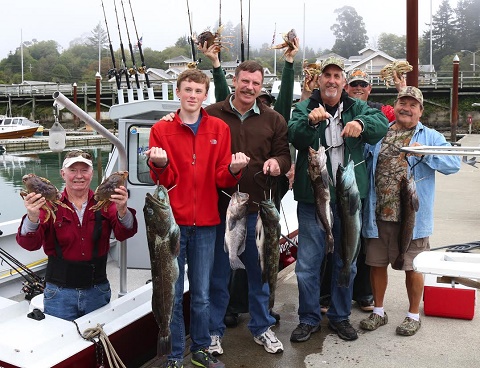 8-27-2016
Start counting backwards! Anglers only have one more week to wait until they get to fish the final leg of......
Read More
Fish the incoming tide for superperch
Rogue River Lower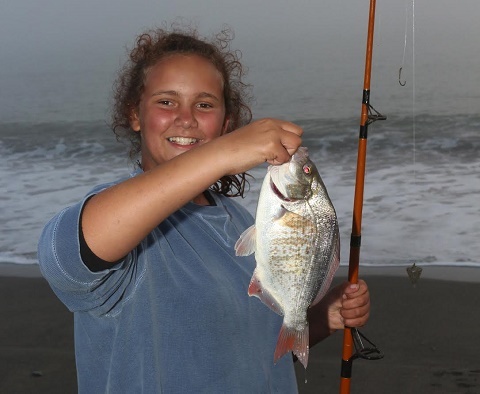 8-20-2016
Surf fishing for surfperch isn't just a May thing - it's a summer thing! Actually it's a thing-thing! Surfperch are......
Read More
www.OregonFishReports.com © 2021. All Rights Reserved.
Website Hosting and Design provided by TECK.net