Oregon Fish Report
Chetco River Fish Report for 9-17-2016
First Chetco River Chinook Arrive
Chetco River - Brookings, OR (Curry County)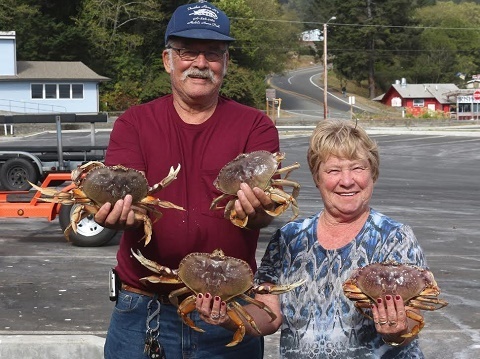 Roy and Nancy Dickinson, 14-year full-time road trekkers from Texas has the Port of Brookings Harbor on their permanent bucket list. Last week they were rewarded with limits of jumbo Dungeness crab.
Photo Credit: Larry Ellis
Incredible fishing awaits for anglers who dare deploy the old-school techniques that were used in days of yesteryear.
But first things first. Anglers who trolled Rogue Bait Rigs (spinnerbait/anchovy setups) or those who just spun a naked anchovy caught the first Chetco River fall Chinook of the year last week, and that's major news because these fish are not only early, they are monsters.
According to the port samplers at the Port of Brookings Harbor, at least 8 adult Chinook were measured on Tuesday. Most of the fish were portly 20-pounders with a few hefty 30-plus-pound kings thrown in for good measure.
On Wednesday, even more fish were caught, including several Chinook in the mid- to upper-twenties. Many fish were reported to have been lost to seals or to sea lions.
All of the fish caught on Tuesday and Wednesday were as shiny as freshly-minted quarters, and their flesh cut scarlet red, demonstrating that these fish had just entered the Chetco bay fresh from the ocean. I have not seen one bad-looking salmon.
Chetco estuary adult Chinook normally do not start being caught in any significant numbers until the latter part of September. So to me, this early showing of large, adult Chetco Chinook means that anglers could be looking forward to a terrific 2016 Chetco River Fall Chinook State Waters Terminal Area Season which will be occurring in the ocean on October 1-3 and October 8-9.
It could also mean that anglers might expect a higher-than-projected number of fall Chinook in the Chetco River on November 4 when all techniques open up to the river.
Now the next statement is very important. Practically all these fish were caught on the incoming tide and up to the turn of high tide, which is the best tide cycle to fish in the Chetco River estuary. However there were a few brutes caught just underneath the Highway 101 bridge or slightly upriver from the bridge on the outgoing tide as they disembarked their upper tidewater holes.
Think About Getting A 2-Rod Endorsement
If you have never done this before, now might also be a perfect time to consider purchasing a 2-rod angling validation, because 2 rods per person are perfectly legal to use from the Chetco River mouth up to the Harbor Water Intake through October 31, but only if you are angling for Chinook, hatchery coho or hatchery steelhead. I have to mention all three of the aforementioned fish species because it is stated as such in the regulations. But in reality, in the Chetco you are more than likely going to hook into a Chinook salmon. But if you happen to catch an adipose fin-clipped (hatchery) coho by accident, you are more than welcome to keep it as part of your salmon limit.
That being said, shore anglers fishing off of the south jetty or the south jetty crab pier might benefit by using one rod for bait, while using another rod for casting the most popular king killers - a 1-ounce chrome Krocodile or a 3/4-ounce to a 1-ounce chrome, chrome/blue or gold Kastmaster. I've always dreamed about having this regulation in effect, even if it is only applicable for a month or so.
I cannot even begin to count the amount of salmon my friends and I have caught in the Chetco and Rogue Rivers by using this baitfish/bobber method.
So, either cast 2 baitfish rods rigged up for salmon and throw them at different distances, or use one baitfish rod and one rod dedicated to lures only, because there have been reports of anglers hooking salmon from the bank.
If you decide to go the 2-rod route, rig up the baitfish rod thusly. Slide a plastic Slido up your mainline, and then slide one 6 mm bead up the mainline before tying the mainline off to a barrel swivel.
You will then want to use a 4-1/2-foot, 2-hook mooching leader with a round cork bobber slid about one-third of the way up the leader. Tie the bottom of the leader to the end of the barrel swivel, hook up an anchovy to the 2-hook rigging, snap a 6-ounce pyramid sinker onto the bottom of your slider and let 'er fly.
The purpose of the bobber is to keep the anchovy about 1 to 2-feet above the bottom, which keeps the crabs and critters from eating your baitfish and allows the salmon (which are swimming near the bottom) to engulf your offering.
In all reasonability, most people will not be using 2 rods clear up at the Harbor Water Intake, which is difficult enough to tend to only one rod. But the Highway 101 bridge up to the north and south jetty is a fair stretch of water for 2-rod trollers or for bank anglers deploying the methods suggested previously.
Try and keep your lures as close to the bottom as possible. I like to use a lift-drop method, where I will lift the lure up about 5 feet, and then let it flutter back to the bottom. Most of my strikes come as the lure is fluttering back to the bottom on-the-drop.
Crabbing Phenomenal
Earlier in the week when northwest winds were howling offshore, a few crabbers who unloaded their pots in shallower and less windy venues were rewarded with limits or near limits of Dungeness crab in 25- to 35-foot depths of water.
Ladies and gentlemen, these are some of the largest dungies I've ever seen, with many of the crustaceans measuring between 7 and 8 inches wide.
With windy seas earlier in the week, the bottomfishing was sketchy at best. But toward the middle of the week, the ocean started flattening out, and calm seas once again beckoned bottomfishing anglers to catch limits of rockfish and lingcod.
This calm ocean water may continue through Saturday, September 17. The National Weather Service is predicting "variable winds less than 5 kt becoming NW 5 to 7 kt in the afternoon" on Saturday, with a "mixed swell...WNW 2 ft and W 2 ft". Wind waves are predicted to be 2 feet.
But the National Weather Service is predicting that ocean swells will gradually pick up over the weekend. So keep your eyes and ears peeled to the National Weather Service forecasts because this is the time of year when the NWS forecasts can do an abrupt turnaround, and this coming week very well might be conducive for good bottom fishing off the coast of Brookings-Harbor.
Tight lines!
Larry Ellis, author, writer, columnist and photographer has had a 50-year passion for fishing in California and Oregon's saltwater and freshwater venues. He is a well-known writer for Oregon, Washington and California Fishing and Hunting News, Northwest Sportsman, California Sportsman and Pacific Coast Sportfishing. He currently writes monthly for Salmon Trout Steelheader Magazine, and is the author of two books, "Plug Fishing for Salmon" and "Buoy 10, the World's Largest Salmon Run."  Both books can be bought from Amato Publications (amatobooks.com), Amazon and eBay. Ellis particularly loves living in his hometown of Brookings, Oregon - The heart of salmon country and gateway to fishing paradise.
More Reports
Ocean and River Derbies are Calling
Rogue River- Lower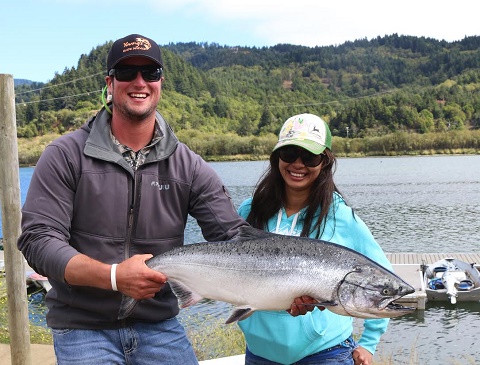 9-3-2016
The final leg of the general ocean salmon season in the Oregon KMZ will finally be getting underway this weekend.......
Read More
One Week Left Until Final Oregon KMZ Ocean Salmon Opener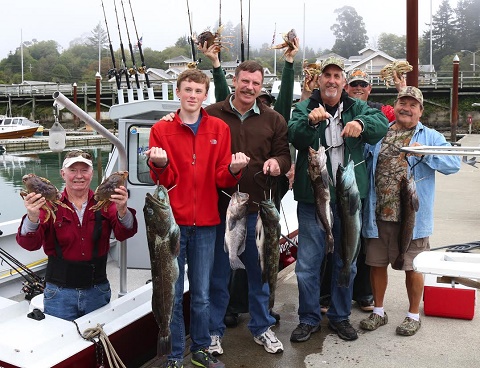 8-27-2016
Start counting backwards! Anglers only have one more week to wait until they get to fish the final leg of......
Read More
www.OregonFishReports.com © 2021. All Rights Reserved.
Website Hosting and Design provided by TECK.net