Oregon Fish Report
Chetco River Fish Report for 11-20-2016
Use bait sacks to catch first-season steelhead
Chetco River - Brookings, OR (Curry County)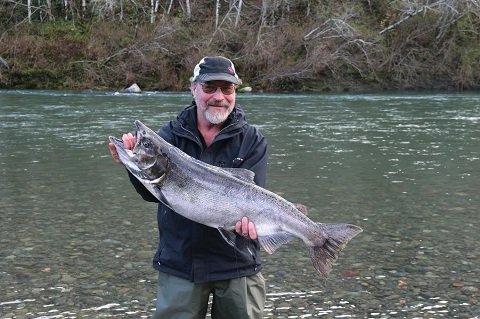 David Warren from Oakland, California was fishing the Chetco River with guide Travis Sallander of Wild Rivers Fishing last week when he tied into this hefty Chinook.
Photo Credit: Larry Ellis
It's now approaching the end of November, so I would anticipate that more Chetco River Chinook are still going to be caught this week. Usually, November is a month when you can expect to catch 25- to 35-pound kings on the Chetco for most of the month. As the month starts to wind down, the salmon run starts to abate and the steelhead action just begins to gear up.
The switchover from fall Chinook to winter steelhead makes absolute sense when you realize that it is an unstoppable process due to the natural procession of Mother Nature. Here's how it works.
Chinook dig deep nests in the gravel called redds, where they deposit their eggs. Although salmon are programmed to dig their redds deep, it is totally natural for a few eggs to escape every redd, especially when there have been high-water events.
About this time of year, the steelhead run will just be starting, and if you are very observant and own a good pair of polarized sun glasses, you can sometimes watch steelhead gobbling up these eggs drifting off of the salmon redds, one egg at a time and as fast as they can.
That's why in the beginning of the season, single items like a number 10 Lil' Corky, single beads or a Puff Ball-and-egg combo (with only 1 or 2 salmon eggs) can work very effectively when either drift-fishing from the bank or side-drifting from a drift boat.
Already there have been reliable reports of 18- to 20-inch steelhead being caught incidentally by salmon fishermen, and there have been unsubstantiated reports of larger steelhead being caught.
And due to all the high water that the Chetco has been experiencing the past few months, I would say that the river could be setting itself up for an earlier-than-usual steelhead season. So it might be worth your while to start keying your efforts into catching steelhead a little earlier than usual this month.
If the river is in good shape, color and flow wise, I would not be surprised one bit if somebody out there will be stuffing a steelie for Thanksgiving.
Due to the nature of the larger salmon eggs naturally flowing off of the salmon redds, I would definitely concentrate your efforts into drift-fishing or side-drifting one or two salmon eggs, three eggs at the most, and I would include an orange Puff Ball in the mix.
The question is, how can you hook up one Puff Ball and between 1 and 3 salmon eggs onto your hook? The answer is to use a bait sack.
Bait sacks, also called spawn sacks, are comprised of fine netting which holds your bait of choice together and onto your hook. And they are quite effective.
After all, the Chetco River record steelhead was a 28-pounder caught by Don Hawk, and he was drift-fishing a spawn sack, as related to me by Hawk himself.
Tying up spawn sacks is fun and very cost effective, especially considering that the Chetco's female steelhead roe skeins are not all that tight at times. The naturally-loose eggs from many of their skeins are actually perfect for tying up bait sacks.
Before tying up your spawn sacks, you will need to salt cure your individual eggs. Great instructions on how to do this are on YouTube.
You're going to need spawn netting (orange for natural eggs), some Spider Thread to tie the sack off with, and most importantly a tool made specifically for tying spawn sacks such as the Spawnee Bait Sac Tying Machine made by Atlas-Mike's ($14.95 and lasts a life time).
The tool helps make the netting nice and tight. You can't even tell that there is netting there at all. Sometimes the old timers used to use their wife's nylon stockings for the netting - and it really works well.
When tying drift-fishing and side-drifting spawn sacks, remember Mother Nature and put one Puff Ball in the sack. Add only between 1 and 3 salmon eggs. Remember, the fewer, the better.
Tight lines and happy Thanksgiving!
Larry Ellis, author, writer, columnist and photographer has had a 50-year passion for fishing in California and Oregon's saltwater and freshwater venues. He is a well-known writer for Oregon, Washington and California Fishing and Hunting News, Northwest Sportsman, California Sportsman and Pacific Coast Sportfishing. He currently writes monthly for Salmon Trout Steelheader Magazine, and is the author of two books, "Plug Fishing for Salmon" and "Buoy 10, the World's Largest Salmon Run."  Both books can be bought from Amato Publications (amatobooks.com), Amazon and eBay. Ellis particularly loves living in his hometown of Brookings, Oregon - The heart of salmon country and gateway to fishing paradise.
More Reports
Chetco River Kicking Out Kings
Chetco River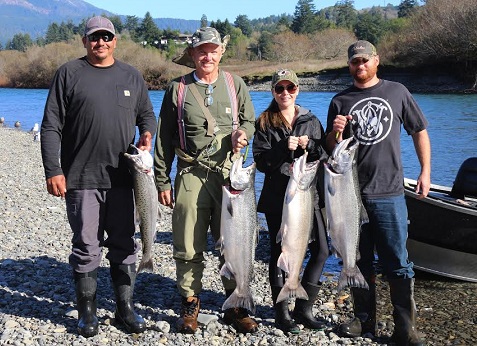 11-13-2016
In the last few weeks, we've talked about water levels and water flows, and how they influence the various fishing......
Read More
Fish the Chetco According to River Flows
Chetco River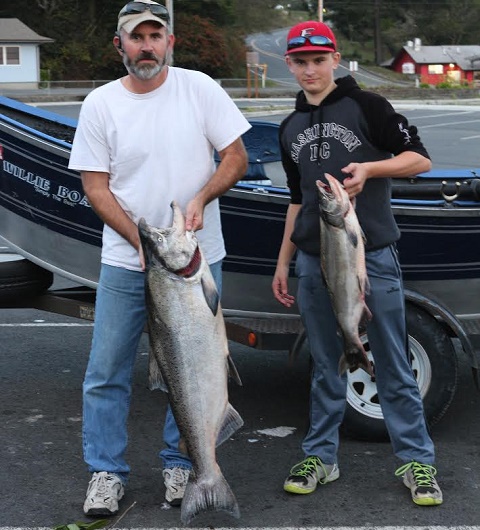 10-29-2016
Start counting backwards! Salmon warriors are anxiously awaiting for November 4 to roll around, and that's this coming Friday. That's......
Read More
www.OregonFishReports.com © 2023. All Rights Reserved.
Website Hosting and Design provided by TECK.net