Oregon Fish Report
Chetco River Fish Report for 12-3-2016
Fresh steelhead heading into the Chetco river
Chetco River - Brookings, OR (Curry County)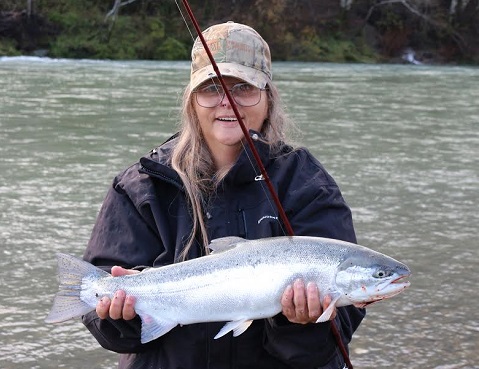 Toni Roberts from Brookings, Oregon nailed this chrome-bright hatchery steelhead while plunking last week on the Chetco River.
Photo Credit: Larry Ellis
I just love the month of December.  It's the time of the year when the thought of catching a silver-bright metalhead is not just a fanciful pipe dream, but a sensible rationality that can start dominating your reality.
Take last week for instance.  I had just pulled up to a spot where a group of plunkers were gathering at Social Security Bar when a gentleman grinning ear-to-ear told me that the fish should start coming through any minute.
I kid you not, less than 2 minutes later I heard the same optimistic anger shout out, "Fish on!" and then pointed at a lady whose rod tip was going gangbusters inside of her rod holder.  She set the hook and it was game on with a combative chromer.
As promised last week, here are three top ways of rigging up a plunking setup.
Remember that the Chetco plunks the best when the river is anywhere from 3,000 to 8,000 cfs and is on-the-drop.
Plunking Rig Number 1: By far the most-common way of rigging up for plunking, you will be using between 15- and 18-pound monofilament mainline.
You will need to buy a Slido (black is best), which is a solid piece of plastic tubing averaging between 1-1/2-inches to 2-inches long.  The Slido has a snap on the bottom, to which you attach your sinker ranging from 6 to 10 ounces.
The snap on the Slido is not centered but is closer to one end than the other.
Thread your mainline through the Slido starting at the tubing that has the snap closest to one side.  Now thread a dark 5 or 6mm bead through the mainline and tie your mainline to a size 5 or 7 barrel swivel.  You don't want to use bright red or orange beads for this step because sometimes you will get a lot of false strikes caused from steelhead whacking the red or orange bead.
Now you will need to tie a leader.  I feel that lighter leaders will entice more strikes, leaders that are between 10- and 12-pound test monofilament. Use a leader that is between 30- and 36-inches long and tie a size 1 or a 1/0 octopus-style hook to the end using an egg loop knot.
Slide a 5 or 6mm bead down your leader and onto the top of the hook.  Now slide down the Spin-N-Glo of your choice.  This bead can match the color of the Spin-N-Glo and acts as a bearing against the rapidly-spinning winged bobber.
With a Slido, your line slides freely through the tubing, the idea being that the fish won't feel the tension of your rod.  Make your cast, put your rod in a sturdy rod holder and wait for a savage take-down.
Plunking Rig Number 2: For this rig, you will be using a 3-way swivel to separate your mainline from your leader.  Do not use a crossline swivel - two different animals here.
Tie your mainline directly to one end of the 3-way swivel, the end that is in line with the opposite end of the swivel. Tie your leader (as previously described) to that opposite end of the swivel.
You are now left with a swivel eye that is exactly 90 degrees from the other eyes of the swivel.  This eye is for your lead line.  Tie a 6-inch piece of 15-pound monofilament to the lead line swivel eye, and then tie your sinker to the end of the lead line.
I've caught a lot of steelhead using this rig.
Plunking Rig Number 3: For this rig, you will need one size 5 barrel swivel. I like black the best.
Simply tie your mainline to one end of the barrel swivel and tie your leader setup to the opposite end of the swivel.
For your lead line, tie a 6-inch piece of 15-pound monofilament to the bottom of the mainline eye of the swivel.  Now tie the sinker size of your choice to the bottom of your lead line and you're good to go.
This used to be the most-commonly used rig on the Chetco before anglers started using Slidos, so it has caught innumerable steelhead.
Use one of these three rigs and get ready to tag your heavy metalhead!
Tight lines!
Larry Ellis, author, writer, columnist and photographer has had a 50-year passion for fishing in California and Oregon's saltwater and freshwater venues. He is a well-known writer for Oregon, Washington and California Fishing and Hunting News, Northwest Sportsman, California Sportsman and Pacific Coast Sportfishing. He currently writes monthly for Salmon Trout Steelheader Magazine, and is the author of two books, "Plug Fishing for Salmon" and "Buoy 10, the World's Largest Salmon Run."  Both books can be bought from Amato Publications (amatobooks.com), Amazon and eBay. Ellis particularly loves living in his hometown of Brookings, Oregon - The heart of salmon country and gateway to fishing paradise.
More Reports
Crabbing closure due to high domoic acid
Chetco River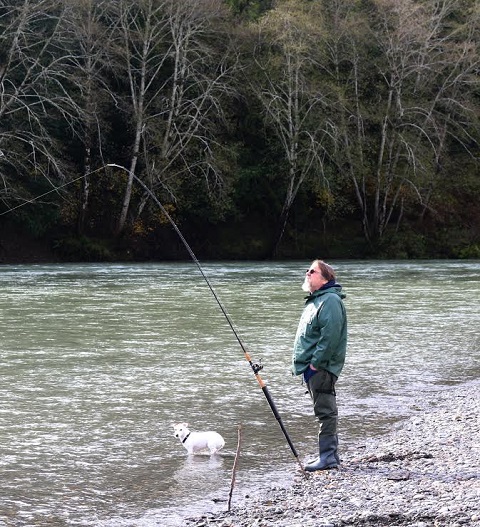 11-26-2016
December 1 usually marks the first day that recreational crabbers can start harvesting Dungeness crab.  But impending storms are not......
Read More
Use bait sacks to catch first-season steelhead
Chetco River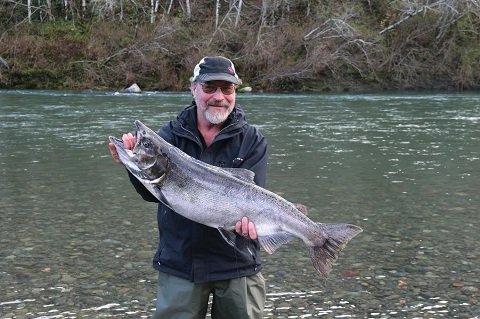 11-20-2016
It's now approaching the end of November, so I would anticipate that more Chetco River Chinook are still going to......
Read More
www.OregonFishReports.com © 2021. All Rights Reserved.
Website Hosting and Design provided by TECK.net