Oregon Fish Report
Chetco River Fish Report for 12-9-2016
Get ready now for Oregon 2017 rockfish regulations
Chetco River - Brookings, OR (Curry County)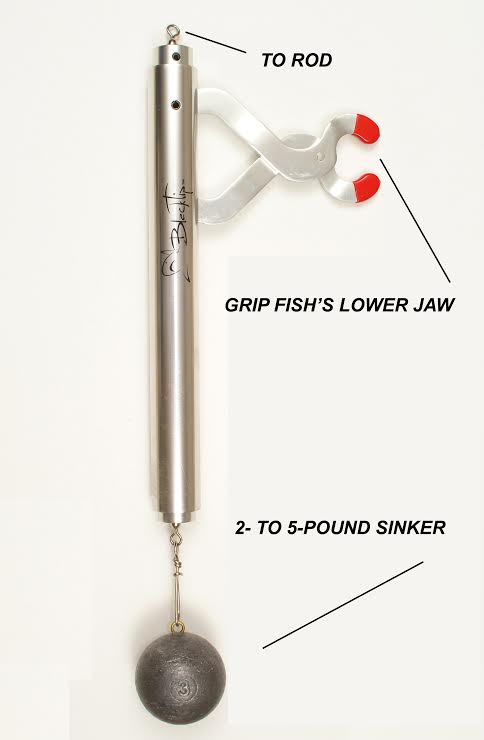 My favorite fish descending devise is the BlackTip Catch and Release Fish Recompression Tool, which allows you to release very large rockfish by using heavy sinkers.
Photo Credit: Larry Ellis
There has never been a more critical time than the present to read about next year's (2017) rockfish regulations, because there will be certain rule changes and specific requirements that will be affecting all groundfish fishermen, especially rock fishermen.
You will not find these rule changes in the 2017 Oregon Sport Fishing Regulations pamphlet.
Starting January 1, 2017, everyone who is fishing for groundfish (especially rockfish) in a boat will be required to have a descending device on board their vessel, and will be required to use it for all rockfish released outside of 30 fathoms.  In other words, descending devices will not be an option any more - they will be mandatory!
So what exactly is a descending device?
A descending device is an appliance (I call all doo-hickeys appliances) that allows a rockfish to be released back to the depth it was originally caught.
You may have noticed that sometimes when fishing for rockfish, their eyes will be bulging out and there will be a balloon-like structure sticking out of the fish's mouth.  That balloon-like structure is its stomach!
For years now, descending devices have been used voluntarily by rock fishermen on rockfish that exhibit exophthalmia (bulging eyes) and averted stomachs.  When those fish are sent back to their original catch depth immediately after capture, those big bulging baby blues sink back into their heads, and their averted stomachs invert back to their original positions in their body cavity.
According to ODFW rulings that are not printed in the regulations pamphlet, "All vessels engaged in sport fishing activities shall have a functional descending device on board when fishing for groundfish in the Pacific Ocean or when in possession of groundfish," with special emphasis on the word 'functional'.
According to Patrick Myrick, assistant groundfish project leader for ODFW, the word 'functional' will eventually be worded to mean that the descending device will be locked, loaded and ready to be used immediately.
ODFW goes on to say, "A descending device shall be used when releasing any rockfish outside the 30-fathom curve.  A descending device means a device capable of returning a rockfish back to a depth of at least 100 feet to assist the fish in recompression and to improve the fish's chance of survival."
Descending devices come in all shapes and sizes.  You can buy them already made such as the inexpensive Shelton Fish Descender or the more expensive (and my favorite), the Black Tip Recompression Tool.
But you can also make one yourself by using a 12-ounce leadhead jig.  Simply file off the barb, run a swivel around the hook shank and snap on a zip tie to keep the swivel from sliding off the hook.  Attach your mainline to the swivel and you're ready to descend those floaters or unwanted rockfish from whence they came.
After catching a non-wanted rockfish, run the hook through the fish's bottom jaw, free spool the fish down to its original catch depth, give your descender a sharp tug and the fish will swim off unharmed.
Rockfish Limits for 2017
Anglers should also be aware of several changes to the Oregon anger's limit of rockfish for 2017. Because of a string of poor ocean salmon seasons, anglers have been making more rockfish trips than ever before, with the most abundant rockfish in the ocean taking a serious beating - the black rockfish. Once the black rockfish allocation has been reached, the entire rockfish season could conceivably be shut down.
So ODFW has taken a proactive stance to keep the rockfish fishery thriving 12 months a year.
The good news is that anglers will still be able to harvest 7 rockfish daily, however the sub-bag limit of black rockfish will be 6 black rockfish.
There will also be a 4-fish sub-bag limit which will allow the retention of blue rockfish, deacon rockfish, copper rockfish, quillback rockfish and China rockfish, in aggregate.
In addition, the one-fish sub-bag limit on canary rockfish will be lifted, so in 2017, anglers can keep up to 7 canaries - sing baby, sing.
There will also be no minimum size restrictions on kelp greenling.
"By reducing the black rockfish limit and allowing for a bigger catch of the other rockfish species, it will be less likely for anglers to go over the black rockfish allocation and risk a sudden, abrupt rockfish closure mid-season," says Andy Martin of Wild Rivers Fishing. "For the most part, everybody's going to leave with the exact same amount of fish fillets at the end of the day. It will still be a 7-rockfish limit."
Recreational crabbing in Oregon's ocean and bays from Floras Creek south to the Oregon/California border is now open.
Tight lines!
Larry Ellis, author, writer, columnist and photographer has had a 50-year passion for fishing in California and Oregon's saltwater and freshwater venues. He is a well-known writer for Oregon, Washington and California Fishing and Hunting News, Northwest Sportsman, California Sportsman and Pacific Coast Sportfishing. He currently writes monthly for Salmon Trout Steelheader Magazine, and is the author of two books, "Plug Fishing for Salmon" and "Buoy 10, the World's Largest Salmon Run."  Both books can be bought from Amato Publications (amatobooks.com), Amazon and eBay. Ellis particularly loves living in his hometown of Brookings, Oregon - The heart of salmon country and gateway to fishing paradise.
More Reports
Fresh steelhead heading into the Chetco river
Chetco River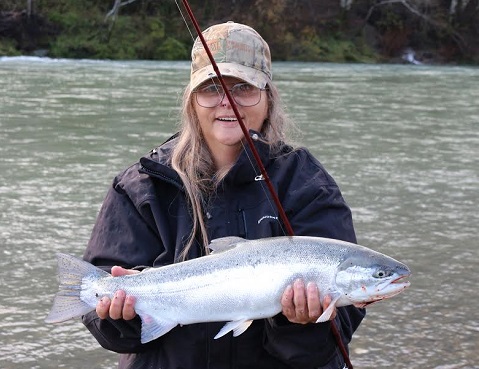 12-3-2016
I just love the month of December.  It's the time of the year when the thought of catching a silver-bright......
Read More
Crabbing closure due to high domoic acid
Chetco River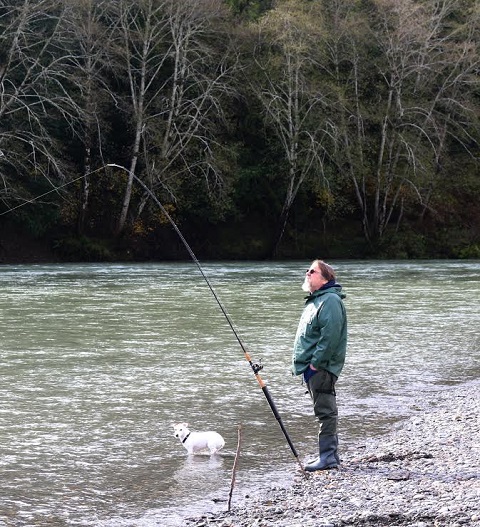 11-26-2016
December 1 usually marks the first day that recreational crabbers can start harvesting Dungeness crab.  But impending storms are not......
Read More
www.OregonFishReports.com © 2021. All Rights Reserved.
Website Hosting and Design provided by TECK.net