Oregon Fish Report
Chetco River Fish Report for 12-31-2016
ODFW celebrates the New Year with free fishing weekend
Chetco River - Brookings, OR (Curry County)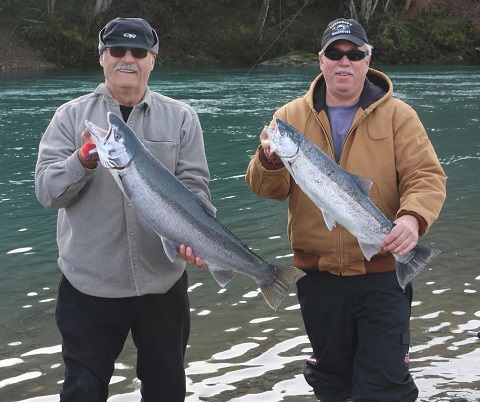 Wayne Hirsch (left) and Scott Jones, both from Brookings, Oregon plunked Spin-N-Glos on the Chetco River last week to nail these beautiful winter steelhead. Wayne's hatchery steelie tipped the scales at 15 pounds! Photo by Larry Ellis
It's not very often that New Year's Eve falls on the day that this fish column comes out, so you definitely don't want to be caught red-handed without your new 2017 fishing license ($38.00) and your adult combined angling tag ($35.00).  If you wish to crab or pursue clams, mussels and other shellfish, you will also have to purchase an annual shellfish license ($9.00).
That being said, the Oregon Department of Fish and Wildlife will be celebrating the end of the old year and the beginning of the New Year with another free fishing weekend.
On Saturday, December 31, 2016 and Sunday, January 1, 2017, anglers can fish, clam or crab for free.  On these two days, you are not required to purchase any licenses or buy any fishing tags or endorsements.  There will likely be at least one more additional free fishing weekend later in the year.
January has always been considered to be peak season on the Chetco River for winter steelhead.  This year has been no exception.  However, action on the heavy metalheads was somewhat curtailed last week due to extremely-cold water temperatures.
"There's fish in the river, but the water's been really cold," says local-area guide Andy Martin of Wild Rivers Fishing. "The river's been really clear up high, and it's in really good shape down low, but it's been really cold everywhere. It's like fishing in ice water!"
That being said, Martin has still been managing to sucker in a few willing biters every day he's fished the Chetco.
"We're still getting 2 to 3 steelhead a day," notes Martin, "with one out of three fish being a hatchery fish."
Fish are now all throughout the system with fresh chromers being caught from the gate hole all the way up to the South Fork by fishermen deploying all steelhead techniques.
The lower Rogue River was kicking out some monster steelhead before the end of the year, with ice-cold water also slowing down most of the action.  However, dedicated plunkers and jet sledders have been hooking into some silver-bright Chromezillas.
"We haven't seen big numbers of steelhead in any way, shape or form, but we are seeing extremely high-quality fish this year," says Jim Carey, owner of the Rogue Outdoor Store in Gold Beach.  "There's been a lot of bigger fish in the 10-, 12- and 15-pound bracket that have been taken.  So there's a lot of enthusiasm for these better-quality fish and power fish."
Carey says that at the beginning of last week, the majority of productivity was coming off the bank, with plunking leading the pack in fishing techniques.  But now that the water is starting to clear, the tide has turned.
"Even the guys in the boats were anchoring right next to shore because the water was so muddy," notes Carey.  "But now that the water is clearing and the water has 5 feet of visibility, the boat fishermen are gaining the advantage by being able to fish all the riffles and the angles."
Carey says that as of last week, about 85 percent of the steelhead have been wild with 15 percent being hatchery metalheads.  The ratio of hatchery-fish numbers should start climbing as the New Year progresses.
Up until December 31, all wild steelhead were required to be released on the lower Rogue.  
But as of January 1, anglers fishing the lower Rogue may now begin keeping wild steelhead, but with certain restrictions.  Wild fish must be at least 24 inches in length, with the limit for wild steelhead being 1 fish a day/5 fish per year.
Carey says that the Mag Lip has been catching a considerable amount of steelhead toward the end of 2016, so the beginning of 2017 should not be any different.
"I will say that the Mag Lip has made a distinct impression this year," notes Carey.  "The Mag Lip has a lot of Northwest Colors that we don't see in the other lines."
Carey says the size Mag Lip you decide to use will depend on the turbidity of the water, with the Mag Lip 3.5 being used in more turbidity, with a lot of people down-sizing to the 3.0 as the water clears.
"And we're getting calls for the 2.5 for sure," Carey commented.
Tight lines!
Larry Ellis, author, writer, columnist and photographer has had a 50-year passion for fishing in California and Oregon's saltwater and freshwater venues. He is a well-known writer for Oregon, Washington and California Fishing and Hunting News, Northwest Sportsman, California Sportsman and Pacific Coast Sportfishing. He currently writes monthly for Salmon Trout Steelheader Magazine, and is the author of two books, "Plug Fishing for Salmon" and "Buoy 10, the World's Largest Salmon Run."  Both books can be bought from Amato Publications (amatobooks.com), Amazon and eBay. Ellis particularly loves living in his hometown of Brookings, Oregon - The heart of salmon country and gateway to fishing paradise.
More Reports
Rockfish Recompression Devices Part III
Chetco River
12-23-2016
As of January 1, 2017, anglers fishing for bottomfish will be required to have on board their vessel, a functional descending......
Read More
Fish descending devices part II
Chetco River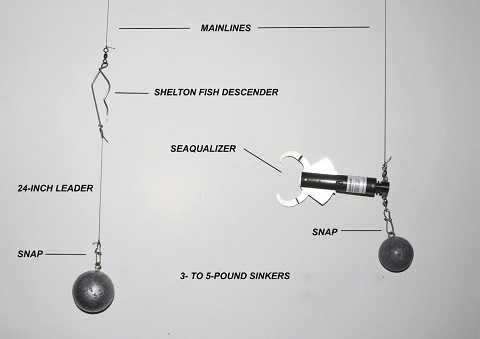 12-16-2016
Ever brought up a rockfish that looks like it has drank way too many cups of coffee?  It's eyes are......
Read More
www.OregonFishReports.com © 2021. All Rights Reserved.
Website Hosting and Design provided by TECK.net