Oregon Fish Report
Chetco River Fish Report for 12-16-2016
Fish descending devices part II
Chetco River - Brookings, OR (Curry County)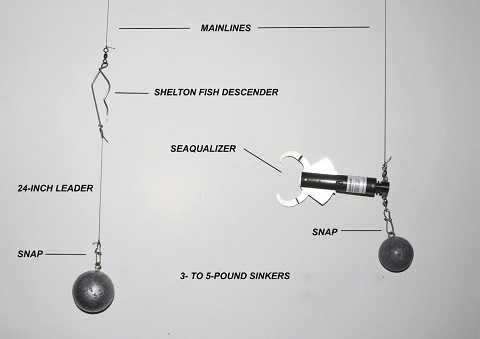 Ever brought up a rockfish that looks like it has drank way too many cups of coffee?  It's eyes are bulging out of its sockets and an everted stomach can be seen sticking out of its mouth like a distorted party balloon. That fish has suffered from barotrauma and if you want to save the life of that fish as well as the rockfish fishery, you need to get these fish back down to their original catch depth within 2 minutes.
I've been writing about and making fish descending devices for over 12 years now. I got in on the ground floor of this exciting project with the research of Dr. Steve Parker at ODFW and Steven Theberge from Oregon Seagrant.  So back in 2005, I started writing extensive articles for Oregon Fishing and Hunting Magazine regarding rockfish and barotrauma, as well as articles for Northwest Sportsman, California Sportsman and the Curry Coastal Pilot.
Not many people listened to folks preaching about rockfish release devices back in 2005 because using these devices was strictly voluntary.  But now that every boat fishing for bottom fish as of 2017 is required to have a functional descending device on board their vessel, the bottom fishing populace is listening with piano tuner ears.
Rockfish release devices, or recompression tools as they are called in the trade, can be bought for as little as $6.00 or as much as $55.00.
But whatever device you choose to use, it is going to take between 2 and 6 pounds of lead to get a rockfish with bulging eyes and an everted stomach back to its original catch depth.  The size sinker you use really depends on the amount of barotrauma the fish has suffered, the size of the fish and lastly, the depth in which you are re-descending the fish.
Around the Brookings area, most people fish between 30 and 140 feet of water for rockfish, so generally speaking, 3 pounds of lead will be sufficient. But a 10-pound yelloweye rockfish that has been caught in 400 feet of water at the halibut grounds will almost always require at least 6 pounds of lead to get it back down to the bottom.
You will have to experiment using different size sinkers to see for yourself what works best under a particular set of circumstances, and then let your own experience become your guide.
Last week, I featured the BlackTip recompression device, which is currently available at westmarine.com for only $9.55 (limited availability), a significantly marked down price from its retail price of $49.95.  Who knows how long this puppy will be available for under 10 bucks.
This week, I have taken a picture of two of the most popular commercially-made recompression devices.
The least expensive of the commercially-made devices is the Shelton Fish Descender which runs  $6.00 (minus the lead) if you buy it directly at Bill Shelton's website (sheltonproducts.com).  In most cases this appliance will get the job done. You can also buy the Shelton product at Englund Marine in Crescent City, the Chetco Outdoor Store in Brookings or at the Rogue Outdoor Store in Gold Beach.
Next, the SeaQualizer (theseaqualizer.com) $55.00, is a lip-gripping-type device that releases fish automatically at three different settings: 50 feet, 100 feet and 150 feet.  In other words, if you set the SeaQualizer for 100 feet, the jaws will automatically retract and release the fish anywhere from 100 to 110 feet. So if you are fishing for bottomfish at 120 feet, this device is the perfect recompression device.
The same company also make similar-looking devices that release fish at deeper as well as at shallower depths.  But around these parts, the first-mentioned SeaQualizer will suffice for most bottom fishermen.
My personal preference is to use a device that releases the fish at the precise depth that it was originally caught such as the Shelton or the Blacktip products.  And although rockfish can be suspended, most of these fish are caught within a few feet from the bottom.
Next week will be part III, the final installment of rockfish-release devices, which will give explicit instructions on how to use the Blacktip Recompression Tool, the Shelton Fish Descender and the SeaQualizer. It will also feature another gripping recompression device, the Fish Grip (thefishgrip.net), a device that a couple skippers in northern Oregon have modified to work as a recompression device.
Visit this ODFW link to get a sneak preview on how to use some of these devices as well as view a video on barotrauma.
Tight lines!
Larry Ellis, author, writer, columnist and photographer has had a 50-year passion for fishing in California and Oregon's saltwater and freshwater venues. He is a well-known writer for Oregon, Washington and California Fishing and Hunting News, Northwest Sportsman, California Sportsman and Pacific Coast Sportfishing. He currently writes monthly for Salmon Trout Steelheader Magazine, and is the author of two books, "Plug Fishing for Salmon" and "Buoy 10, the World's Largest Salmon Run."  Both books can be bought from Amato Publications (amatobooks.com), Amazon and eBay. Ellis particularly loves living in his hometown of Brookings, Oregon - The heart of salmon country and gateway to fishing paradise.
More Reports
Get ready now for Oregon 2017 rockfish regulations
Chetco River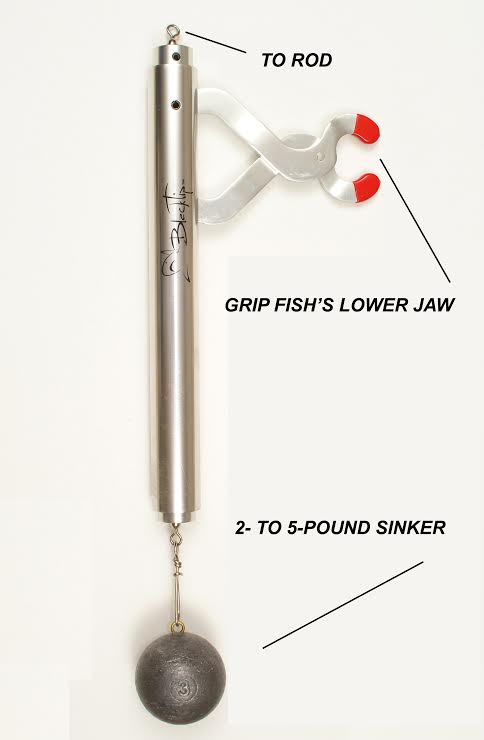 12-9-2016
There has never been a more critical time than the present to read about next year's (2017) rockfish regulations, because......
Read More
Fresh steelhead heading into the Chetco river
Chetco River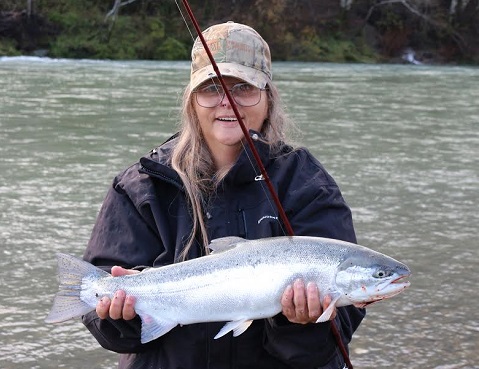 12-3-2016
I just love the month of December.  It's the time of the year when the thought of catching a silver-bright......
Read More
www.OregonFishReports.com © 2021. All Rights Reserved.
Website Hosting and Design provided by TECK.net