Oregon Fish Report
Chetco River Fish Report for 1-28-2017
South Coast rivers give anglers a crash course in metal shop
Chetco River - Brookings, OR (Curry County)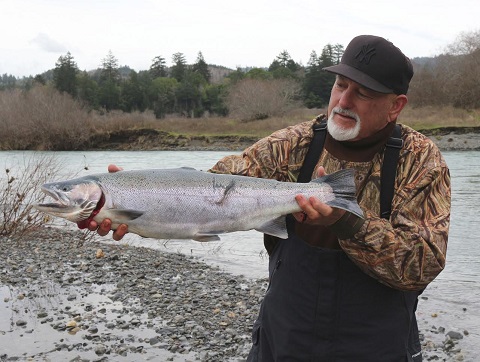 Al McVay from San Luis Obispo, California sights in a hatchery steelhead he caught last week while side-drifting the Chetco River with Harvey Young of Fishawk River Company. Photo by Larry Ellis
After several weeks of high and turbid water conditions that contained lots of runoff due to melting snowpack and recent rains, several Oregon south coast rivers finally pulled into shape, enough to give side-drifters, bank fishermen and boaters a refresher course in how to catch a few heavy metalheads.

On Thursday, the lower Rogue was fishing quite well for large winter steelhead, especially for bankies, but it was also conducive to many take-downs from fishermen anchoring up and setting out their favorite plugs.

"The bankies did really good today (on the lower Rogue)," said guide John Anderson from Memory Makers Rogue River Guide Service on Thursday. "And it was good for boats too. I was  just talking with a guy who said there were fish caught everywhere, and the majority were running anywhere from 11 to 16 pounds - there's a lot of big fish!"

Which goes to show you that Anderson's local knowledge of the Rogue's favored flows are spot on.  Last week he said that the Rogue fishes well anywhere from around 12,000 cfs on down.  Thursday's flows hovered close to 12,500 cfs.

Both boaties and bankies should be taking full advantage of the Rogue's ideal river flows this week, which are predicted to range anywhere from 10,000 down to 7,000 cfs.

To put the size of these fish in perspective, the majority of the Rogue's winter steelhead average between 8 and 10 pounds, but there are those years when fish in the mid-to-upper teens are caught as well, such as the 16-pound hatchery buck I caught one year, my largest Rogue hatchery heavy metalhead to date.

Rogue River steelhead - nothing like 'em!

We're talking fish that are bound for the far reaches of the Applegate and other areas near Lost Creek Reservoir, well over 120 miles away from the Rogue's jaws.  So when you hook into a large and lustrous, fat and fresh winter steelhead on the lower Rogue just a few miles from the river mouth, it can often give you the impression that you've hooked into one of the Rogue's notoriously white-hot springers.

Rogue River springers - nothing like 'em either.  They'll be coming within 30 days or so.  There's still some snowpack in the hills, which is always conducive for a good springer run.

Bank fishermen are plunking the traditional double-rigged Spin-N-Glo setup while boaters are anchoring up on an inside bend that straddles one or more current seams.  By the way, your boat will often create another quasi-current seam that has been known to craft another travel lane that these fish will sometimes hug as well.

If you're new to anchoring up in the Rogue, it is best to fish with an experienced guide like Anderson or another local who knows the eccentricities of the Rogue's power riffles.

Good plugs have been the Mag Lip 3.5 and 3.0, Brad's Wigglers and Wee Wigglers (both in gold with a black bill) and the standard cop-car-colored HotShot.

Meanwhile the Chetco pulled into shape at the beginning of last week, where plunkers ruled the roost as the river dropped from 7,000 down to 4,000 cfs. As the river dropped below 4,000 cfs on Wednesday, Josh Riddle from Riverside Market once again became the most popular guy on the river as he shuttled numerous rigs from the south fork down to Social Security Bar.

On Wednesday, the Chetco started fishing fairly well for side-drifters and the occasional plug puller, as well as a few plunkers, although the river was still quite colored up.  And speaking about plugs, the river should be plugged with fishermen this week as the river starts lowering and clearing to perfection vis.

A few fishermen have also been honing in on a little Elk and Sixes river action, with mainly side-drifters cashing in on the action.

Whichever river you decide to fish, be sure to keep your eyes peeled for the very aggressive down-back steelhead (also called downers, gunnies, snakes and tubes) which are spawned-out winter steelhead making their way back to sea.

Tight lines!
Larry Ellis, author, writer, columnist and photographer has had a 50-year passion for fishing in California and Oregon's saltwater and freshwater venues. He is a well-known writer for Oregon, Washington and California Fishing and Hunting News, Northwest Sportsman, California Sportsman and Pacific Coast Sportfishing. He currently writes monthly for Salmon Trout Steelheader Magazine, and is the author of two books, "Plug Fishing for Salmon" and "Buoy 10, the World's Largest Salmon Run."  Both books can be bought from Amato Publications (amatobooks.com), Amazon and eBay. Ellis particularly loves living in his hometown of Brookings, Oregon - The heart of salmon country and gateway to fishing paradise.
More Reports
Rains shepherd in peak season Chetco steelhead
Chetco River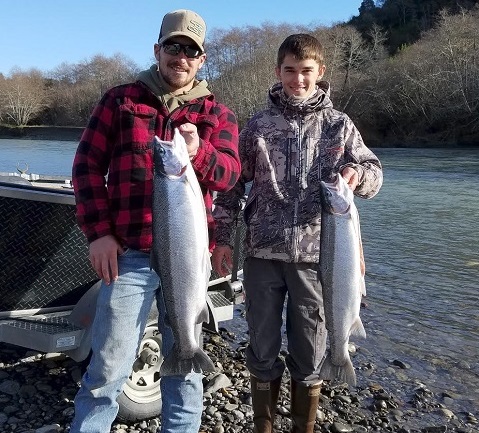 1-21-2017
A combination of melting snowpack and heavy rains ushered in the first large colonies of chrome-bright winter steelhead into the......
Read More
Snow melt raises rivers to flood stage
Chetco River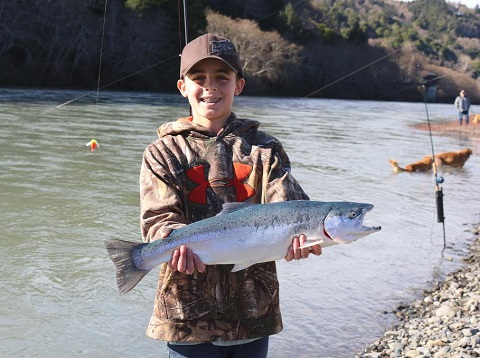 1-14-2017
What happened last week to northern California and southern Oregon rivers was somewhat similar to Isaac Newton's supposed gravitational quotation......
Read More
www.OregonFishReports.com © 2021. All Rights Reserved.
Website Hosting and Design provided by TECK.net