Oregon Fish Report
Garrison Lake Fish Report for 4-1-2017
Anglers hauling in surfperch and trout
Garrison Lake - Port Orford, OR (Curry County)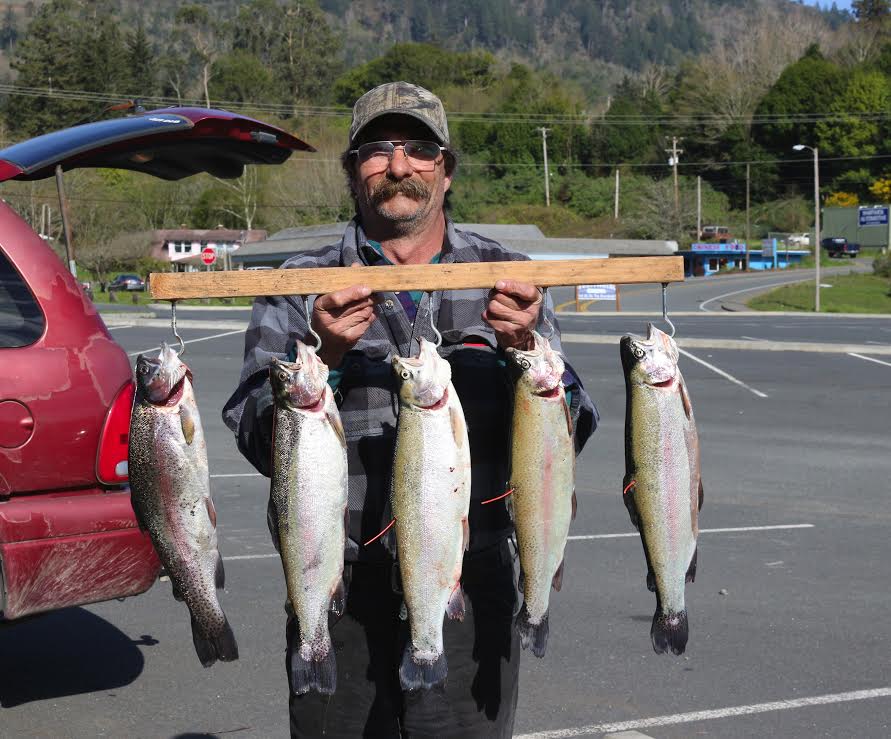 Dan Headley from Brookings, Oregon caught a limit of trophy trout from the banks of Garrison Lake last week, three of which clearly show orange tags underneath their dorsal fins. Photo courtesy of Larry Ellis.
Last week, anglers who wanted some surfperch action only needed to do three things: fish on the incoming tide, use small pieces of raw shrimp, and cast! The same should be happening this week as well.
Limits of striped surfperch were filleted on several different occasions at the Port of Brookings Harbor's fish-cleaning station. Some of the iridescent 'pogies', as the striped surfperch are often called, were quite robust.
When a fillet knife is not long enough to make one clean swipe through a fish's side, you know that's a big surfperch.  Some of the slabs were well over 2 pounds.
Make sure to give yourself at least four hours to fish the incoming tide and through high slack before packing it up and heading for the barn.
This weekend and all of next week have favorable surfperch fishing incoming tides.
On April 1-3, the favored high tides are in the late afternoon at 4:26 pm, 5:38 pm, and 6:57 pm respectively.  So you will want to make sure that you and your surf gear are locked, loaded and ready to cast on your favorite beach at 12:30 pm, 1:30 pm and  3:00 pm in order to fish that 4-hour incoming tide window.
About one half hour after high tide - bail!  If you're lucky, you'll be able to see the wakes and possibly even the fins of these surfperch heading back out to sea beyond the breakers.
By the time Thursday rolls around, the favored fishing times will switch to an early-morning bite.
On Thursday, Friday and Saturday (April 8), high tide will be at 8:40 am, 9:44 am, and 10:39 am, respectively.  Consequently, you might only be able to fish effectively for 2 hours on Thursday (starting at 6:30 am), 3 hours on Friday and 4 hours on Saturday.
Make sure to develop a 360-degree awareness for sneaker waves.
Sneaker waves don't just break in front of you, although rising swells do suddenly happen out of the blue.
In steep, sloping beaches, the outgoing surge of water heading back to the ocean will often form a wave from behind you.  These are the waves that catch people off guard the most.
Anglers also continued to catch limits or near limits of rainbow trout at Garrison Lake.  Be sure to be on the lookout for orange spaghetti tags that are just underneath the fish's dorsal fin.
ODFW is encouraging anglers to report all of these tags so that they will get a better handle on the fishery.  Doing so could very well mean that ODFW might be stocking more trophy fish in the future.
A portion of these tags are worth money.
"The reward tags are worth $50.00," says Todd Confer, district fisheries biologist. "Although fishermen are not required to turn in the non-reward tags, we definitely encourage people to do so because that will improve the information that we will get out of this study."
ODFW inserted orange spaghetti tags underneath the dorsal fins of three different sizes of fish.
"The majority of the tags are in the 8- to 10-inch fish because that's the majority of the fish that we put in the lake," notes Confer. "Then we've put six hundred 2-pounders in the lake, and then we've got three hundred 3-pound-plus trophy fish as well."
The 2-pounders are between 15- and 16-inches long and the 3-pounders are between 18 and 19 inches in length.
The non-reward tags have a 4-digit number.  They will have a zero followed by three digits, followed by an ODFW telephone number.
"The reward tags are exactly the same, but if you roll the fish over 180 degrees from our phone number, it will say 'reward - $50.00'", notes Confer.
The rewards are given out in pre-paid Visa Cards.
"We're actually not done tagging the trout yet," says Confer, who says ODFW has yet to tag 400 additional 2-pound monsters.
Confer says that the ratio of reward tags to non-reward tags is approximately 10 percent.
"So there are going to be about 700 non-reward tags and about 70 reward tags," Confer mentioned.
So whether you want to do the surfperch casting jive, or dance with the Garrison Lake trout stars, those are only two of the many fishing options anglers will have available to them this week and in months to come.
Tight lines!
Larry Ellis, author, writer, columnist and photographer has had a 50-year passion for fishing in California and Oregon's saltwater and freshwater venues. He is a well-known writer for Oregon, Washington and California Fishing and Hunting News, Northwest Sportsman, California Sportsman and Pacific Coast Sportfishing. He currently writes monthly for Salmon Trout Steelheader Magazine, and is the author of two books, "Plug Fishing for Salmon" and "Buoy 10, the World's Largest Salmon Run."  Both books can be bought from Amato Publications (amatobooks.com), Amazon and eBay. Ellis particularly loves living in his hometown of Brookings, Oregon - The heart of salmon country and gateway to fishing paradise.
More Reports
Garrison Lake trout like panning for gold
Garrison Lake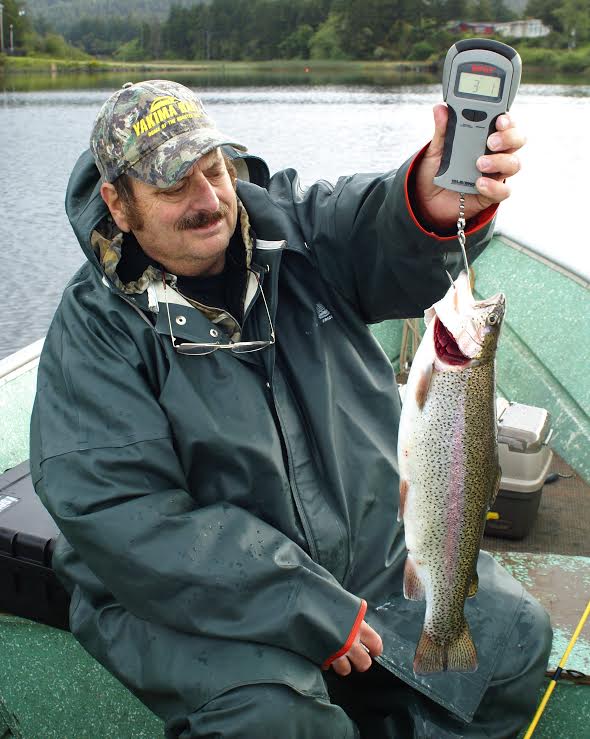 3-25-2017
There is no better time than the present to grab your favorite trout rod-and-reel outfit, deploy your favorite trout tactic......
Read More
Salmon options portend a zero salmon fishery in the KMZ
Klamath River - Upper - OR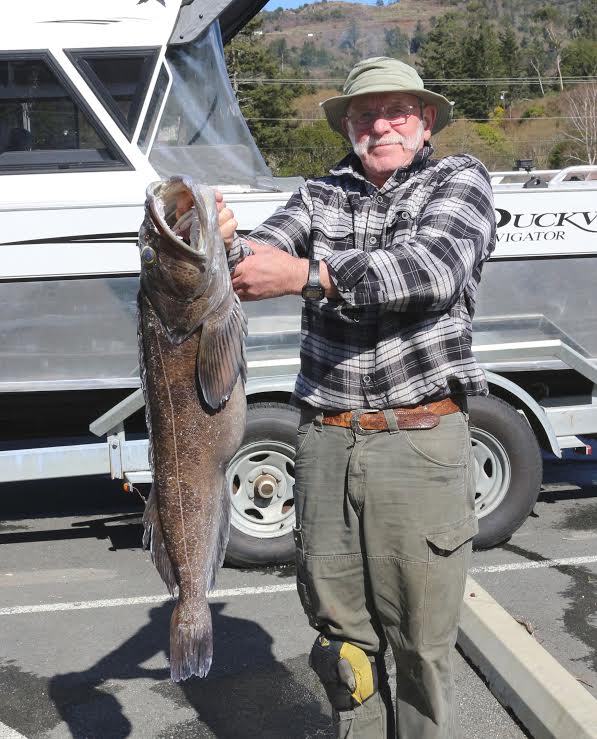 3-18-2017
The three ocean salmon alternatives that everybody in the California and Oregon Klamath Management Zones (KMZ) have been waiting for......
Read More
www.OregonFishReports.com © 2021. All Rights Reserved.
Website Hosting and Design provided by TECK.net