Oregon Fish Report
Rogue River- Lower Fish Report for 8-5-2017
Rogue Bay Fishing Trip Heats Up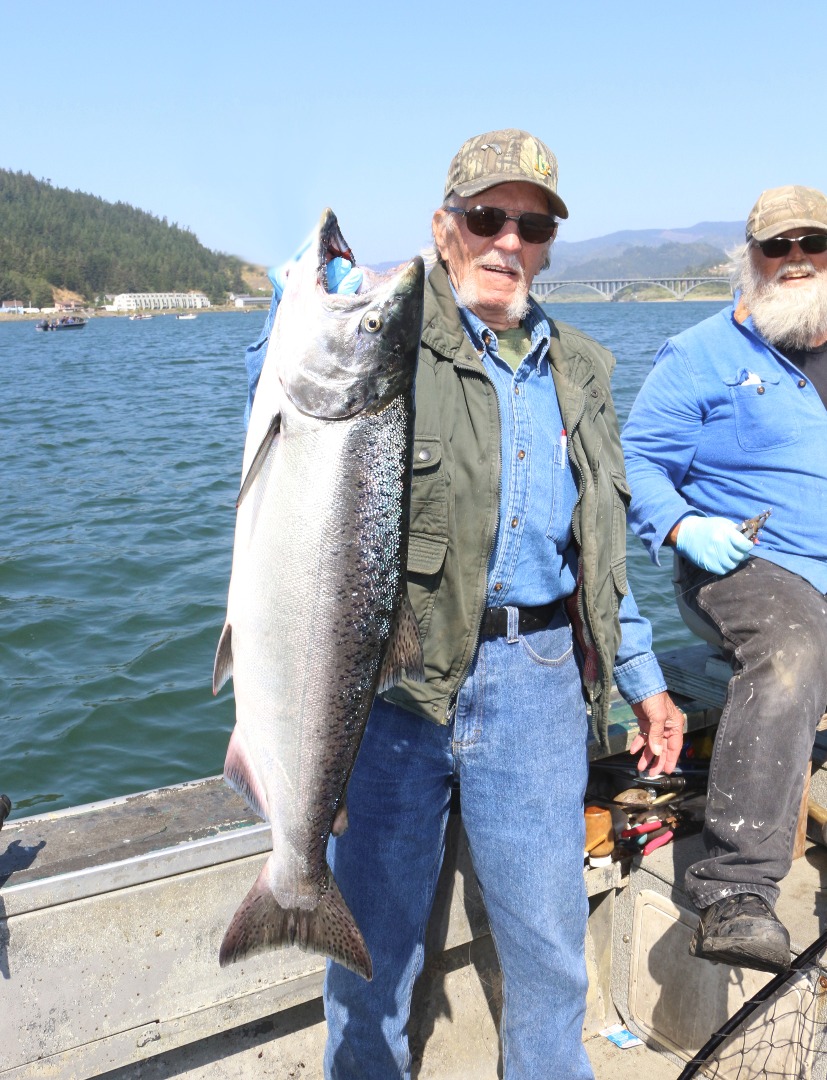 Richard Smith of Gold Beach hoists a monster Chinook salmon he caught last week while trolling the lower Rogue River with guide John Anderson.
Photo Credit: Larry Ellis
It's not often that I make this statement, so when I do get the chance, I jump on it. Anglers who are fishing the Rogue Bay are having some of the best rod-bending experiences they have had in almost a decade.
"You should be up here because we're having the best fishing we've seen in 7 or 8 years," said Larry Cody from the Rogue Outdoor Store in Gold Beach on Thursday. "The boat guys are going crazy."
It was statements such as Cody's that prompted me to hop aboard guide John Anderson's boat on Monday. All I can tell you is that if you weren't hooking up, either the boater, or boaters next to you were.  Double-, triple- and quadruple hookups were commonplace.
There is nothing more exciting than seeing multiple hook ups in the narrow playing field at the mouth of the Rogue River.  Does the word "zoo" mean anything to you?
The most recent fish report on Monday morning was that the previous Sunday was the best fishing for Chinook that the Rogue Bay had experienced all season, and Saturday's fishing wasn't all that shabby either.  And the fishing just kept getting better and better as the week grew on.
Fishing with Anderson is fishing in style.  He comfortably seats 4 people in a very unique boat that he actually made himself.  That in and of itself warrants a trip with the Memory Makers guide.
Two motors, the larger of which is a 200 horse Yamaha, power his 22-foot jet sled.  But in the Rogue Bay fishery you'll rarely see him needing the big motor.  All he needs to get by is his 9.9 horse, 4-stroke Yamaha kicker, which is quieter than a church mouse and can literally sneak up on those jumpy fall-run Chinook.
When the word about Sunday's mega-bite got out, boats were blanketing the area between the cat houses and the south jetty spit.  There must have been over a hundred boats in this area during one particular 2-hour segment of the day. When things get this crowded in the Rogue Bay, all you can do is try and go in the same direction as most of the other boats, and hope that you and your neighbor don't hook up at once.
The basic rule of the Rogue is to troll toward the south jetty spit and the cat houses during low tide or during the outgoing tide.  Then when the tide starts flooding, work your way upriver past Jot's Resort, the first arch of the Patterson Bridge, Lex's Landing and then the mouth of Indian Creek.
But with Medford temperatures from the low hundreds to as high as 116 degrees, the Rogue Bay water was much hotter than usual and that kept the fish lower in the bay.
"My temperature gauge is reading 72.3," said Anderson remarked on Monday.
That warm water temperature definitely lit a fire underneath salmon in the upper tidewater holes and forced them to head downriver.  Salmon were splashing, jumping and literally porpoising downriver between the cat houses and the sand spit.
I thought about throwing 1-ounce chrome Krododiles from the south jetty spit when it wasn't too crowded.
"They're doing it and they're succeeding to some degree," noted Cody.
Guides like Anderson were getting their clients bit by trolling straight bait, and spinnerbait/anchovy rigs.  The hot Rogue Bay spinner has always been the number 4 green on green blade.  Anderson loves adding little touches like spraying glitter on the blade.
On the day I fished with him, two of the take-downs were on number 4 gold Hildebrandt spinner blades.
"You also have to be at the right depth," said Anderson about the suspended fish.  
So if everybody around you is hooking up and you're not – welcome to the lower Rogue!
In the latter case you might think about raising your bait between 1 and 3 feet from the bottom. If you're still not getting bit, raise your bait another foot or two.  On the Rogue, precision is key.
You also might think about lengthening your leaders to 6 feet and using 9-foot sticks.
"We're catching some nice fish," said Cody.  "There's some 30's and there are some 40's in there as well.  All you have to do is get past the surfperch."
So make sure you bring at least 3 trays of bait per person.  There are a lot of surfperch off of the cat houses and near the south jetty sand spit.  
Don't forget that today (Saturday August 5) is the last day of the Lower Rogue River Salmon Derby.  
Tight lines!
Larry Ellis, author, writer, columnist and photographer has had a 50-year passion for fishing in California and Oregon's saltwater and freshwater venues. He is a well-known writer for Oregon, Washington and California Fishing and Hunting News, Northwest Sportsman, California Sportsman and Pacific Coast Sportfishing. He currently writes monthly for Salmon Trout Steelheader Magazine, and is the author of two books, "Plug Fishing for Salmon" and "Buoy 10, the World's Largest Salmon Run."  Both books can be bought from Amato Publications (amatobooks.com), Amazon and eBay. Ellis particularly loves living in his hometown of Brookings, Oregon - The heart of salmon country and gateway to fishing paradise.
More Reports
Rogue Bay Water Temp Rising
Rogue River- Lower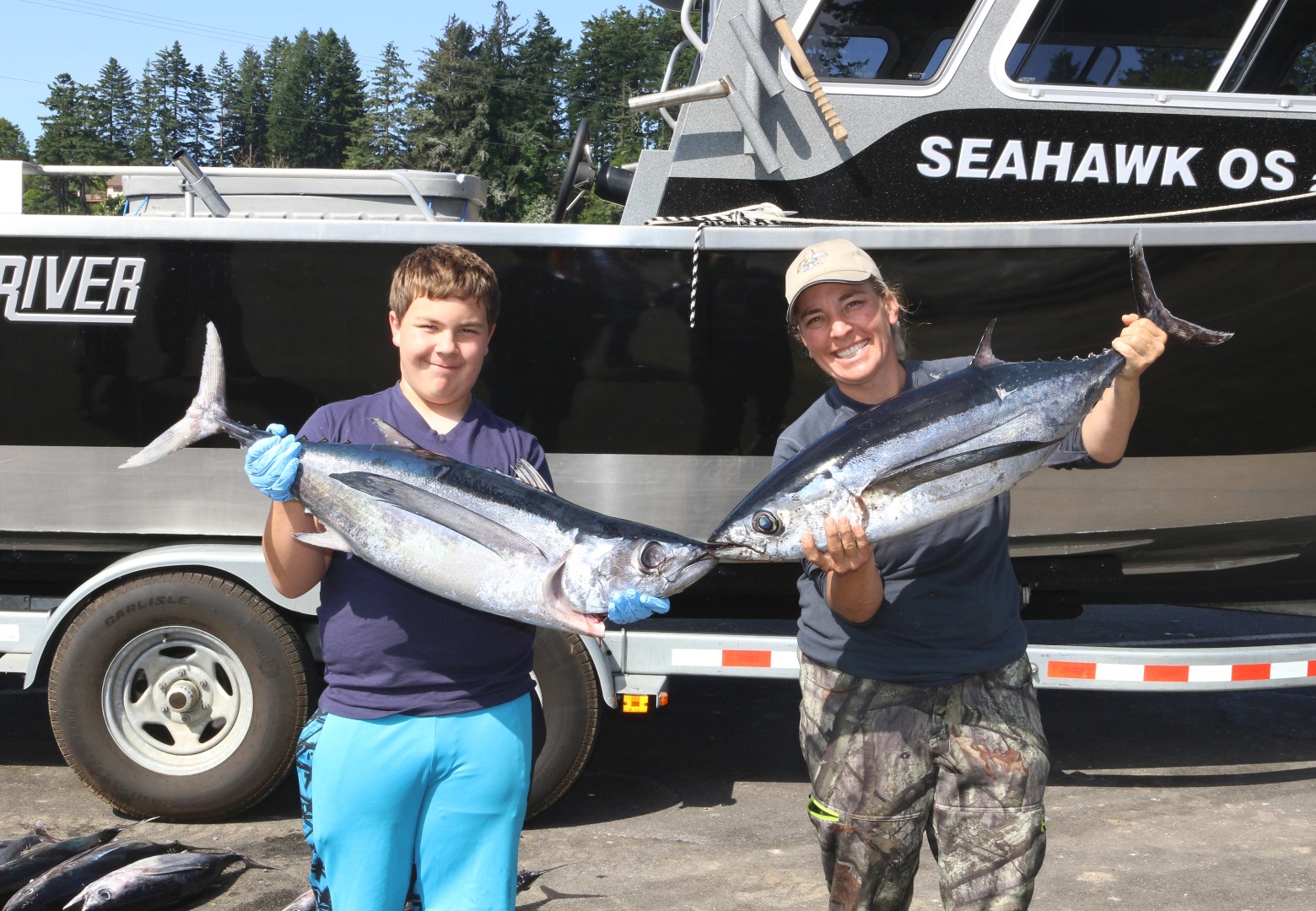 7-29-2017
Anglers trolling the Rogue Bay have had a combination of good days mixed with moderately mediocre days of fall Chinook,......
Read More
Rivers, ocean and bays producing fish
Chetco River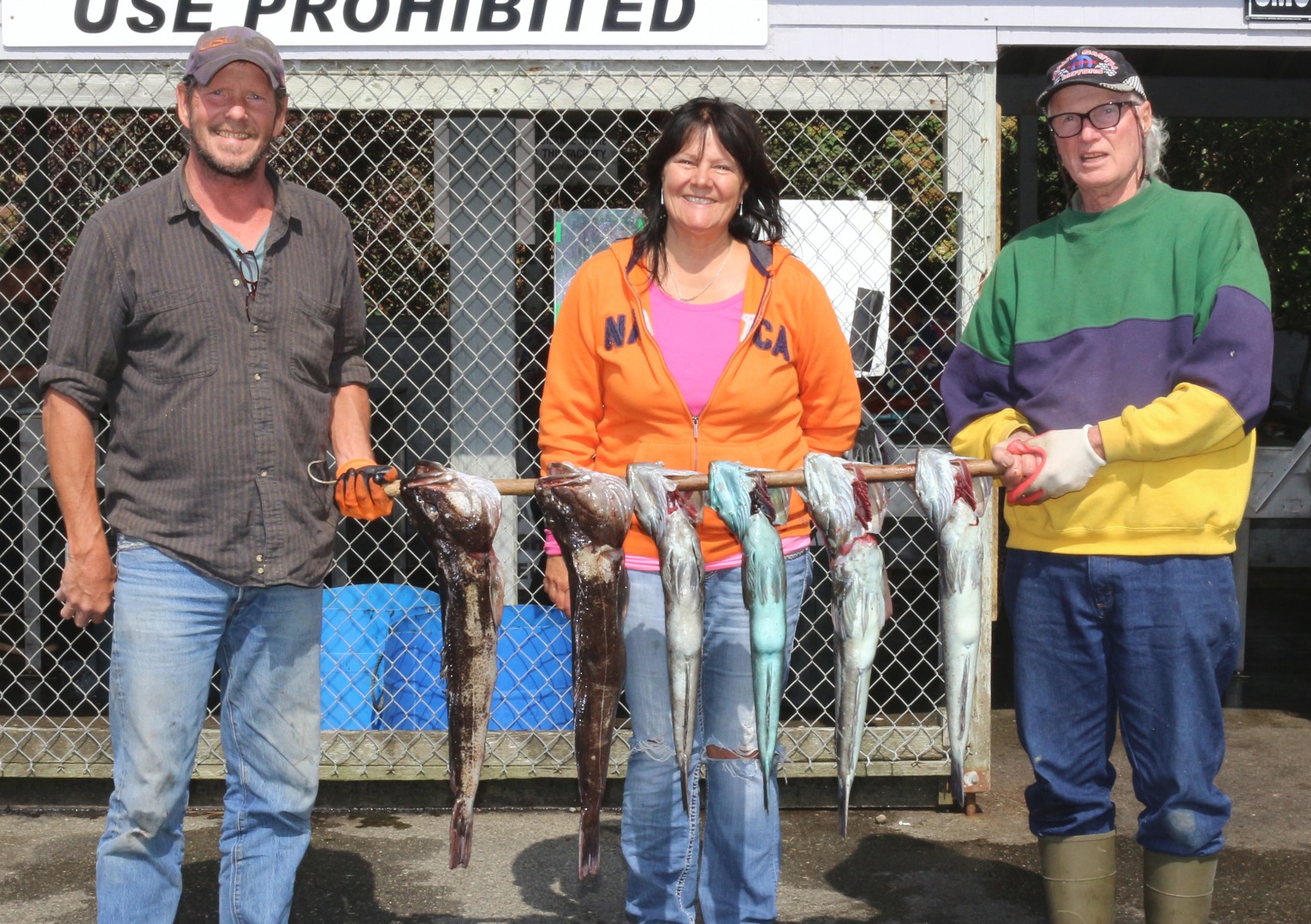 7-22-2017
Jacksmelt are still continuing to give Chetco south jetty crab pier anglers plenty of thrills although the action has tapered......
Read More
www.OregonFishReports.com © 2021. All Rights Reserved.
Website Hosting and Design provided by TECK.net