Oregon Fish Report
Saltwater Fish Report for 7-7-2018
Bottom Fishing Picks Up as Winds Die Down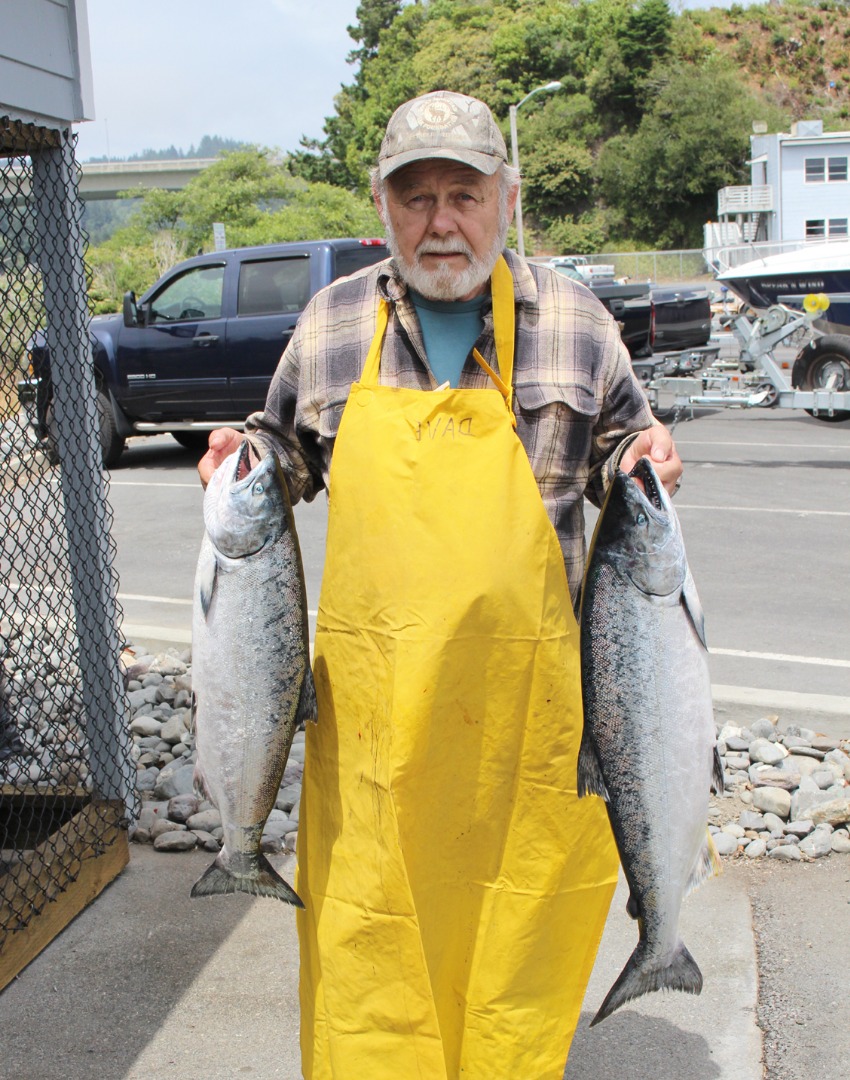 This fisherman caught his limit of fall Chinook near the baitline in between the bell and whistle buoys just outside the Port of Brookings Harbor last Wednesday, photo by Larry Ellis
Everybody was wondering when the blustery northwest winds were going to abate. As it turned out, the winds and seas started dying down on the Fourth Of July, and by July 5, anglers were limiting out on bottom grabbers about as fast as they could cast.
In this little nook of the southern Oregon coastline, it's about a 5 days on – 5 days off type scenario. Northwest winds typically will blow steadily for about 5 days. Then the fog bank which hovers offshore will move inland and flat-calm seas will be the norm for about another 5 days; you can almost set your watch to it.
It's not that high winds are always a bad thing though; it's kind of a double-edged sword. In this little nook of the Pacific Northwest, gusty northwest winds churns up the bottom, a process called upwelling.
During upwelling periods, baitfish thrive such as anchovies, pacific sand lance and herring. Other bait tend to grow rapidly such as krill. Baitfish tend to grow at an accelerated rate during upwelling periods, and lots of baitfish are great for rapidly-growing salmon.
At any rate, you couldn't have ordered a more perfect fishing scenario for July 4 and 5. On July 5, the seas were as flat as a sheet of liquid mercury, with winds dying down to under 5 knots. With flat-calm seas expected continue through the area until at least July 7, there will be more and more fishermen tripping the bottomfish fantastic.
In addition to the great bottomfishing, anglers were at least able to head up toward the Thomas Creek Bridge in search of Pacific Halibut. Leonard Krug of Brookings was one such lucky angler who slew the fatted barndoor on Thursday.
The action on ocean Chinook still remained spotty, however there were a handful of lucky anglers who managed to limit or near-limit out on Chinook on Wednesday and Thursday.
On Thursday, one angler managed to hook his Chinook about 15 miles offshore at about 240 feet on the wire. His fish were in the 8- to 12-pound bracket.
On Wednesday, another angler hooked a couple of brute Chinook in between the bell and whistle buoys out of the Port of Brookings Harbor while trolling alongside an anchovy baitline. Those fish were in the 15 to 24-pound category.
This goes to prove that the smaller 3-year-old Klamath fish are generally caught far from shore and deep, while the 4- to 5-year old Sacramento and Rogue fish are often caught closer to shore while not fishing as deep as their Klamath brethren.
TIP OF THE WEEK: I learned this trick from Richard Heap over a year ago and it really works well. To keep your salmon the freshest, first wrap each piece in Saran Wrap before you vacuum pack it.
I have to admit that I was a little hesitant to try this trick – it just didn't make sense to me at the time. But buoy and gulls, this trick really works, and it works quite well.
I've been eating feeder fish caught in the Chetco estuary that are well over a year old now, and they literally taste like they have just been plucked from ocean, and I'm quite picky when it comes to subtle taste of Chinook.
So let's say that you have a nice fillet of Chinook. First, cut the back portion off so that it is just behind the pin bone line. Then cut the rest of your fillets about 1-1/2-inches wide from top to bottom.
Take one of these sections and wrap it liberally twice with Saran Wrap before finally doubling each end of the Saran Wrap toward the fillet. Now, go ahead and package two of these fillet sections in a quart-size vacuum pack bag. I am amazed at how well this process works and you will be amazed as well.
Rogue Bay Getting Better Every Day
Last week's howling winds put a slight damper on the fishing in the Rogue bay. The reasoning behind the slight downturn is simple: salmon simply don't like crossing a rough bar that will cause them to get sand in their gills.
That's my answer and I'm sticking to it. The locals have said this to me for 36 years now and as we all know, local knowledge is extremely hard to come by. So when the Gold Beach guides give you a fishing lesson, you better be taking copious notes.
That being said, fishing for Chinook has had its good days and bad days, but with less wind in the forecast, expect to find more good days as the season progresses.
"It's picking up every day and getting better," said John Anderson of Memory Makers fame on Thursday. "Greg Eide got a 38 pounder today. Greg ended up with 6 fish and I got 2. One of mine happened to be about 18 and the other one was about 24 pounds."
Anderson remarked that this year's Chinook are 4- and 5-year old fish, just what the ROPI forecast had predicted.
Anderson was using the standard 2-hook spinnerbait setup that is so commonly used while trolling the Rogue bay. He admitted that had had a few good days using a third stinger hook, but as effective as the stinger setup can be, it doesn't always work each day.
The Rogue bay is now between 69 and 72 degrees, so the fish are beginning to stack up like cordwood.
Now that the Yaquina is dredging the jaws, that should make fishing the entrance to the bay a lot easier, and there have been rumors that the Yaquina is dredging at night as well.
"Over the past three days, Monday was great with about a fish and a half per boat," said Jim Carey from the Rogue Outdoor Store in Gold Beach on Thursday. "Tuesday and Wednesday were a little bit slower and then today, the fishing started to build back up."
Remember that when the bay is warmer than usual, the salmon will still bite, but they will bite with much less voracity than usual as well.
So it's really a good idea to put your rod in a holder when the bay is warming up, and do not take your rod out of its holder until your rod tip is meeting the water with line coming off the reel. Remember that when the bay is in the upper 60's, the bites will appear like they're in slow motion. If a salmon detects the slightest hookset when the water is warming up, you'll farm the fish every time.
I look forward to some excellent Rogue bay fishing this season. So buy plenty of bait and keep it cold, just like a Popsicle. Rogue bay salmon really like those perfect looking anchovies that tend to bleed just a tad.
Tight lines!
Larry Ellis, author, writer, columnist and photographer has had a 50-year passion for fishing in California and Oregon's saltwater and freshwater venues. He is a well-known writer for Oregon, Washington and California Fishing and Hunting News, Northwest Sportsman, California Sportsman and Pacific Coast Sportfishing. He currently writes monthly for Salmon Trout Steelheader Magazine, and is the author of two books, "Plug Fishing for Salmon" and "Buoy 10, the World's Largest Salmon Run."  Both books can be bought from Amato Publications (amatobooks.com), Amazon and eBay. Ellis particularly loves living in his hometown of Brookings, Oregon - The heart of salmon country and gateway to fishing paradise.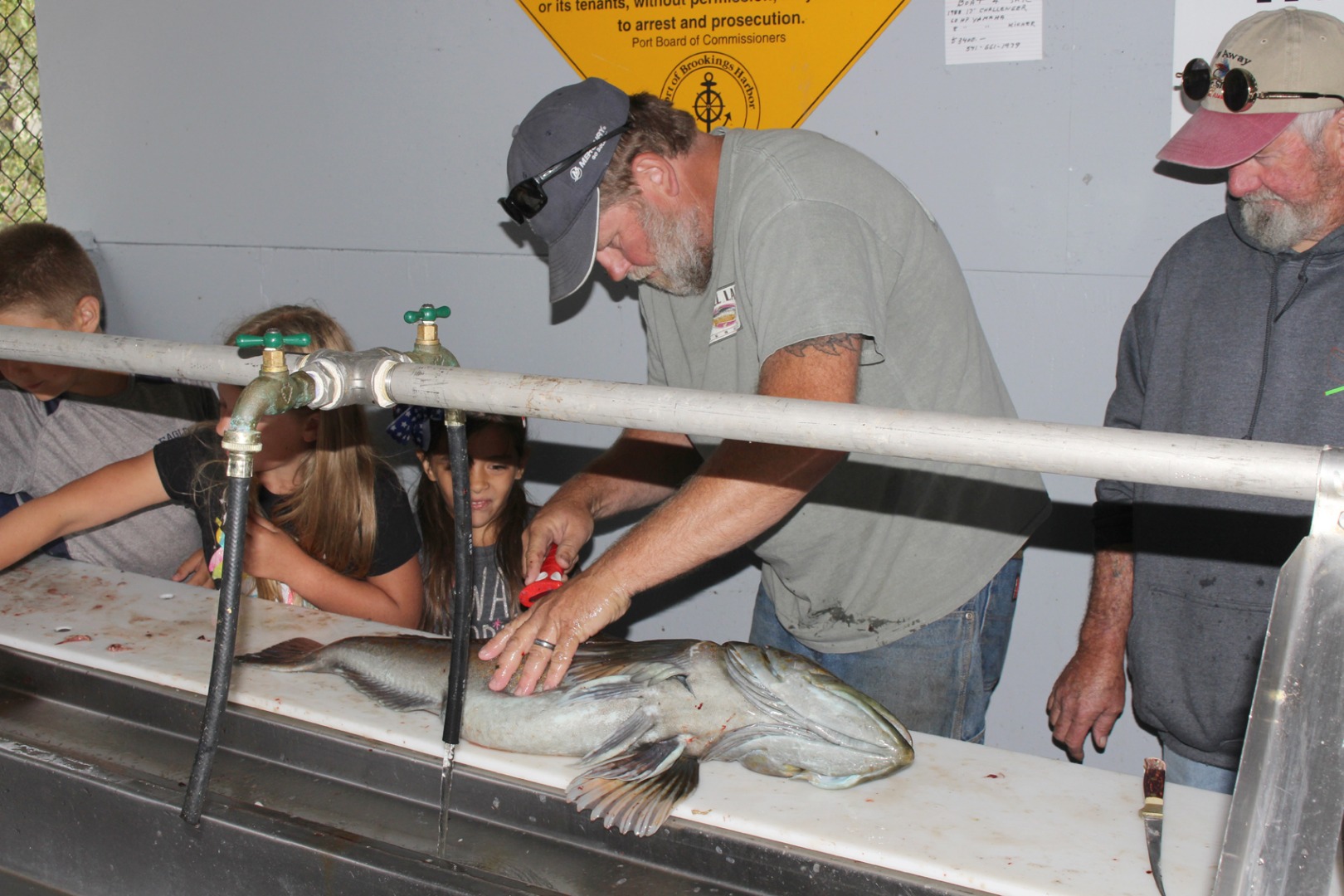 An angler prepares to show a group of youths how to fillet a large lingcod which was caught out of the Port of Brookings harbor last Wednesday, photo by Larry Ellis
More Reports
Rogue Bay - The Stinger's the Dinger
Chetco River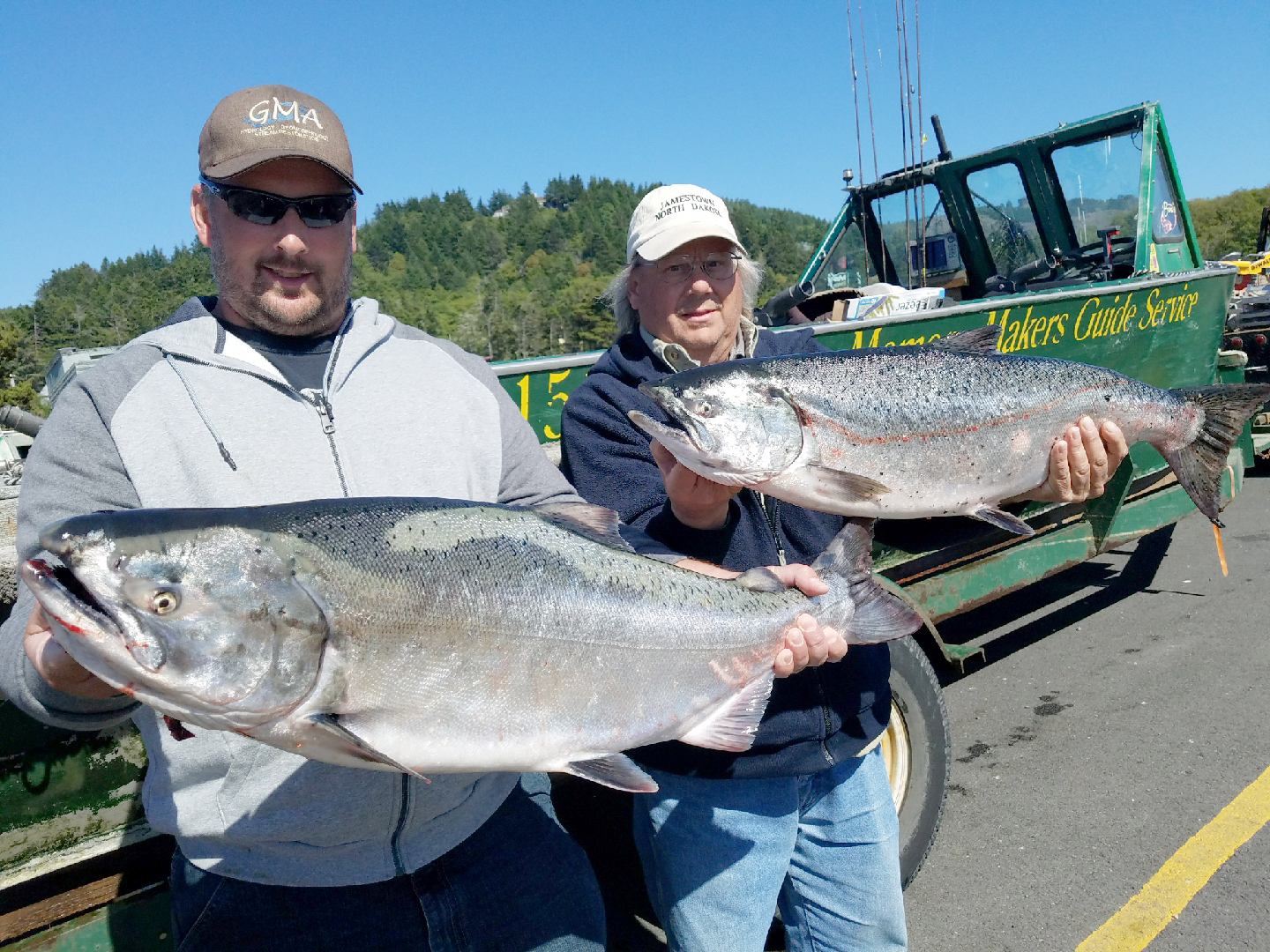 6-30-2018
When deciphering the legal mumbo jumbo in the Oregon Fishing Regulations pamphlet it is akin to becoming a rocket scientist......
Read More
A Plethora of Oceanic Delights - Oregon KMZ Rated Slow to Fair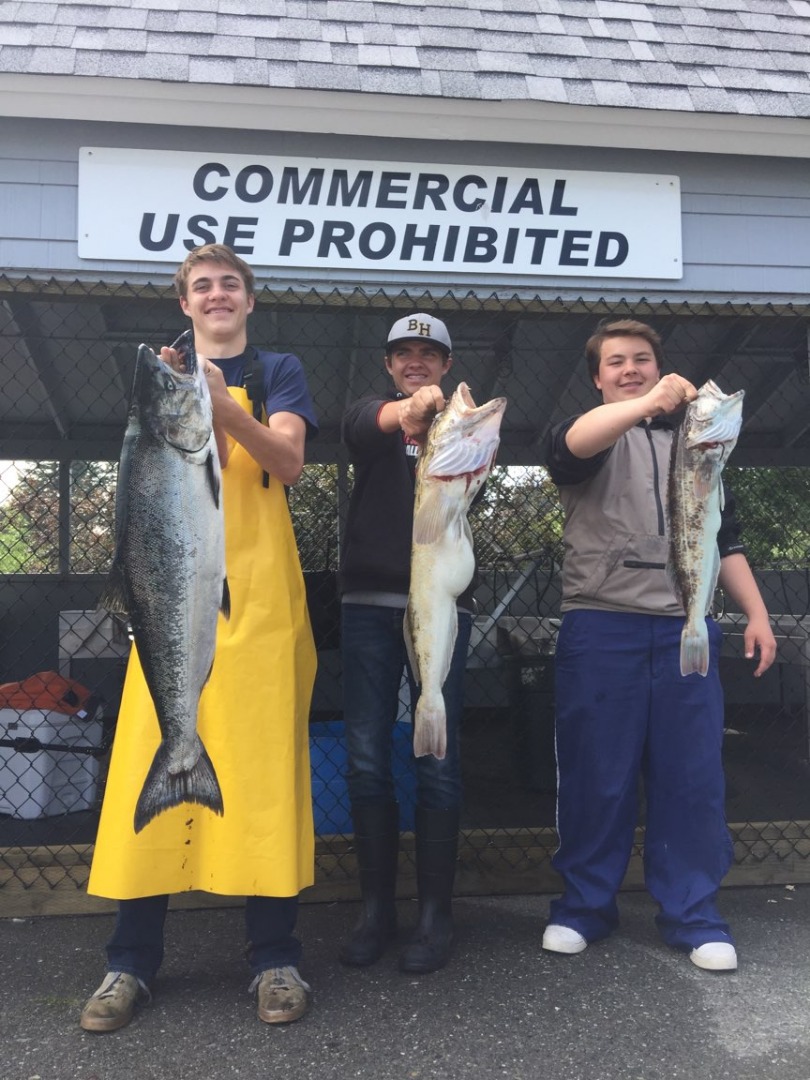 6-23-2018
Last week, seas as flat as a sheet of liquid mercury beckoned salty dogs to trip the bottom-grabber fantastic, and......
Read More
www.OregonFishReports.com © 2020. All Rights Reserved.
Website Hosting and Design provided by TECK.net