Oregon Fish Report
Deschutes River Fish Report for 9-23-2007
Deschute River Fish Report 09-23-07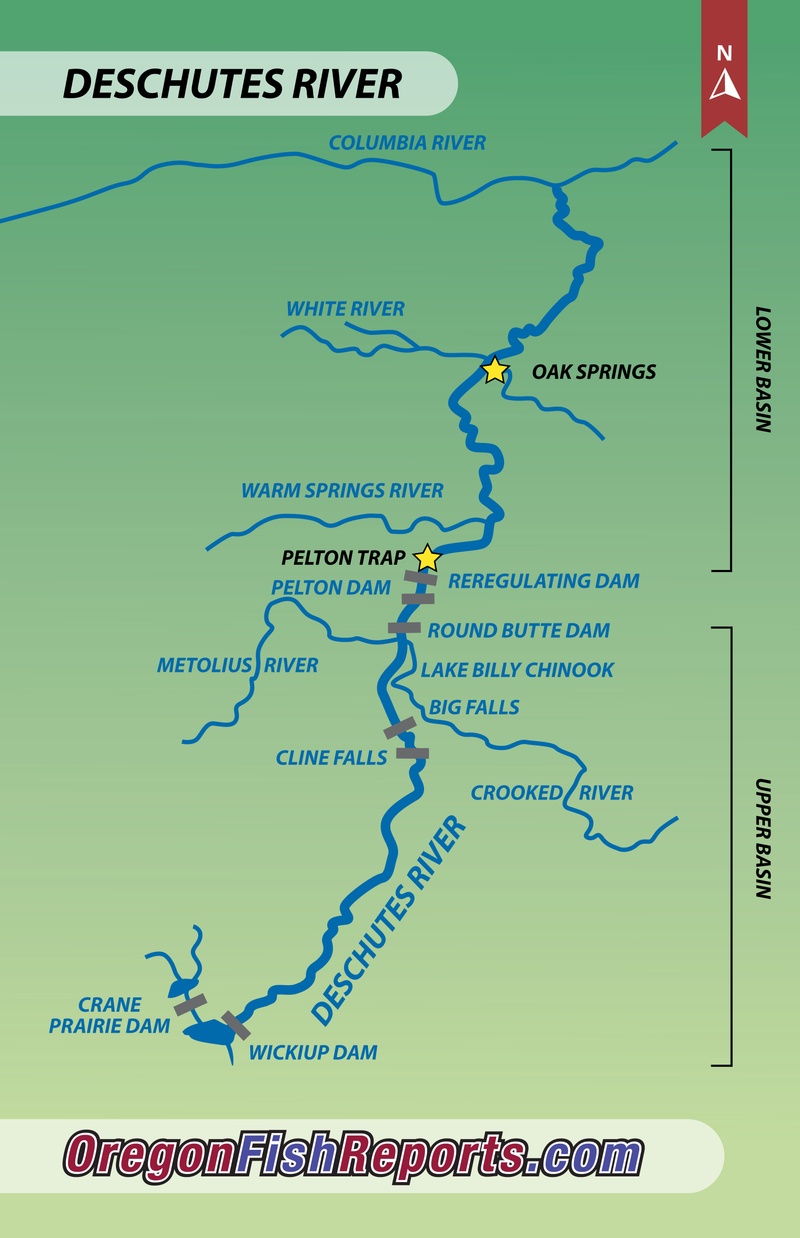 by Kaufman Streamborn
9-23-2007
(800) 442-4359
Website

With most anglers now swinging for Steelhead, you will be pleasantly surprised finding solitude, and trout in the upper river between Warm Springs and South Junction.

Although the Caddis bonanza is tapering off, it's still wise to keep a few stacked in your box. The saddle Caddis is small in size and best imitated with an Elk Hair Caddis in black or olive and the E/C Caddis olive # 16-18. The Pupa will hatch throughout the day with the majority hatching around dusk. The female are divers and deposits their egg on the bottom. Take note again, that a Soft Hackle can imitate either the Pupa or the egg laying adult. The pupa is small as well and best imitated with an olive or gray caddis pupa # 16 or a # 16-18 bead Soft Hackle in orange or black. You can fish either pattern dead drifted with indicator tactics or swinging down and across.

On the other end of the scale is the O-line of caddis. The October Caddis. The adults are not targeted heavily by trout, but again, it will be wise to have a # 8 Morrish's October Caddis somewhere in your box.  Giving your October Caddis some life by wiggling your rod tip slightly can entice strikes from bored fish, (either Trout or Steelhead). 

Mahogany Dun's are out as well. We fish them in tandem with a # 18 E/C Caddis in Olive as the dry-dropper, spaced out 30 inches apart. It's a great way to blind fish.

BWO are always present. Note that # 20-22's and Frog Hair spring creek leaders are needed for best results.

Midges will play a large role as well, especially in the early am or late evening. Midge pupa #20... any color really.  will fish in back eddies and slower current seams.

For going subsurface with or without an indicator, we are fans of fishing a BH October Caddis Pupa # 6-8 as a tool fly, trailing an olive WD40 #18 or a Soft hackle Bead Thorax in Mahogany #14-18 as a dropper. Other great September bottom draggers consists of; Tungsten GR HE, CDC Prince Nymphs, BH Tailwater Tiny, and Hotwire Caddis in Tan ranging from #14-18.

Steelhead = Good/Great (Forecast: Good/Great)

Fishing continues to be great below Macks as fish have been slow to move upriver. Fish finally did start passing Shear's Falls this past week, but the fish count at the ladder still reveals below average numbers (mid to late September are the peak for passing for Shears Falls) We are hoping the fish are just running a bit late or maybe moving at night when the fish can't be accounted for. With that in mind, fishing below Macks makes the most sense for now, although you could also find the best numbers for hopeful anglers alike!

The White River did puke out some milk' last Sunday (September 16) but the water is looking great as this morning. It's a day to day thing, call the shop for updates as we have staff on the river every day from here on out.

About 176,123 summer steelhead have made it past The Dalles Dam so far in 2007, and expect the number to be steady over the next few weeks.

Hiking up from the mouth or taking a mountain bike allows you to get further away from the crowds. Should you bike up from the mouth make sure you have a light on your bike. It makes for a much easier ride on the way out after dark.

With cooler water temps in the fall you do not have to baby-sit your favorite run or tailout before sun-up, as fishing will be great all day.

September spells floating lines and traditional Steelhead flies in purple ala, Freight Trains size 4-6, Krystal Flash Freight Trains 4-6, Royal Treatment, and Joe Gerts in size 4. On days with little or no wind (not often I know!), skating dries is another good option.

Should you dare to beef up the size and profile, a Steelhead Mojo size 1¬? on a sinktip will take fish all day. A black or purple Steelhead MOAL or¬†Fox Sleech in¬†black/blue¬†are¬†also great weapons.

You are still in the game should you happened to favor the nymph game over the 13+ footers. Using oversized nymphs size #4-10, with white or orange biots are recommended.

Note: bear in mind that the jet boat runs every other week/weekend. Plan your trip accordingly.

TIP: Many steelhead are still roaming between Bonneville and The Dalles Dams on the Columbia River. This makes the mouth of Eagle Creek and Herman Creek great places to make a quick stop a strip a size 12 BH CDC Pheasant Tail Nymph, or a tan Damsel nymph.  Easy wading access can be found by the mouth of Eagle Creek. You can easily wade or use a float tube here. This water can be crowded and reminds one of steelhead fishing the Great Lakes area, and only recommended for the patient angler. However, fishing can at times be spectacular.
More Reports
Clackamas River Fish Report 09-21-07
Clackamas River
9-21-2007
The Clack' continues to be your best bet for metro Steel'. Approximatley 600 summers have been recycled down to River Mill Park as of yesterday, but fresh new cromers were reported caught Tuesday near Feldheimer's. Best fishing remains from River Mill Dam to Feldheimer's. With cooler water temps and cloudy skies, you can now enjoy a full day of fishing. No need to set your alarm at 4:30 am like you did in July and August. Don't be cute with your......
Read More
Yakima River Sportfishing Fish Report 09-14-07
Yakima River
9-14-2007
The drop has occurred and the fish have had time to re-acclimate.  Give a warm welcome to Fall! It's nipping at our heels, anyway… Hoppers, Short-Wing Summer Stones and late summer caddis remain important to capitalize on (and it's not a bad idea to hang small mayfly-imitative dropper nymphs from those big dries to sweeten the pot with increasingly recognized morsels!).  A few of the Fall mayflies (BWO's, gray Baetis, Mahogs, and Heptagenia) have already been spotted, and where most abundant,......
Read More
www.OregonFishReports.com © 2021. All Rights Reserved.
Website Hosting and Design provided by TECK.net