Oregon Fish Report
Chetco River Fish Report for 9-24-2016
Chetco Ocean Bubble Season Opens
Chetco River - Brookings, OR (Curry County)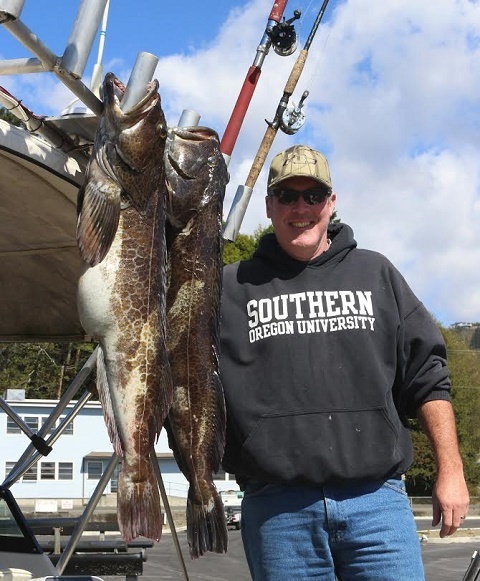 Big lingasaurs still ruled the ocean outside the Port of Brookings Harbor last week, with these two monsters caught on Thursday
Photo Credit: Larry Ellis
The second to the last ocean salmon season, what ODFW calls the "2016 Chetco River Fall Chinook State Waters Terminal Area Season" will open exactly one week from today on Saturday, October 1. This year's season will be split up over two weekends. The first season will last from October 1 through October 3, on Saturday, Sunday and Monday.
The season will then close for 4 days, from October 4 through October 7, which falls on Tuesday through Friday.
The second part of this season will then reopen from October 8 through October 9, which falls on a Saturday and Sunday.
This is an extremely unusual season. The ocean bubble season lasts approximately 10 days, usually, give or take a day or two – but not this year, sadly.
Be that as it may, if the ocean conditions are favorable, I believe that the ocean fishing is going to be stellar. Why would I make such a bold statement you might be asking yourself?
I think that between 30 and 40 salmon between 10 and 34 pounds caught in the Chetco bay in the last ten days is sufficient evidence that a good bubble season is coming.
There have also been a lot of jack Chinook caught as well. In fact, what has me scratching my head is that normally the smaller jacks are caught in the Chetco bay first. They are then followed by the big buoys and gulls later in the season.
For some reason, this year a lot of large Chinook have showed up early in the Chetco bay, a reverse scenario of what usually occurs.
Another reason why I think the ocean bubble fishery is going to be very good is the fact that some of my friends who have the very best electronics on their boats (does the name Furuno ring a bell?) have been marking some very large arches while they were bottom fishing. Those large arches are salmon!
So sharpen your hooks and buy plenty of bait. And pray for good weather, because if Mother Ocean lays down, Father King action will be picking up.
In the interim, folks trolling for Chinook in the Chetco bay itself have either gone home with a goose egg or they have bonked a beautiful Chetco king. The bay, while not on fire like a few days the other week, has still been kicking out a few nice salmon every other day or so.
Imagine the amount of salmon that managed to escape being caught during those several 10- to 20-fish days! The total amount of fish that were caught actually represents only a sliver of the fish that decided to remain out in the ocean.
Lower Rogue Bay Chinook Action Picks Up
If you are going to catch a really big Chinook in the lower Rogue Bay, September is generally the month to do it, and the fishing should pick up this week thanks to the Army Corps of Engineers.
For two weeks now, the Corps has scheduled lowered water flows to be released from the bottom of Lost Creek Dam into the Upper Rogue River. Last week and at least through September 29, the Corps has decided to drop release levels to 1,150 cubic feet per second.
"That will be advantageous for us," says Jim Carey, owner of the Rogue Outdoor Store in Gold Beach. "That will probably mean that the fishing will build up in the bay."
Carey also noted that later in the week, Rogue Bay Chinook action picked up slightly.
"The fishing turned back on yesterday after a relatively slow week," noted Carey on Thursday. "We had pretty good numbers late in the afternoon and this morning we had pretty good numbers. Before, we were only producing 30 fish a day. Now we're at about 45 fish a day at this point."
So don't give up on the Rogue Bay. Those Indian Creek Chinook and coho salmon should be arriving as we speak. Remember that you may only keep hatchery (adipose fin-clipped) coho as part of your salmon limit.
Lingcod and Rockfish Fishing Superb
When the seas decided to lay down, anglers have been scoring limits of some pretty huge lingcod as well as some decent-size rockfish.
Twin-tail plastics have been catching the vast majority of lingasaurs which have been averaging between 10 and 15 pounds, with an occasional 20-plus pounder thrown in the mix.
Other great lures have been leadfish and diamond jigs.
Anglers have also done extremely well using whole herring or anchovies, but if you decide to go the bait route, please pinch your barbs shut in case the wayward salmon decides to gobble your offering. Remember that until October 1 rolls around, all salmon must be released.
Tight lines!
Larry Ellis, author, writer, columnist and photographer has had a 50-year passion for fishing in California and Oregon's saltwater and freshwater venues. He is a well-known writer for Oregon, Washington and California Fishing and Hunting News, Northwest Sportsman, California Sportsman and Pacific Coast Sportfishing. He currently writes monthly for Salmon Trout Steelheader Magazine, and is the author of two books, "Plug Fishing for Salmon" and "Buoy 10, the World's Largest Salmon Run."  Both books can be bought from Amato Publications (amatobooks.com), Amazon and eBay. Ellis particularly loves living in his hometown of Brookings, Oregon - The heart of salmon country and gateway to fishing paradise.
More Reports
First Chetco River Chinook Arrive
Chetco River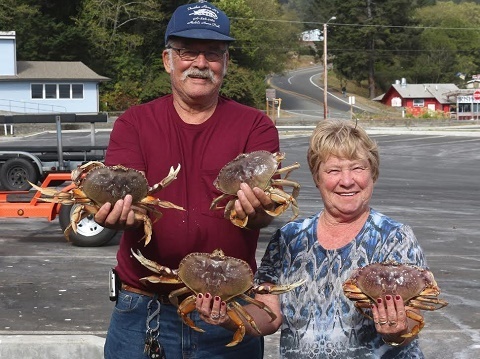 9-17-2016
Incredible fishing awaits for anglers who dare deploy the old-school techniques that were used in days of yesteryear. But first......
Read More
Ocean and River Derbies are Calling
Rogue River Lower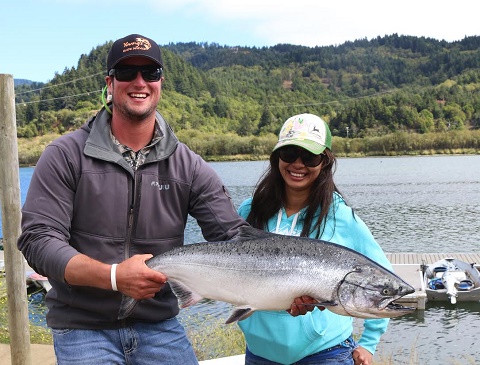 9-3-2016
The final leg of the general ocean salmon season in the Oregon KMZ will finally be getting underway this weekend.......
Read More
www.OregonFishReports.com © 2021. All Rights Reserved.
Website Hosting and Design provided by TECK.net