Oregon Fish Report
Chetco River Fish Report for 10-1-2016
Hot Chetco Estuary King Action
Chetco River - Brookings, OR (Curry County)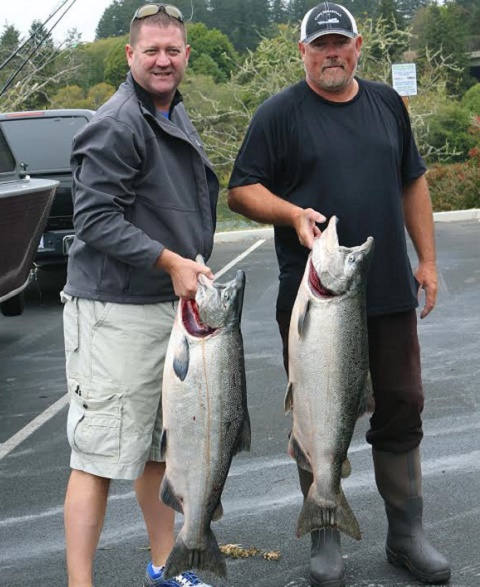 Duane Stainbrook (left), formerly of Brookings and another fisherman fished with Joe Whaley (right) of Joe Whaley's Guide Service on Thursday. The party trolled the Chetco Bay and caught these two mid-30-pound Chinook.
Photo Credit: Larry Ellis
Today, Saturday October 1, fishing in the ocean for Chinook salmon will open for 3 days in what locals-area king hunters call the Chetco Chinook Trophy Season, otherwise known as the bubble season. The first leg of this season will last through October 3. The season in the ocean will then close for 4 days and then re-open again on October 8 and 9 for two final days.
It is critical to note that the bubble and bay fisheries are two completely different entities, and each fishery has its own border lines and sets of regulations.
In the ocean bubble fishery, the daily bag limit is 2 Chinook, of which only one wild Chinook (non fin-clipped) may be kept each day. The other Chinook of the limit can be a hatchery (adipose fin-clipped) Chinook. You may also keep two adult hatchery kings as part of your 2-adult Chinook limit. This year, finding a hatchery Chinook has been like looking for a needle in a haystack.
In the ocean, you can use no more than 2 single-point hooks, and all hooks must be barbless. No treble hooks are allowed in the ocean when fishing for salmon.
The minimum length for adult Chinook in the ocean is 24 inches, but to play it safe, I would only keep Chinook that are at least 25 inches long to allow for the possible one-inch shrinkage factor.
Last week, Dan Birdwell from Brookings, Oregon knew right where to go when he had a hankering for crab cocktail - the Port of Brookings Harbor's crab pier, where he caught at least 7 Dungeness crab casting a folding crab trap.
The bubble fishery also has definite boundaries. Since it is a state-run fishery that is held in state waters, you are only allowed to fish no further than 3 miles from shore. The second boundary is from Twin Rocks south to the Oregon/California border, but trust me on this one - most fish will be caught between the red can buoy and the jaws, and along Sporthaven Beach.
For the bay fishery, it is also very important to know where the Chetco River ends and the ocean begins. To figure this out, just draw an imaginary line between the north jetty and the south jetty. All water outside this imaginary line comprises the ocean. All water inside (or upriver) from this imaginary line constitutes the actual Chetco River and Bay.
The Chetco Bay fishery will last throughout most of October, or until the major fall rains hit and raise the river.
The success of the ocean bubble fishery is always directly related to the success of the Chinook harvest in the Chetco Bay, which this year has been phenomenal. Therefore, the bubble season is expected to be ultra stellar because lots of kings have been landed in the bay since September 10 - and big ones at that.
Plenty of kings in the mid-30-pound category have been boated in the Chetco Bay this September, and I predicted that at least one 50-pound king would be hooked, whether it was in the bay or in the ocean. I have good reason to back up that previous statement. Last Thursday, a local-area, seasoned-veteran guide, as he put it, "got savaged by a bomb" while fishing in the bay.
"I had on at least a 50 pounder that just killed us in the morning," said Jack Hanson of Jack's Guide Service. "It went out to sea on us and took a right, and then made tracks for Salmon Rock."
With the ocean closed for salmon fishing, Hanson had no choice but to put the screws to Salmonzilla so that the boat would not cross the Chetco River/ocean line of demarcation.
"I put the breaks on it and we couldn't stop it whatsoever," noted Hanson. "The drag was maxed - it just didn't matter. It was just like a submarine. That's when I said, 'We gotta stop here - can't go; can't go chase him.'"
So how should you rig up for these fisheries? Since fish are stacking up like cordwood just outside the Chetco Bay, I would fish for the ocean fish similarly to the way you fish for salmon in the bay, minus the barbed hook and treble hooks.
Come prepared to use spinnerbait/anchovy setups, nose cones like the chartreuse-colored Bechhold Rotary Bullet Bait Holder, or just troll cut-plug herring, and generally speaking, folks fish with flashers in the ocean, such as the 8- or 10-inch Big Al's Fish Flash in the colors chartreuse or BMK.
Last year, the hot ticket in the ocean for most of the recreational season was trolling cut-plug herring or large cut-plug sardines. Be sure to troll your cut plugs slower than your whole baitfish.
Generally speaking, troll your cut-plug baitfish between 1 and 1.4 miles an hour, and troll your whole baitfish between 1.8 and 2.2 miles an hour, whether you're in the ocean or in the bay.
Tight lines!
Larry Ellis, author, writer, columnist and photographer has had a 50-year passion for fishing in California and Oregon's saltwater and freshwater venues. He is a well-known writer for Oregon, Washington and California Fishing and Hunting News, Northwest Sportsman, California Sportsman and Pacific Coast Sportfishing. He currently writes monthly for Salmon Trout Steelheader Magazine, and is the author of two books, "Plug Fishing for Salmon" and "Buoy 10, the World's Largest Salmon Run."  Both books can be bought from Amato Publications (amatobooks.com), Amazon and eBay. Ellis particularly loves living in his hometown of Brookings, Oregon - The heart of salmon country and gateway to fishing paradise.
More Reports
Chetco Ocean Bubble Season Opens
Chetco River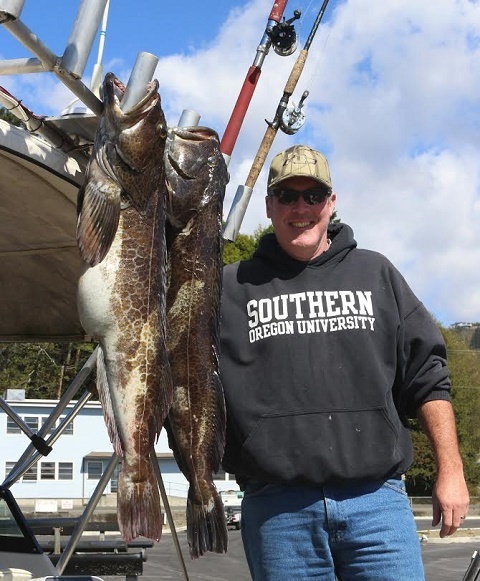 9-24-2016
The second to the last ocean salmon season, what ODFW calls the "2016 Chetco River Fall Chinook State Waters Terminal......
Read More
First Chetco River Chinook Arrive
Chetco River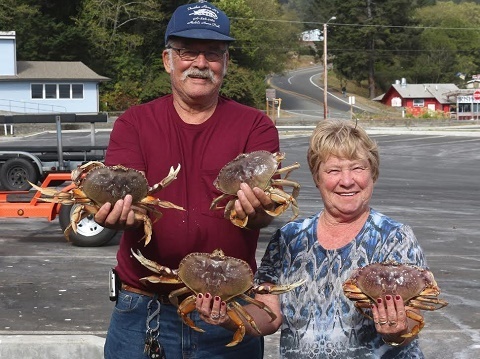 9-17-2016
Incredible fishing awaits for anglers who dare deploy the old-school techniques that were used in days of yesteryear. But first......
Read More
Oregon.FishReports.com © 2019. All Rights Reserved.
Website Hosting and Design provided by TECK.net