Oregon Fish Report
Chetco River Fish Report for 10-8-2016
Troll Cut-Plug Baitfish for Chinook Success
Chetco River - Brookings, OR (Curry County)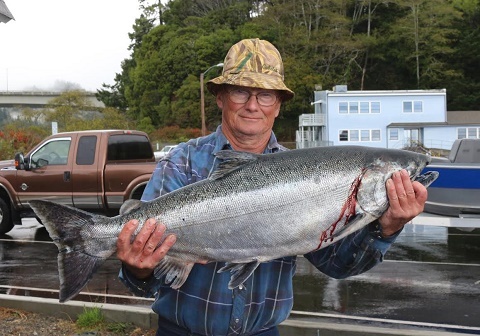 Tom Tipton from the town of Umpqua was quite successful in the ocean on Sunday where he trolled a large cut-plug sardine to hook this monster Chinook outside the Port of Brookings Harbor in the Chetco River Terminal Area Fishery.
Photo Credit: Larry Ellis
There are officially two days left of the Chetco River Terminal Area Season, which will be held in the ocean: Saturday, October 8 and Sunday, October 9.
Last week's ocean bubble fishery which was held on October 1, 2 and 3 kicked out approximately 140 Chinook for the soul saltmeisters who braved the winds and choppy seas.
Saturday and Sunday each kicked out 35-fish days, and Monday itself tallied over 70 fish. There were numerous 30-pound-plus fish and several 40-pound-plus fish brought to the scales.
The estuary fishery slowed down from the previous week's action, but that was because a couple of heavy rains sparked many salmon to shoot upriver into the deep tidewater holes at Morris Hole, Tide Rock and Social Security.
The rain wasn't enough to raise the river, and I hope we don't have any more of these short mega-bursts of precipitation until the end of October. As long as the major rains hold off, salmon will continue building up again in the estuary.
Unlike the ocean bubble fishery which will end one hour after sunset on October 9, the bay fishery action can continue like gangbusters throughout most of October, but again – only if rain doesn't raise the Chetco River.
If you're serious about battling one of these trophy kings, learn how to troll cut-plugged baitfish such as herring and sardines.
I can tell you this with certainty – last year's successful anglers in both the bubble fishery and in the estuary were trolling cut-plug herring or sardines.
But first things first. You will want to troll your cut-plugged baitfish very slowly, somewhere in the neighborhood between 1 and 1.4 miles an hour. You can troll whole baitfish a lot faster (1.8 to 2.2 miles an hour), but you want your cut-plugged baits to barely creep along. In fact, the slower you can troll your cut-plugs and have your baitfish spinning rapidly, the better luck you will have.
The reason that you want to troll cut-plugged baitfish slowly is because these Chinook are staging fairly close to the jaws or inside the bay. Chinook are basically lazy and will rarely chase down a live baitfish. But if they see a rapidly-spinning cut-plugged baitfish that is barely moving toward them, they will jump on it like hair on a gorilla because it looks like a wounded baitfish. Salmon have always gone for the isolated stragglers.
The other thing about trolling cut-plug baits is that you will want to use wire spreaders with a very short dropper leader, and you can use these setups in the ocean or in the bay.
Your dropper leader should be approximately 6- to 8-inches long and should be made of 15-pound test. At the end of your dropper, tie on a small Duo Lock snap which will snap onto cannonball sinkers averaging about 8 ounces.
The reason why you want to use short droppers is because these fish are right on the bottom, and if you use too long of a dropper (say 18 to 24 inches), your baitfish will be trolled right over the top of these fish. You can always reel up your rig a few cranks if the fish are suspending, but you can't go the other way around.
The most fortunate anglers are also using very long leaders, and by long I'm talking 6- to 6-1/2- feet long. Folks who are using 25- to 30-pound test monofilament for their leader material are hooking more fish than people who are using 50-pound test.
You will want to use a 2-hook mooching leader where the top hook is free sliding, so you can adjust the back hook so that it will be even with the tail of the baitfish. The ideal setup is a 4/0 octopus-style hook for the top hook and a 5/0 octopus-style hook for the bottom hook. You can buy mooching leaders already tied up fairly inexpensively.
If you've never rigged up a cut-plug bait before, you will need to purchase a jig that has slots in it that are designed so that your knife will slide through the baitfish at the perfect angle.
Place the jig in front of you so that the slots are on the right-hand side of the jig. Place the herring or large sardine in the jig with the belly facing toward you. Now cut off the head of the baitfish just behind the gill cover. You will want to carefully remove the guts with the tip of your knife.
Now vent the baitfish by inserting the tip of your knife inside the fish's anus and make a very small slice (about 1/4 inch) toward the front of the baitfish.
For perfect instructions on where to place the hooks after you've cut-plugged your baitfish, go to youtube.com and type in "How to rig a cut plug herring." The person who posted this video, polarbear2502, has the best instructional video on the web. The process is very quick and easy and shows exactly how the baitfish should be spinning.
You can use a flasher such as a Big Al's Fish Flash in the ocean, but a lot of folks are not using flashers at all for these staging fish, which are just outside the Chetco's jaws. Most of last week's ocean salmon were caught between the tips of the jetties and Salmon Rock.
Tight lines!
Larry Ellis, author, writer, columnist and photographer has had a 50-year passion for fishing in California and Oregon's saltwater and freshwater venues. He is a well-known writer for Oregon, Washington and California Fishing and Hunting News, Northwest Sportsman, California Sportsman and Pacific Coast Sportfishing. He currently writes monthly for Salmon Trout Steelheader Magazine, and is the author of two books, "Plug Fishing for Salmon" and "Buoy 10, the World's Largest Salmon Run."  Both books can be bought from Amato Publications (amatobooks.com), Amazon and eBay. Ellis particularly loves living in his hometown of Brookings, Oregon - The heart of salmon country and gateway to fishing paradise.
More Reports
Hot Chetco Estuary King Action
Chetco River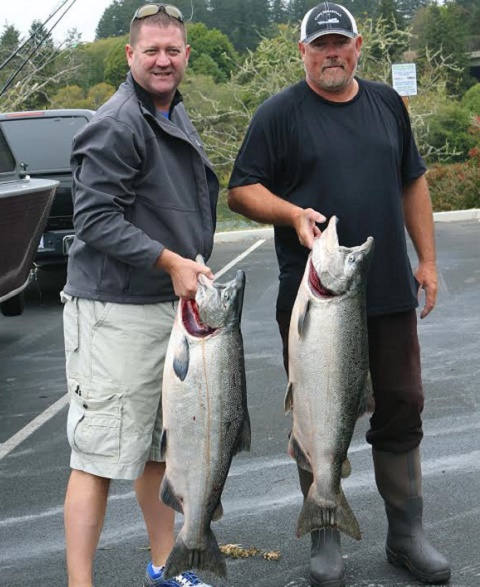 10-1-2016
Today, Saturday October 1, fishing in the ocean for Chinook salmon will open for 3 days in what locals-area king......
Read More
Chetco Ocean Bubble Season Opens
Chetco River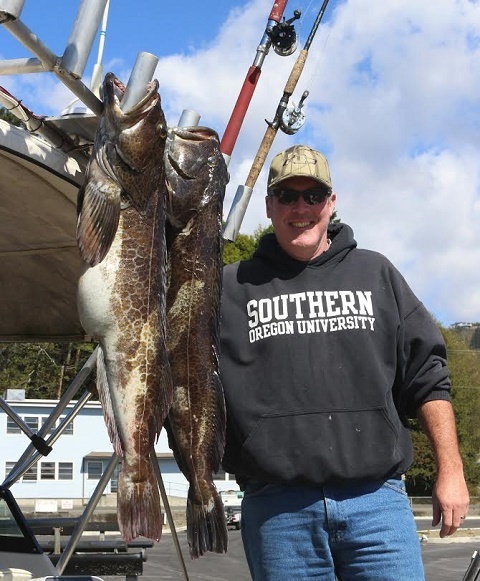 9-24-2016
The second to the last ocean salmon season, what ODFW calls the "2016 Chetco River Fall Chinook State Waters Terminal......
Read More
Oregon.FishReports.com © 2019. All Rights Reserved.
Website Hosting and Design provided by TECK.net