Oregon Fish Report
Chetco River Fish Report for 10-15-2016
Early storms raise local area rivers
Chetco River - Brookings, OR (Curry County)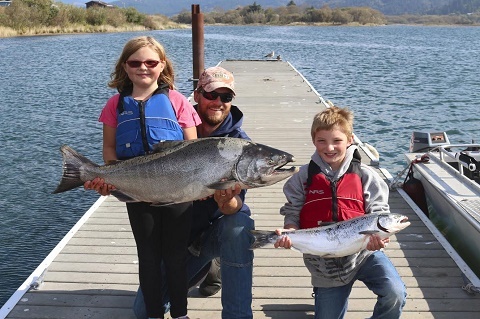 The Roberts family of Gold Beach ran out of bait while trolling for coho and Chinook on the Rogue Bay on Wednesday. After picking up two more packages of anchovies at Lex's Landing, they posed with this 30-plus-pound king and one of their many coho.
Photo Credit: Larry Ellis
It is always a sad day for estuary aficionados like myself when fall Chinook action in the Rogue and Chetco bays starts to chill out. I mean, it was just last Wednesday when Mark Roberts of Gold Beach was catching so many coho (also known as silvers) on the Rogue Bay that the aggressive bait stealers forced him to run up the ramp at Lex's Landing to buy two more trays of anchovies for his family.
That's how hot the action on the Rogue Bay was on Wednesday. I mean it was hot - hot - hot!
But what a difference a day can make.
I had heard from several reputable sources in the local vicinity that some pretty intense storms were supposed to hit the southern Oregon area byThursday, and according to one individual, people might even expect to see up to 12 inches of rain during the next few days. How that one slipped by me I'll never know.
So being a weather spotter, I called the National Weather Service in Medford to get the real scoop on the precipitation that was about to occur, because if this much rain was due to hit the coast, that would pretty much put an end to the estuary fishing. The conversation I was about to hear totally blew me away.
"We are predicting quite a bit of rain for the Brookings area," said a representative from the National Weather Service in Medford on Wednesday. "We have two storms coming in - one on Thursday and one on Saturday. From the combined total of those two storms, Brookings could get 16 to 17 inches of rain, and that is from Thursday morning through Sunday night."
So I got out the proper tools and cleaned out my rain gauge Wednesday evening. Then I patiently waited.
I was gone from the area for most of Thursday, but when I came home, rain was already starting to flood into the northeast entrance of Fred Meyers. When I stepped outside for only 10 seconds, my t-shirt wasn't just a little damp - it was absolutely soaking wet. I couldn't wait to read my rain gauge!
I have to say that in the 35 years I have lived in Brookings, this was the most rain that I have personally ever recorded in one day. From midnight on Thursday through 11:58 p.m., there was 6.84 inches of water inside the gauge. Now that's almost 7 inches of rain in one day - well over half a foot!
Of course the local-area rivers were all blown out and on-the-rise, curtailing the fishing faster than a bird dog chases a chicken.
As of 3:30 a.m. on Friday, California's Smith River was flowing at 23,900 cubic feet per second (flood stage is 29,000 cfs) and was still rising, according to the Jed Smith Gauge. The Winchuck was reportedly chocolate brown in coloration with increasing flows as well. The Chetco was reading 16,500 cfs and was still on-the-rise, so I know the Rogue was also flowing high as well.
So what does all this high water mean for fishing?
Well, until the rivers start dropping and clearing, ain't nobody gonna be doin' any fishin' nowhere.
And if this second storm hits the area as hard as the first, it's going to be quite a few days before anybody will even think about deploying the first doable technique during high water, which would of course be plunking.
But on the Chetco and until November 4 rolls around, fishermen will only be able to deploy bobber techniques from river mile 2.2 upstream to Nook Creek, so you can basically kiss plunking techniques goodbye until November 4 (unless ODFW makes a temporary rule change). Be sure to read all the rear-restriction regulations for the Chetco, which are explained in graphic detail on page 30 of the Oregon Sport Fishing Regulations.
On November 4, all legal salmon fishing techniques become usable on the Chetco upstream to Nook Creek, which is the salmon deadline.
But we might be getting a little ahead of ourselves here. First of all, the rivers have to lower and clear before they become fishable, and nobody knows how long that is going to be.
The only thing going for river-fishing buffs is that the first few major rains generally soak into the ground like a sponge due to the fact that the ground has not yet reached its saturation point. That fact just might make the rivers fishable faster than usual.
And if the Rogue River drops and clears faster than normal, there might still be a little salmon trolling action in the Rogue Bay near the mouth of Indian Creek for those October-returning Indian Creek Chinook.
So how can you identify an Indian Creek king? These Chinook are 100-percent adipose fin clipped, so look for a missing adipose fin for these puppies. Indian Creek by the way is located somewhat directly across from Lex's Landing, which also makes Lex's a great place to launch your boat if that scenario presents itself. So the Rogue Bay itself might not totally be over and done with. It all depends on how fast the Rogue drops.
But Chetco estuary action? - forget about it. That action is pretty much downhill now.
Also don't forget that October 15 will be the last day you can crab for Dungeness crab in the ocean. The season will be officially closed in the ocean for Dungeness crab from October 16 through November 30. Crabbing in the Chetco Bay, however will remain open all year long.
Tight lines!
Larry Ellis, author, writer, columnist and photographer has had a 50-year passion for fishing in California and Oregon's saltwater and freshwater venues. He is a well-known writer for Oregon, Washington and California Fishing and Hunting News, Northwest Sportsman, California Sportsman and Pacific Coast Sportfishing. He currently writes monthly for Salmon Trout Steelheader Magazine, and is the author of two books, "Plug Fishing for Salmon" and "Buoy 10, the World's Largest Salmon Run."  Both books can be bought from Amato Publications (amatobooks.com), Amazon and eBay. Ellis particularly loves living in his hometown of Brookings, Oregon - The heart of salmon country and gateway to fishing paradise.
More Reports
Troll Cut-Plug Baitfish for Chinook Success
Chetco River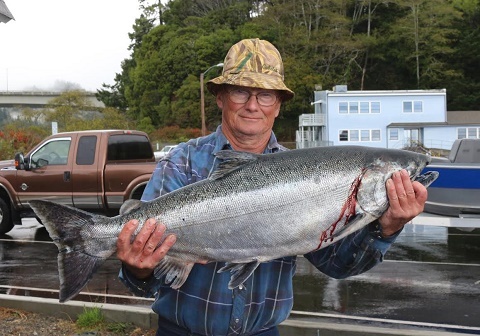 10-8-2016
There are officially two days left of the Chetco River Terminal Area Season, which will be held in the ocean:......
Read More
Hot Chetco Estuary King Action
Chetco River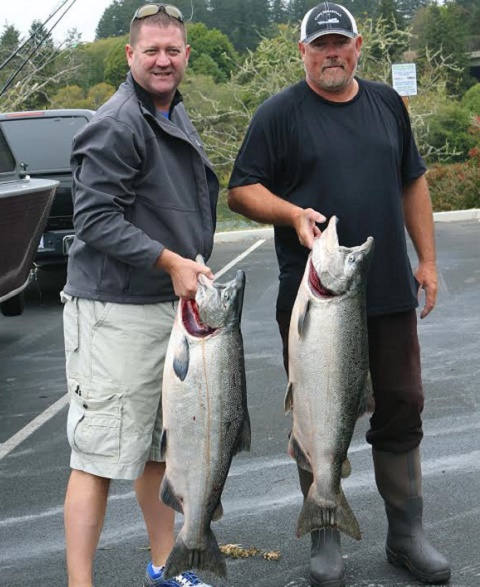 10-1-2016
Today, Saturday October 1, fishing in the ocean for Chinook salmon will open for 3 days in what locals-area king......
Read More
www.OregonFishReports.com © 2023. All Rights Reserved.
Website Hosting and Design provided by TECK.net