Oregon Fish Report
Chetco River Fish Report for 2-4-2017
Winter steelhead, surfperch, bottom fish attract Southern Oregon anglers
Chetco River - Brookings, OR (Curry County)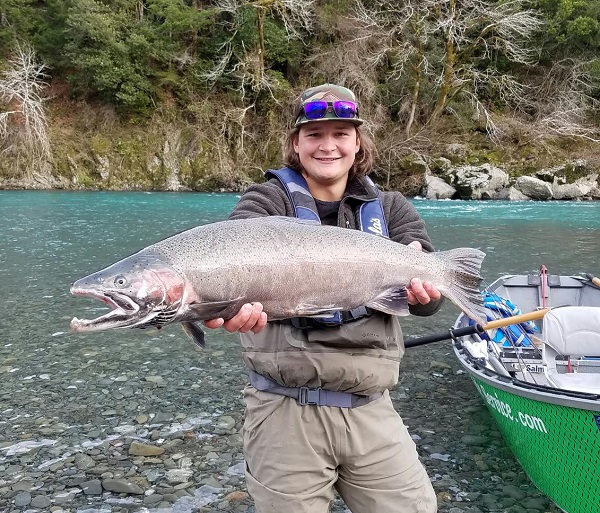 Stefon Muroff travelled all the way from Boise, Idaho to side-drift the Chetco River last week with Dave Castellanos of Cast Guide Service, and was rewarded with an 18-pound hatchery winter steelhead. Photo by Larry Ellis
The Chetco and lower Rogue rivers continue to thrill winter steelhead aficionados, with an occasional monster steelie being caught.
Last week, at least two 18-pound hatchery metalheads were caught on the Chetco.  I saw one of them and it was monstrous!
The Chetco Steelheadzilla was caught by Stefon Muroff of Boise, Idaho while he was side-drifting a Puff Ball-and-roe combination in the emerald-green-colored river while fishing with Dave Castellanos of Cast Guide Service.
"It took me over 20 minutes to land it," remembered an excited and passionate Muroff, who could hardly hold his hands still during the Kodak Moment.
Experienced guides are averaging between 1 and 4 steelhead per boat.
ODFW has already managed to collect more steelhead than last year for the Chetco Steelhead Broodstock Program, largely due to angler donations.
"I've taken 57 fish up to the (Elk River) hatchery so far this collection season," said Damien Hawley-Jones of ODFW on February 1. "That's 56 wild steelhead and 1 adipose-clipped steelhead. This time last year, we only had 41 fish at the hatchery. Overall, the fish have looked good and are doing well in the boats and in the holding pens. No mortality in the pens so far this year!"
ODFW will be collecting angler-caught broodstock through the end of February.
On Thursday, the Chetco was still flowing with perfection vis and averaging 1,500 cubic feet per second, which made side-drifting from drift boats or drift-fishing from the bank the two top techniques that ruled the river.
But anticipated rains are expected to raise the Chetco to 10,000 cfs this weekend and then to 15,000 cfs come the beginning of next week.  If these National Weather Forecasts come to fruition, plunking will be the go-to technique in the middle of the week as the river drops and clears from 10,000 cfs.
If the river does not raise as expected by the Advanced Hydrologic Prediction Service, then side-drifting will be deployed from drift boats when the river is dropping from 4,000 cfs.
The lower-Rogue River also produced some nice-size steelies for both bank anglers plunking Spin-N-Glos, and for boat fishermen anchoring up and setting out plugs.
At the moment of this writing, the Rogue River was flowing at 7,700 cubic feet per second, which is guide, John Anderson's favorite flow.  But the Advanced Hydrologic Prediction Service was forecasting that the Rogue was going to rise to 24,000 cfs by Monday.
If that happens, the river will be blown out and muddy.  Anglers will then have to wait for the Rogue to drop to 12,000 cfs, and then continue dropping and clearing before it will be fishable again.
Be sure to also watch for those occasional flat days outside the Port of Brookings Harbor when the ocean lays down like a sheet of liquid mercury. Last week, there were 2 days like this, with numerous lingasaurs meeting the sharpened end of a fillet knife.
Don't forget that when bottom fishing from a boat in Oregon (be it kayak, canoe or motorized cabin cruiser), all vessels are required to have a "functional descending device" on board.  Right now, my druthers calls for the modified Fish Grip, which can be bought for $14.95, and modified in less than 2 minutes.
You're going to need a minimum of 3 pounds of weight to get these fish with barotrauma down to the bottom - sometimes 5 pounds of weight for the larger yelloweye rockfish.
February is also the month when limits of striped surfperch can be caught at various venues such as Crissey Field, McVay Park, Sporthaven Beach and Chetco Point Park.
The best bait for the striped flat-siders is definitely small pieces of raw shrimp.
Also, anglers are keeping their eyes peeled for Pacific Herring which are due to make their annual appearance soon at Crescent City Harbor.
Anglers fishing for lingcod in the Brookings area were still getting lots of lingcod on these baitfish that were caught last February in Crescent City.
So be sure to stock up on plenty of sabiki rigs and lots of sinkers ranging between 1/4- and 1/2-ounces. You may only have a 5-day window of jigging, or the herring could conceivably stay in the harbor for 2 weeks or more. Englund Marine carries everything that a herring fisherman needs.
Remember that you are required to buy a California fishing license when jigging for herring in Crescent City.
Tight lines!
Larry Ellis, author, writer, columnist and photographer has had a 50-year passion for fishing in California and Oregon's saltwater and freshwater venues. He is a well-known writer for Oregon, Washington and California Fishing and Hunting News, Northwest Sportsman, California Sportsman and Pacific Coast Sportfishing. He currently writes monthly for Salmon Trout Steelheader Magazine, and is the author of two books, "Plug Fishing for Salmon" and "Buoy 10, the World's Largest Salmon Run."  Both books can be bought from Amato Publications (amatobooks.com), Amazon and eBay. Ellis particularly loves living in his hometown of Brookings, Oregon - The heart of salmon country and gateway to fishing paradise.
More Reports
South Coast rivers give anglers a crash course in metal shop
Chetco River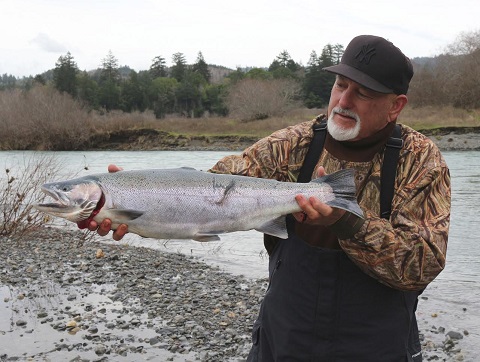 1-28-2017
After several weeks of high and turbid water conditions that contained lots of runoff due to melting snowpack and recent......
Read More
Rains shepherd in peak season Chetco steelhead
Chetco River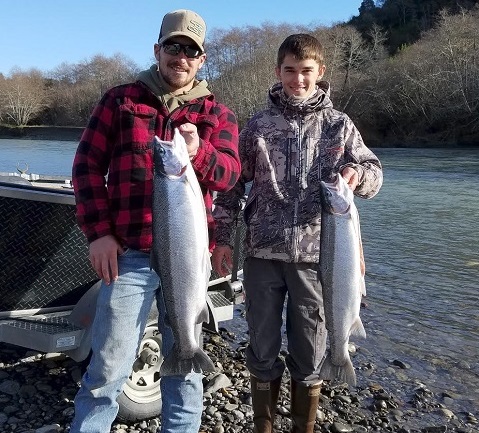 1-21-2017
A combination of melting snowpack and heavy rains ushered in the first large colonies of chrome-bright winter steelhead into the......
Read More
www.OregonFishReports.com © 2021. All Rights Reserved.
Website Hosting and Design provided by TECK.net