Oregon Fish Report
Chetco River Fish Report for 2-11-2017
High water grounds south coast steelheaders
Chetco River - Brookings, OR (Curry County)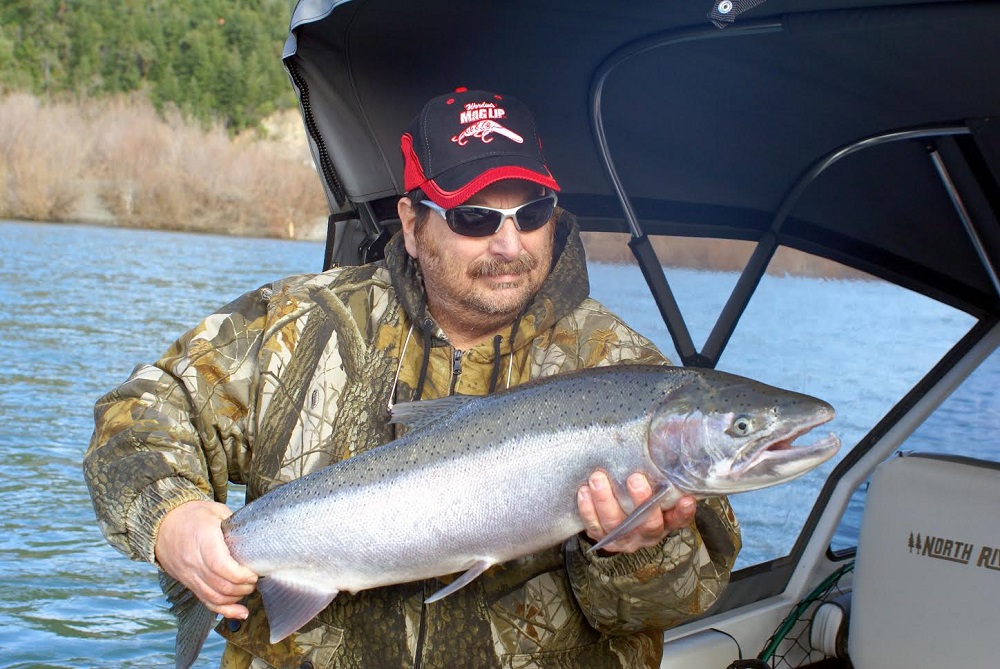 As soon as the Rogue River drops to 12,000 cfs possibly the end of the week, anglers will be anchoring up their sleds and setting out plugs for winter steelhead, like the author did several years ago. Photo courtesy of Larry Ellis
With over one week of fishless days due to high, turbid and muddy water, fishermen on the Chetco and lower Rogue rivers were left hanging high and dry all of last week, grounded by Mother Nature's merciless wind and rain.
But if you are wondering if and when you will ever be able to fish for your rivers' highly-prized winter steelhead - wonder no more!  It looks like the Grande Dame of the elements might be decreasing in disposition the latter part of this weekend and the beginning of next week to allow Chetco River anglers to trip the river fantastic.
If the National Weather Service's Advanced Hydrologic Prediction Service holds its own, I predict that anglers might be able to start plunking on Sunday or Monday, when the river is projected to be flowing from 7,000 down to 5,000 cubic feet per second (cfs).
Remember that the Chetco rose up to 36,000 cfs on Thursday, and it usually takes at least 3 to 4 days for the dropping Chetco to clear to plunkable conditions after it has been blown out with a chocolate-brown complexion.
So as soon as Old Man Chetco drops to a pea-green or slate-gray appearance, and if it is over 4,000 cfs, it becomes the property of the plunkers who will be using number 4 and 6 Spin-N-Glos in the colors Flame Chartreuse, Egg Fluorescent and Pearl Pink, all with white wings.
The middle of next week, the Chetco is predicted to drop in the neighborhood of 3,000 to 3,500 cfs, which will make it a prime fishery for drift-boaters side-drifting orange Puff Balls-and-roe (or spawn sacks), or side-drifting orange and pink yarn balls.  Long 36-inch leaders will be the name of the game.
It should also be in good condition for bank fishermen deploying drift-fishing techniques, with anglers drift-fishing Lil' Corkies-and-roe combinations, or just drift-fishing yarn balls.  Pearl Pink is a choice Lil' Corky color, and since a lot of anglers tie up their own yarn balls, a pearl pink yarn ball with a red center is a good option as well.
The lower Rogue remained unfishable for all of last week as well, with the river cresting to almost 66,000 cfs on Thursday. It may not be fishable until the middle to the end of the week, when it should be dropping toward 12,000 cfs.
Guides like John Anderson and Jay Lander will probably be anchoring up their drift boats and setting out plugs like the Mag Lip 3.5.
It's the little things that make a big difference in hooking and landing steelhead, like keeping your hooks nice and sharp!
"I really like the Mag Lip 3.5," says Anderson.  "The only thing I will do is I will change out the hooks to either Owner or Gamakatsu.  If the hook point catches in my fingernail when you drag the hook across it, it's sharp."
After several hookups over the next few days, if the hook point stops grabbing into his fingernail when he drags the point across it, he will change the hooks out once again for new ones.
Even though the Mag Lip 3.5 is touted to dive up to 14 feet, that does not stop Anderson and other guides from using these plugs in 3- to 5-feet perfection steelhead water, where you will quickly notice that the paint has been worn off the lips of their plugs due to bottoming out.
"I like these plugs to dig into the bottom," says Anderson.  "I think that it attracts steelhead to want to investigate it."
Choosing the right plug color is also critical, depending on whether the river is colored up and turbid, or if it's gin clear. I was fortunate enough to have spoken with one of the Pacific Northwest's premier salmon and steelhead legends last Thursday just before he was about to put on a seminar at the Pacific Northwest Sportsmen's Show in Portland, Oregon.
"Choosing the right plug color does vary from river to river sometimes, but there are some general rules," advises Buzz Ramsey, Brand Manager and lure designer for Yakima Bait Company.
Ramsey is the man responsible for downsizing and upsizing the Mag Lip sizes from the already-existing Mag Lip 4.5.
"Generally in clear-water and sunny conditions, you want to go with metallic finishes," he emphasizes. "Then in water that's got some color to it, you'll want to go with painted finishes such as chartreuse - even red.  But probably the universal color is mother of pearl with a black head - it seems to fish in everything!
"Some colors seem to produce good when the sun's out, like a metallic green or metallic pink. When the sun's out, that thing's like - wow! In fact, we're going to add another pink combination to the lineup this year, notes Ramsey."
Tight lines!
Larry Ellis, author, writer, columnist and photographer has had a 50-year passion for fishing in California and Oregon's saltwater and freshwater venues. He is a well-known writer for Oregon, Washington and California Fishing and Hunting News, Northwest Sportsman, California Sportsman and Pacific Coast Sportfishing. He currently writes monthly for Salmon Trout Steelheader Magazine, and is the author of two books, "Plug Fishing for Salmon" and "Buoy 10, the World's Largest Salmon Run."  Both books can be bought from Amato Publications (amatobooks.com), Amazon and eBay. Ellis particularly loves living in his hometown of Brookings, Oregon - The heart of salmon country and gateway to fishing paradise.
More Reports
Winter steelhead, surfperch, bottom fish attract Southern Oregon anglers
Chetco River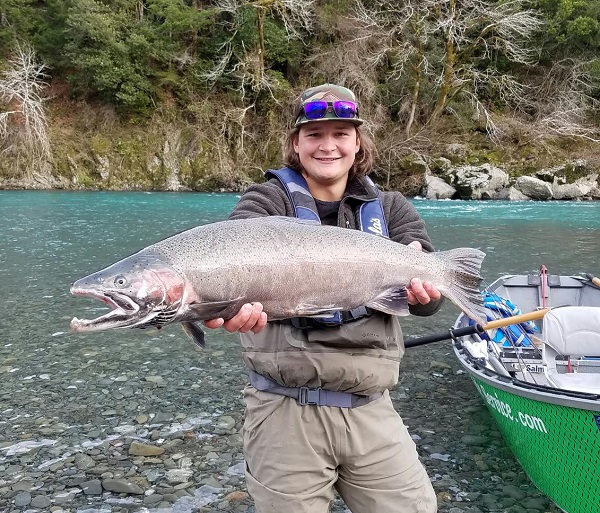 2-4-2017
The Chetco and lower Rogue rivers continue to thrill winter steelhead aficionados, with an occasional monster steelie being caught. Last week,......
Read More
South Coast rivers give anglers a crash course in metal shop
Chetco River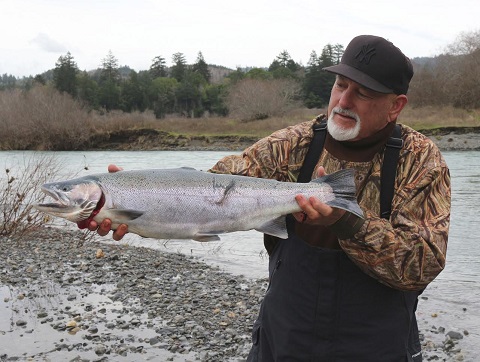 1-28-2017
After several weeks of high and turbid water conditions that contained lots of runoff due to melting snowpack and recent......
Read More
www.OregonFishReports.com © 2021. All Rights Reserved.
Website Hosting and Design provided by TECK.net