Oregon Fish Report
Rogue River- Lower Fish Report for 8-12-2017
Rogue Bay Salmon - Best in 20 Years!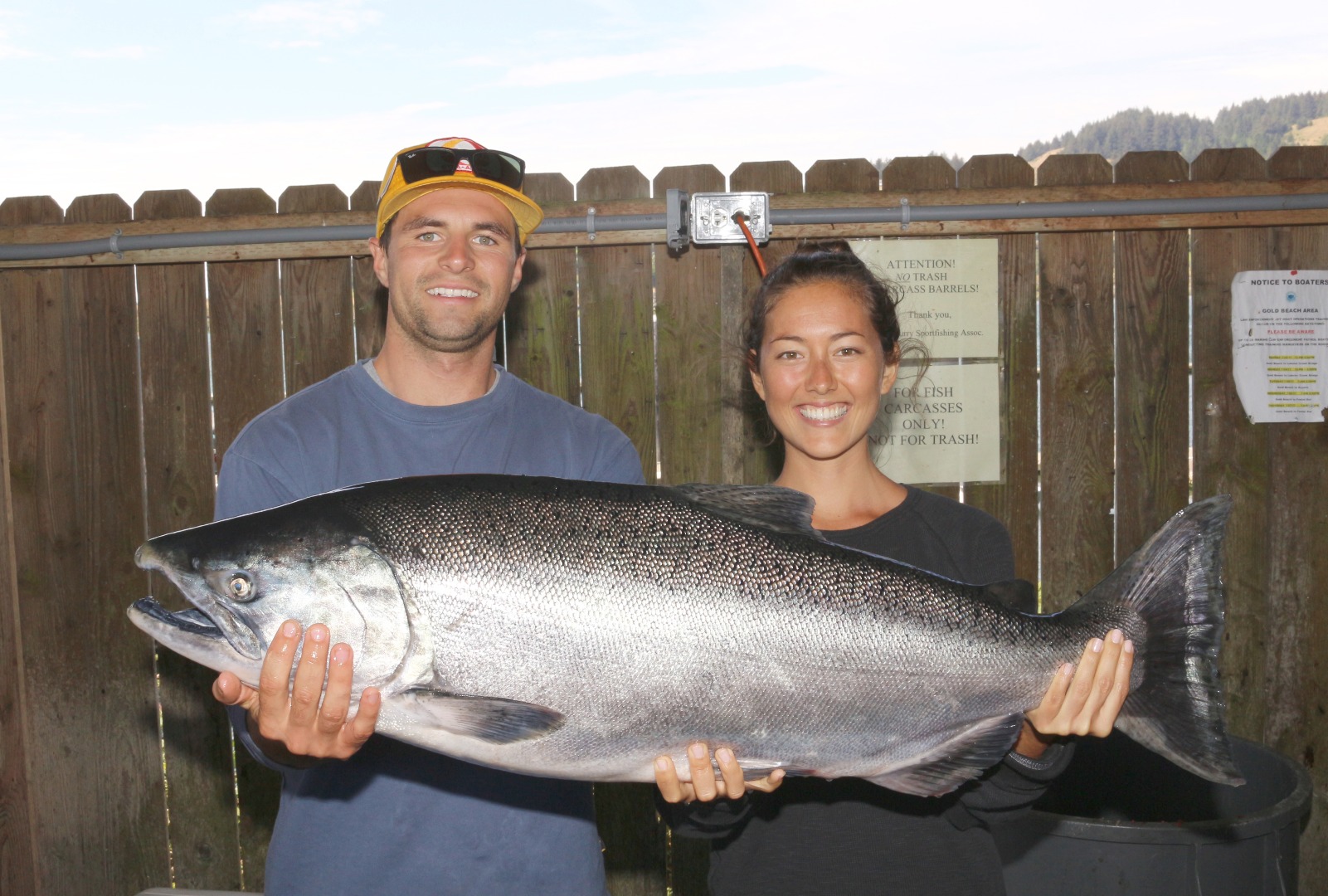 Lisa Levang from Maui enlisted the help of Dustin Paradis from Brookings to hoist the monster Chinook she caught while trolling the Rogue Bay last week.
Photo Credit: Larry Ellis
It looks like the good old days of the Rogue Bay are happening right now!
I don't know how long it's going to last, but fishing for Chinook in the Rogue bay has been second to none for at least a week straight.  It is already comparable to the superior fishing in days of yore, and by the way this season is shaping up, the action could last clear through September and even into October if the rains hold off.
"The (salmon) fishing is off the hook," said Larry Cody from the Rogue Outdoor Store in Gold Beach on Thursday. "It's the best I've seen in 20 years. It looks like everybody's catching fish. It's rare to hear that somebody isn't."
One local guide who has been easily limiting out also concurs with Cody's statement.
"The fishing is incredible," said Jack Hanson of Jack's Guide Service on Thursday. "I think we hooked 10 and landed 8.  Mark Van Hook who had a party of 4 said he was done by 1 (pm). John Anderson was doing really good; everybody was doing really good."
How do you like them apples?
Now this is very important to note.  The Rogue Bay's Chinook are quite partial to a whole anchovy spinning as tight as a drill bit when used on one of the Rogue's signature rigs.
"It's all the same basic drill," emphasizes Cody.  "We're still trolling Rogue Bait Rigs with anchovies," notes Cody.
A Rogue Bait Rig is basically a commercially-made version of a hand-tied spinnerbait/anchovy rig that originated in the Rogue Bay.
If you can get your hands on them, buy the hand-tied version which is sold at the Rogue Outdoor Store, Jot's Resort and Lex's Landing.  The hand-tied version use a number 1 or 2 octopus-style hook for the front hook.  The purpose of using a small front hook is to keep the hook hidden from the fish and for adjusting the spin of the anchovy (see On The Water June 24 - July 1 issues for complete instructions of rigging up).
And make sure to carry a wide array of spinner blade colors for these rigs. If you had to pick three colors, go with green-on-green, the Oregon Duck, and a gold Hildebrandt.
Straight bait is also getting bit as well.
If you're having trouble getting bit when everyone else around you is hooking up, try using leaders that are at least 6-feet long.  And it goes without saying you're going to need at least an 8- or 9-foot rod.
"I'm using 6 to 6-1/2 foot leaders," says Hanson.
So the basic trolling rig is using 25-pound monofilament mainline leading to a wire spreader.  Tie two 6-bead bead chain swivels 8 inches apart from the end of the wire spreader to prevent line twist, and then tie your 6 or 6-1/2 foot leader to the end of the spreader.
Tie an 18-inch dropper line of 15-pound test to the dropper end of the spreader, tie a Duo Lock snap to the end of the dropper and then attach the snap to a sinker ranging from 2 to 4 ounces.
Make sure that your sinker is bumping the bottom on occasion because that's where the fish are.
And due to the crowds, Hanson is also cinching down the drags as tight as he can to prevent tangling with other boats.
"I've seen days where there have been up to 150 boats trolling the Rogue," notes the guide.
Anglers are also catching a few salmon from various shore-based venues.
"They're catching a few off the sand spit using big spoons like Kastmasters (3/4 ounce), Little Cleos (3/4 and 1-1/4 ounce) and Krocodiles (1 ounce)," Cody mentioned. "And they're also catching a few fish off of Indian Creek using Mepps Flying C's (7/8 ounce) and the hot pink Rooster Tails (3/4 or 1 ounce)."
Tuna Out of Brookings!
Last week, anglers were also catching albacore between 45 and 50 miles from the Port of Brookings Harbor.  However anticipated winds between 12 and 29 knots are expected to blow offshore this weekend.  Check the National Weather Service for up-to-the-minute forecasts.
Fishing for rockfish and lingcod remains superb with an occasional Pacific halibut being caught as well.
Tight lines!
Larry Ellis, author, writer, columnist and photographer has had a 50-year passion for fishing in California and Oregon's saltwater and freshwater venues. He is a well-known writer for Oregon, Washington and California Fishing and Hunting News, Northwest Sportsman, California Sportsman and Pacific Coast Sportfishing. He currently writes monthly for Salmon Trout Steelheader Magazine, and is the author of two books, "Plug Fishing for Salmon" and "Buoy 10, the World's Largest Salmon Run."  Both books can be bought from Amato Publications (amatobooks.com), Amazon and eBay. Ellis particularly loves living in his hometown of Brookings, Oregon - The heart of salmon country and gateway to fishing paradise.
More Reports
Rogue Bay Fishing Trip Heats Up
Rogue River- Lower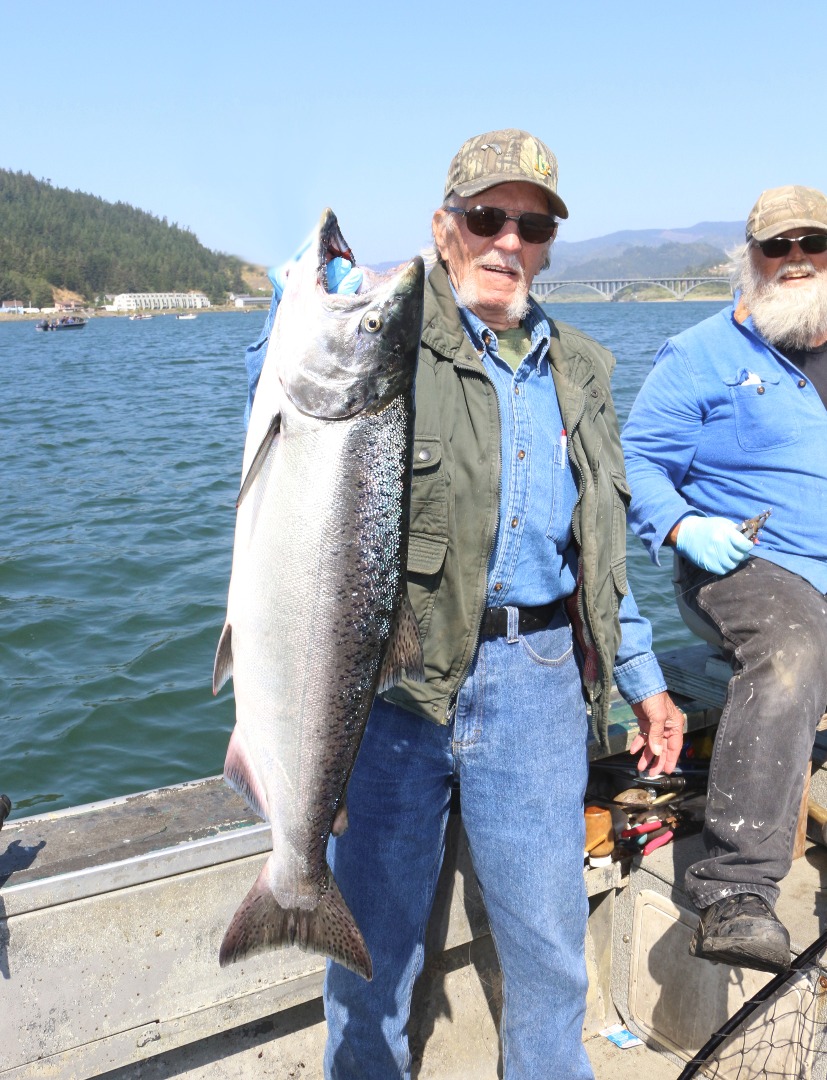 8-5-2017
It's not often that I make this statement, so when I do get the chance, I jump on it. Anglers......
Read More
Rogue Bay Water Temp Rising
Rogue River- Lower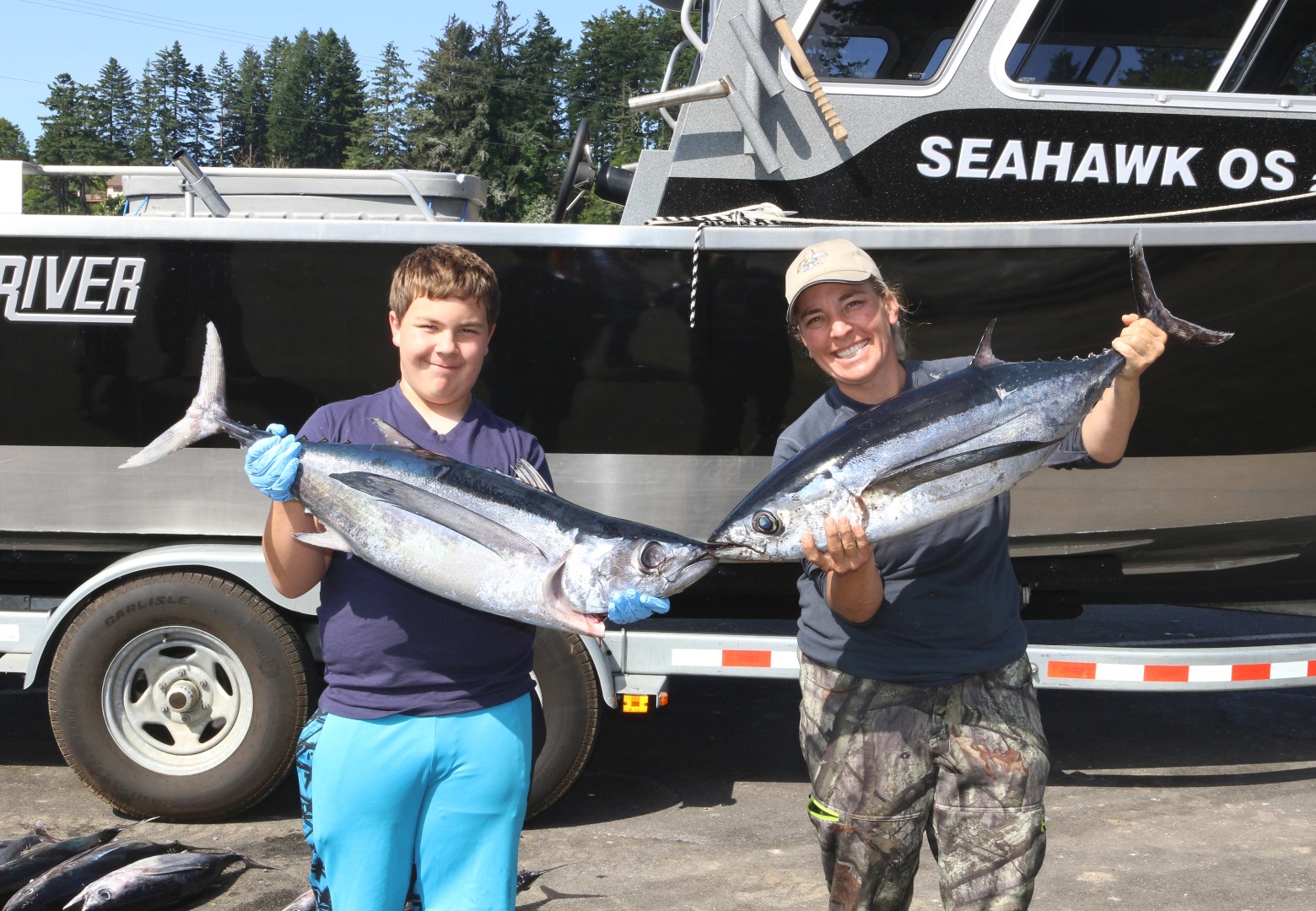 7-29-2017
Anglers trolling the Rogue Bay have had a combination of good days mixed with moderately mediocre days of fall Chinook,......
Read More
www.OregonFishReports.com © 2021. All Rights Reserved.
Website Hosting and Design provided by TECK.net