Oregon Fish Report
Rogue River- Lower Fish Report for 8-19-2017
Valley Heat Fuels Rogue Bay Fishery
Larry and Wendy Nicastle from Wellington, Colorado trolled the Rogue Bay in front of Lex's Landing with guide Bill Divens on Wednesday when they hooked and landed these fall kings. Photo by Larry Ellis.
Sweltering hot temperatures in the Rogue Valley continue to heat up the lower Rogue River water, causing king salmon to stack up in the Rogue Bay.
By the way, Chinook salmon and king salmon are the same creature only with different names.
Fishing in the Rogue Bay slowed down somewhat on Wednesday, meaning that instead of guide boats limiting out in 3 hours, sometimes it took 8 hours.
"I did a half-day trip, got two fish and was off the water by 11:30," said guide John Anderson on Thursday.
This year, a slow day in the Rogue Bay is still better than an average day any other year.
"The fishing is still very good," said Larry Cody from the Rogue Outdoor Store in Gold Beach on Thursday.  "There's far more fall Chinook than anyone can remember for a long, long time."
Cody also mentioned that hot inland temperatures are what's keeping the fall run kings at bay.
"There's very few fish going upriver according to the seine reports (at Huntley Park)," noted Cody.  "The river levels are dropping, which of course with that heat inland, means that the river's going to be hotter. So the salmon in my opinion are still going to be here.  I see no reason why we shouldn't still continue to see the kind of fishing we've been seeing in the last two weeks."
Anglers are still continuing to troll the area between the sand spit and the cat houses during low slack and then slowly working their way upriver toward Lex's Landing as the tide progresses.
There are also a lot of baitfish near the mouth of the Rogue Bay, so it is my belief that many of the salmon being caught are feeder fish that got drawn into the bay from the ocean by the scent of the baitfish.
Anglers are still catching the majority of their fish by using a straight bait or a Rogue Bait Rig (or a home-tied facsimile of the RBR). Here's a quick lesson on how to rig up by using a sliding spreader.
Load your reel with 25-pound monofilament mainline.
Run your mainline through the tube of a Glide-O sliding spreader and tie a 6-bead bead chain to the mainline coming through the end of the spreader.
Tie an 8-inch piece of 30-pound monofilament to the end of the bead chain, and then tie a second 6-bead bead chain to the end of the 8-inch piece of 30-pound monofilament.  This configuration will prevent line twist.
Now tie your straight bait leader or Rogue Bait Rig to the end of the second bead chain.  Guide Jack Hanson has been running 6 to 6-1/2 foot leaders.
Attach your anchovy to the straight bait or Rogue Bait Rig.  If you don't know how to attach the anchovy to the leader, the kind folks at Jot's Resort, Lex's Landing or the Rogue Outdoor Store will show you how.
On the wire end of the sliding spreader (the dropper end), tie an 18-inch piece of 15-pound monofilament for your dropper line, and then tie a snap to the end of this line.
Make sure your anchovy is spinning tight and fast, just like a drill bit - very important!
Attach a sinker ranging from 2 to 5 ounces to the end of the snap and you're good to go.
Keep your rig near the bottom for the most strikes.
Anglers are also reporting hooking up with the first round of the Rogue's Coho run.  The word silver and Coho are synonymous.
Andy Martin of Wild River Fishing caught a hatchery silver last week, so bone up on your Chinook and Coho identification by looking at the photographs on page 95 of the Oregon Sportfishing Regulations.
Only hatchery Coho (adipose fin-clipped Coho) may be kept on the Rogue.  All wild silvers must be released.
I saw one gentleman catch several redtail surfperch on the ocean side of the sand spit by using a spinner, so fishing for the pinkfin is still going strong.
Look for the ocean to lay down sometime next week and then head to your favorite bottomfishing or halibut grounds.
Tight lines!
Larry Ellis, author, writer, columnist and photographer has had a 50-year passion for fishing in California and Oregon's saltwater and freshwater venues. He is a well-known writer for Oregon, Washington and California Fishing and Hunting News, Northwest Sportsman, California Sportsman and Pacific Coast Sportfishing. He currently writes monthly for Salmon Trout Steelheader Magazine, and is the author of two books, "Plug Fishing for Salmon" and "Buoy 10, the World's Largest Salmon Run."  Both books can be bought from Amato Publications (amatobooks.com), Amazon and eBay. Ellis particularly loves living in his hometown of Brookings, Oregon - The heart of salmon country and gateway to fishing paradise.
More Reports
Rogue Bay Salmon - Best in 20 Years!
Rogue River- Lower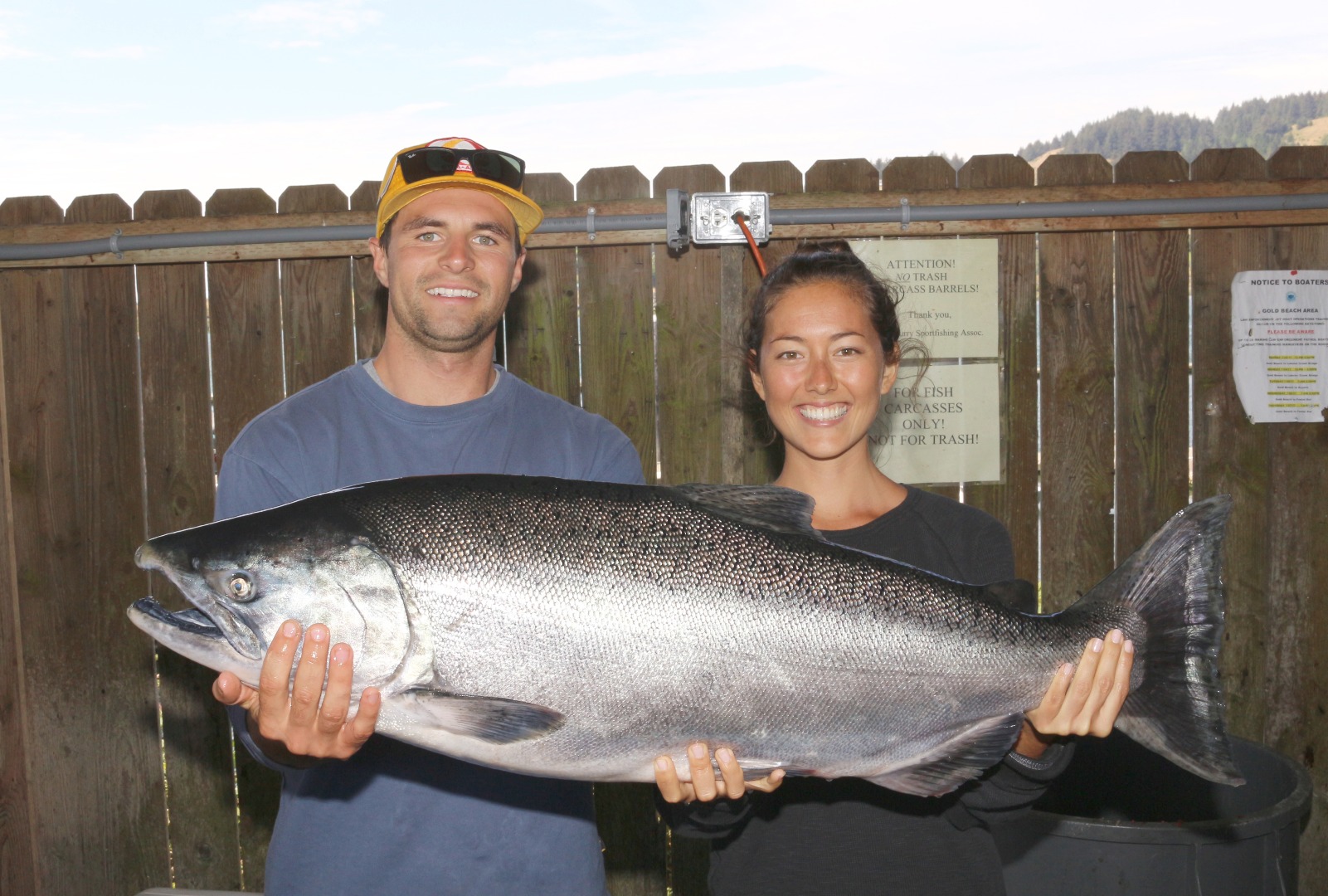 8-12-2017
It looks like the good old days of the Rogue Bay are happening right now! I don't know how long it's......
Read More
Rogue Bay Fishing Trip Heats Up
Rogue River- Lower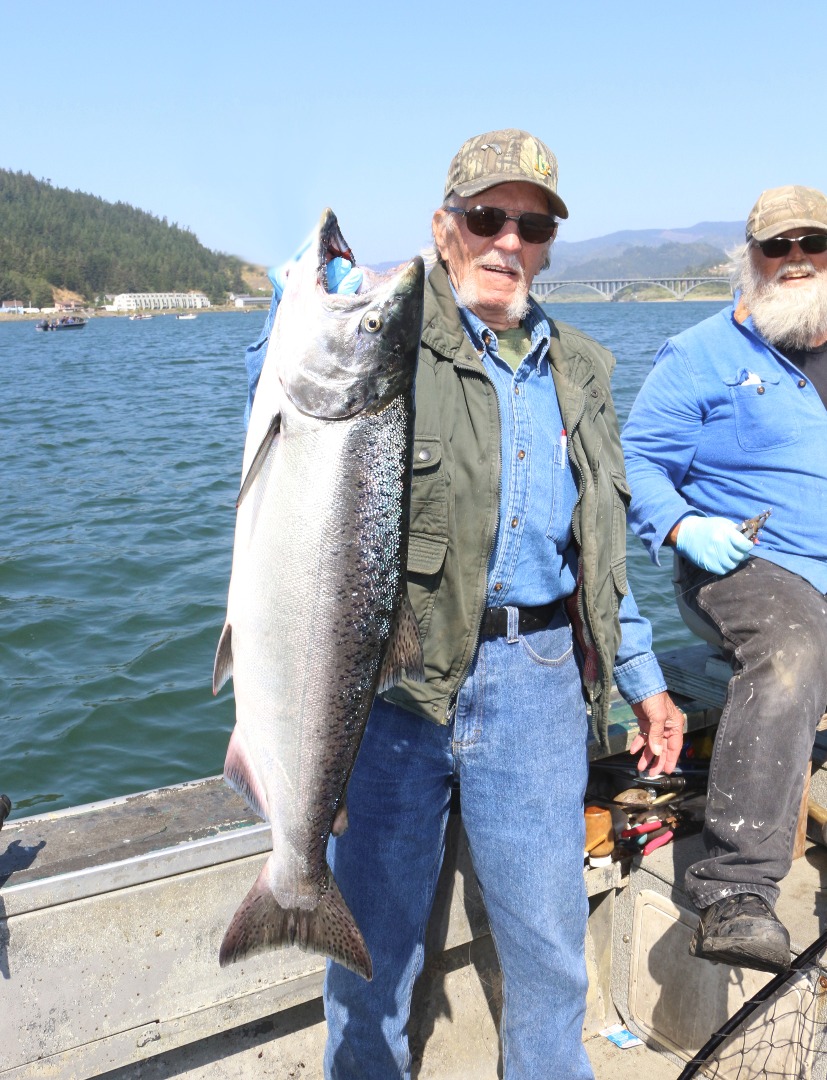 8-5-2017
It's not often that I make this statement, so when I do get the chance, I jump on it. Anglers......
Read More
www.OregonFishReports.com © 2021. All Rights Reserved.
Website Hosting and Design provided by TECK.net